Close
COVID-19 Info: Given the rapid change with COVID-19 (Coronavirus), we recommend that you check with businesses directly regarding their most up to date operations. Health officials continue to be the best source of information during this time. We encourage you to follow @MLHealthUnit on Facebook and Twitter for up to date information and visit their website: www.healthunit.com
If you are a business or employee, we have compiled some helpful information and resources found here
Current Weather:

Partly Cloudy

High

26°c

Low

19°c
Can't Wait to See You!
---
Explore More
---
Best of London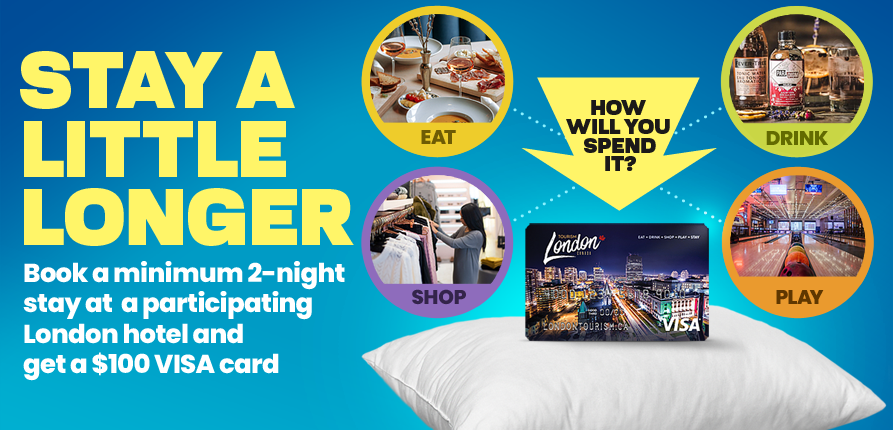 Book a minimum 2-night stay at a participating hotel and receive a $100 VISA card at check in. #ExploreLdnOnt and help drive recovery as you shop, eat, drink and play your way through the Forest City.
Book Now
Support Local Video Series:


ONLY IN OEV: DUMPLING TRAIL

Dumplings come in many shapes and sizes and are found in most cultural cuisines. Watch as Gunnarolla and his Mom make their way down Dundas Street for the tastiest tour in town... the OEV Dumpling Trail!
#ExploreLdnOnt
Share your best pics of what you think are London, Ontario's Gems with Instagram using #ExploreLdnOnt and get them featured!
Subscribe

to our

Newsletter

---

Get Your Monthly guide to London's Latest Events, Attractions & offers.

---

Sign Up
Our Partners
Copyright © 2022 Tourism London. All Rights Reserved • Site Created by: Velocity Studio
London's Five Day Forecast
Windy in the evening and overnight.

Rain in the evening and overnight.

Rain in the morning.

Clear throughout the day.

Overcast throughout the day.

Rain starting in the afternoon.
More Weather
Close