Enjoy nature at your own pace! London, Ontario, has a number of different natural spaces where you can stretch your legs, find peace and solitude, and go forest bathing! Take a deep calming breath, and experience the powers of Shinrin-Yoku on your own woodland adventure.

The Upper Thames River Conservation Authority

The City of London thrives to provide inclusive play so that children of all ranges of physical and sensory ability to play within a shared environment. Learn more about London's accessible neighbourhood and district park playgrounds & more here. Also, learn about which natural areas are accessible here.
Discover our Bike Friendly City for a truly unique adventure. Pedal along one of London's paths or learn which ESA's permit bicycles.

---

shaping the landscape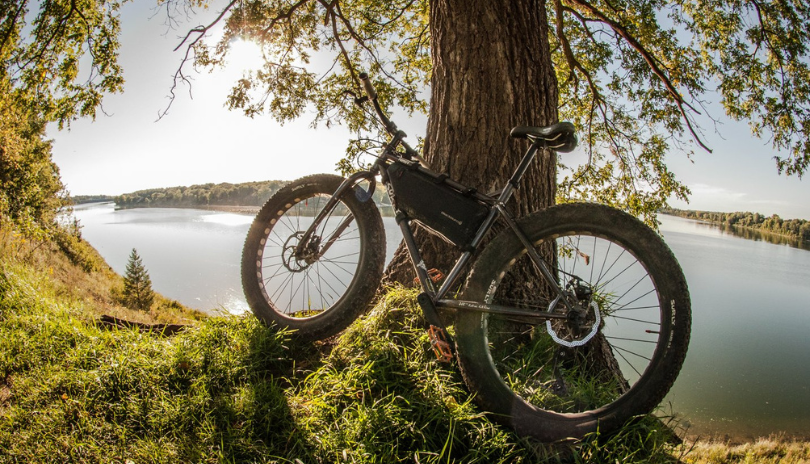 Environmentally Significant Areas (ESAs) are natural spaces that require special protection to preserve their environmentally significant attributes. These areas occur within agricultural and urban settings, and feature wetlands, forests, meadows, river corridors and wildlife habitats. They support a vast range of plant and animal life, providing a first-hand opportunity to witness ecological gems, appreciate nature, and experience the serenity of the wilderness.

---

KAins Woods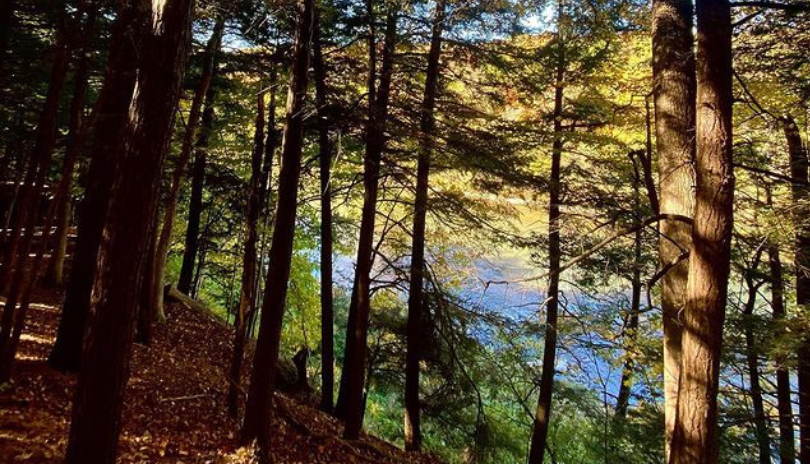 Off the beaten track, Kains Woods skirts "the thumb" of Byron, and is an integral Thames River corridor supporting birds and wildlife. The 5.8 km-long trail, which is comprised of varied topography and sustains numerous microhabitats, can be challenging in parts. The trails are marked with both yellow and white blazes on trees. It is possible to spot pileated woodpeckers, scarlet tanagers and bald eagles. Located in West London near Kains Road north of Oxford Street West. Read the brochure here.

---

Kilally Meadows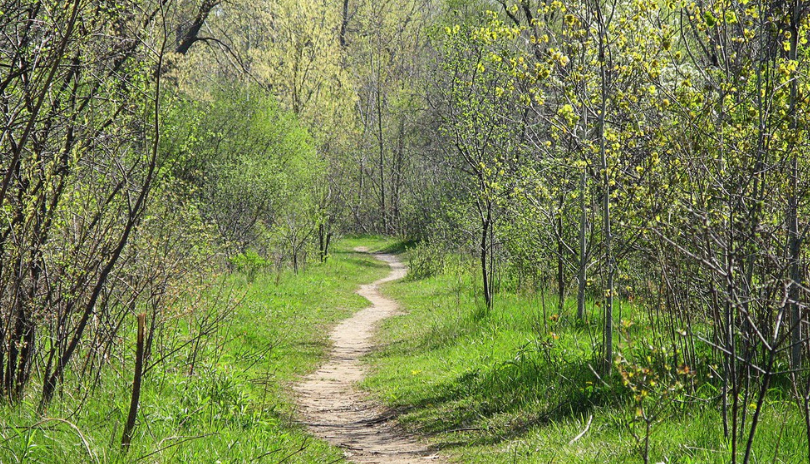 Kilally Meadows comprises a number of habitats, including woods, meadow, and swamp, and features a 7.7 km loop trail. Popular with birders, hikers, and naturalists, the network of paths often follow the Thames River or Meander Creek. Springtime summons a variety of woodland wildflowers including dame's rocket, marsh marigold, the yellow violet, and white trout lily. Located between Adelaide Street and Highbury Avenue. Fishing is permitted with a provincial fishing licence. Read the brochure here.

---


Meadowlily Woods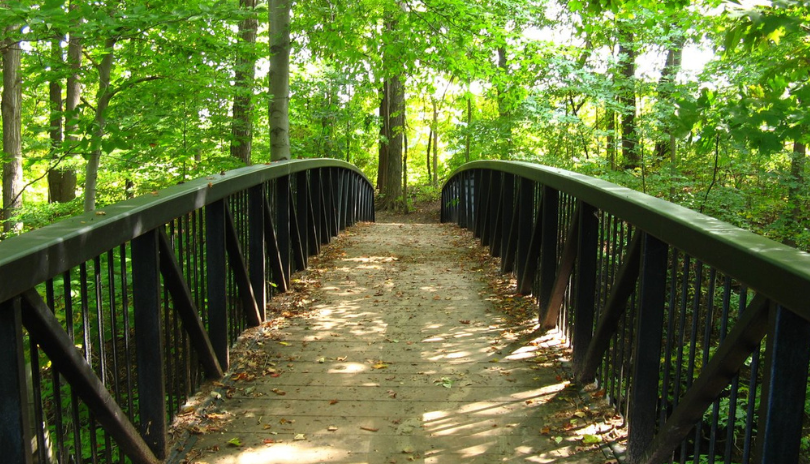 Meadowlily Woods and its nature preserve are perfect for recreational activities such as walking, hiking, and birding. If you have never explored the 10.6 km trails , it's time to explore this ecological gem. A natural corridor for animals to access the river, the area features 18 mammal species, and provides a range of attractive habitats for amphibians, butterflies, and other insects. Located in East London near Commissioners and Meadowlily Roads and east of Highbury Avenue. Fishing is permitted with a provincial fishing licence. Read the brochure here.

---

Medway Valley Heritage Forest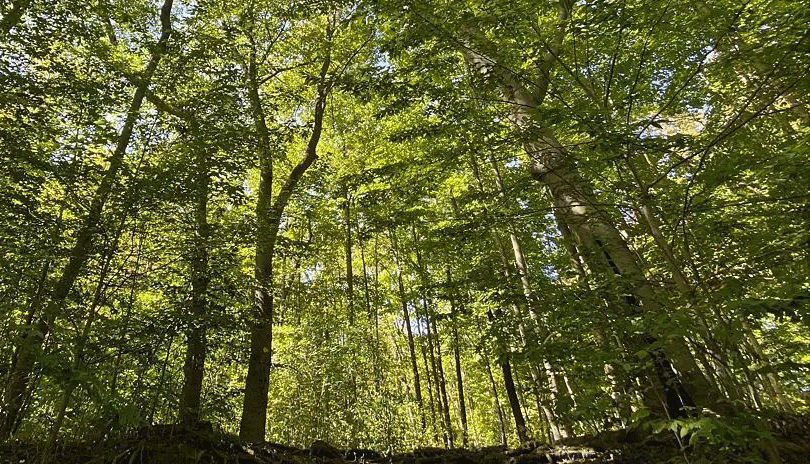 Medway Valley Heritage Forest's terrain is rolling with steep climbs and includes floodplain forests, swamps, marshes, and wooded valley slopes. The 10.6 km of trails follow both sides of Medway Creek which winds through the area. Dusk or dawn is the perfect time to spot to a white-tailed deer feeding on the tender shoots and tips of shrubs and trees. You may see grosbeaks, hummingbirds, waxwings, and indigo buntings while on your hike. The main access points are at the Elsie Perrin Williams Estate and at the Museum of Ontario Archaeology. Located in North London, roughly between Windermere, Fanshawe Park, and Wonderland Roads. Fishing is permitted with a provincial fishing licence. Read the brochure here.

---

Sifton Bog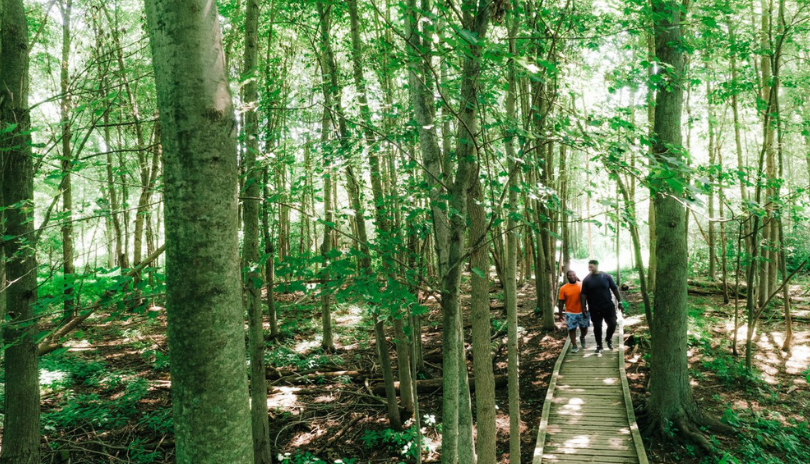 The floating acid peat bog and plant life is the centerpiece of this 41.6 hectare Sifton Bog. Boreal swamp and Carolinian forest encircle the bog, providing a marked contrast and diversity of vegetation. A 370-metre long boardwalk leads from the parking lot at Oxford Street to a viewing platform in the centre of the bog. If you're lucky, you'll spot a Midland painted turtle with its distinctive red or orange markings on its shell. There are a variety of trails, totaling 2.7 km. Located on the south side of Oxford Street, west of Hyde Park Road. Read the brochure here.

---

Warbler Woods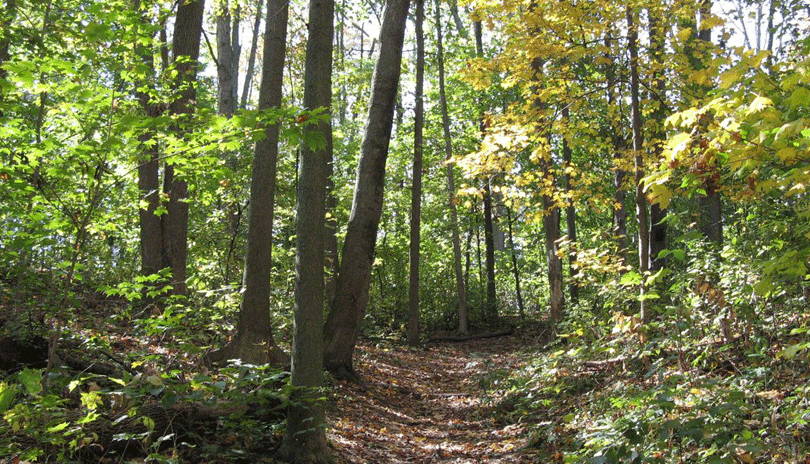 Rolling hills and steep ravines create scenic areas for hiking, bird watching, and an ideal backdrop for nature appreciation in Warbler Woods. The area is named after the uncommon Golden-Winged Warbler, a small gray songbird with white undersides and distinctive yellow wing patches and forehead. There are 3.9 km of trails. The main trail is 1.8 km, and extends the length of the site with many points of access. Located in West London between Commissioners Road and Byron Baseline Road. Read the brochure here.

---

Westminster Ponds/Pond Mills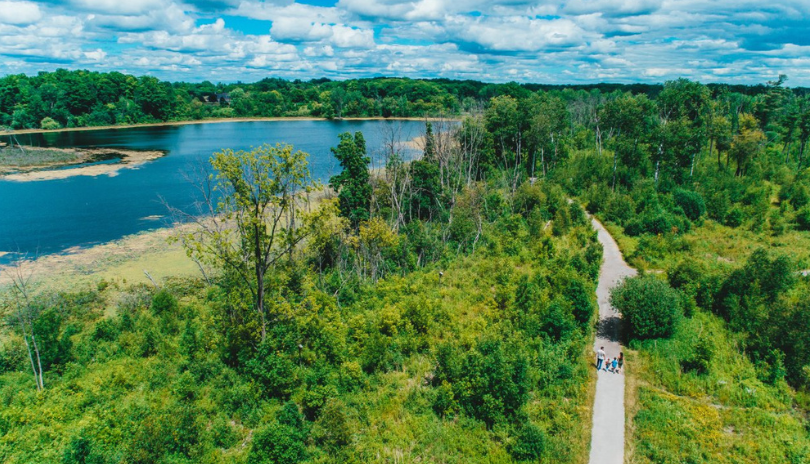 Westminster Ponds/Pond Mills comprise five large kettle ponds and a beaver pond surrounded by lowland and upland habitats. Approximately 60% of all plant species indigenous to Middlesex County can be found here. There are 10 km of mostly gently rolling trails with the occasional steep hill. Boardwalks span some lowland areas. The ponds and the diversity of habitats make this an optimal place to view over 200 recorded species of birds, including herons and ducks. Located south of Commissioners Road and east of Wellington Road, adjacent to the Tourism Welcome Centre, and extends to Pond Mills Road. Fishing is permitted with a provincial fishing licence. Read the brochure here.

---

The Coves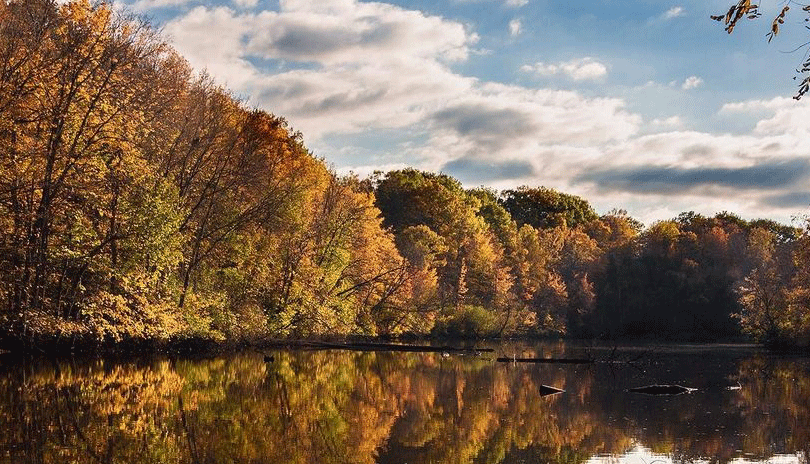 The Coves are an interesting series of three oxbow ponds that were formed when a wide meander of the Thames River was cut off. The watershed is an area of high species diversity and contains two provincially rare forest types: a black walnut forest and a hackberry forest. The Coves are a 5 minute drive (or a 10 minute bike ride) southwest from Downtown London. Located south of the Thames River and Greenway Park, stretching through Arthur Ford Park and Highland Woods. Read the brochure here.

---

Lower Dingman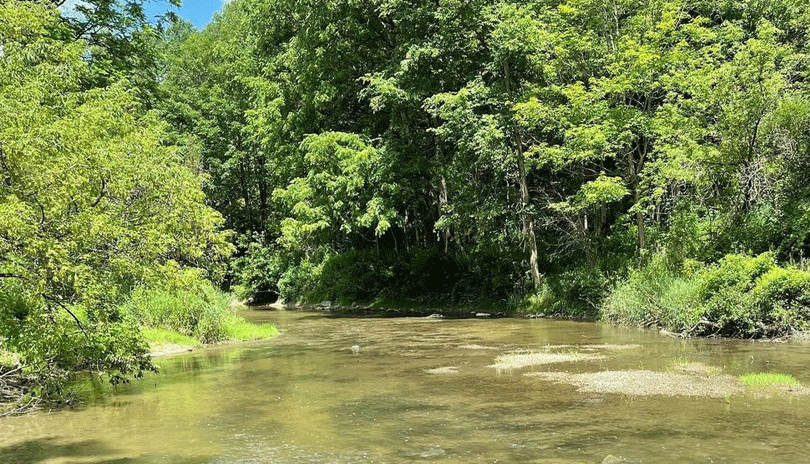 Lower Dingman covers 20 hectares of publicly-owned lands in southwest London. While still within City limits, this ESA is situated in a rural setting, unlike most of London's publicly-owned ESAs. The access point for Lower Dingman is located at 3370 Homewood Lane, reached via Deadman's Road east of Westdel Bourne. The 1.6 km of managed trails are identified by yellow trail markers on trees or posts. Most of the trail is flat, and sections offer picturesque views of Dingman Creek. Dingman Creek supports a variety of warm water fish species including bass and sunfish. Read the brochure here.

---

Fanshawe Conservation Area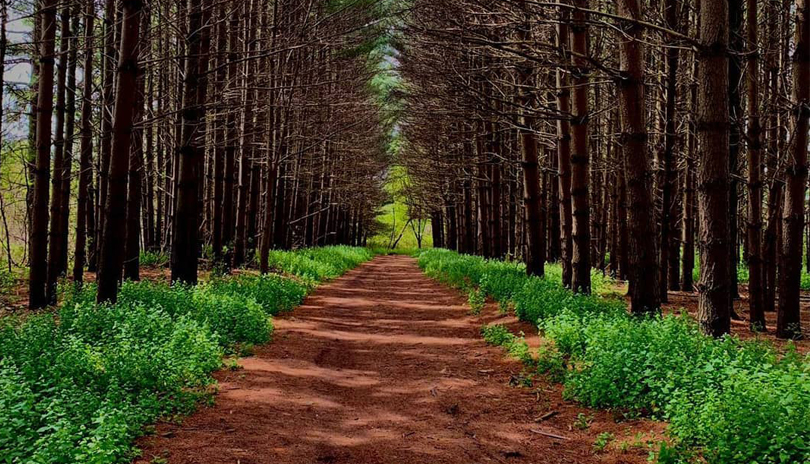 Go for a hike at Fanshawe Conservation Area. This 3,000 acre 'outdoor playground' has over 20 km of biking/hiking trails for you to enjoy. Check out the maps & brochures here to start organizing your next outdoor adventure!

---

Longwoods Road Conservation Area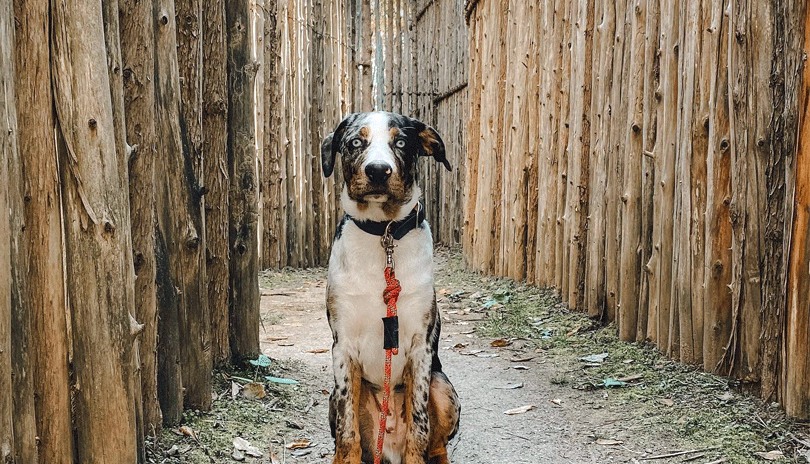 Just 30 minutes west of London, the Longwoods Road Conservation Area has 63 hectares (155 acres) of Carolinian forests, wetland boardwalks, bridges and 10 km of hiking trails, many accessible. Pavilion and picnic areas are also available. Look for special events throughout the year at the Ska-Nah-Doht Village and Museum!
For more Information on London's Environmentally Significant Areas contact the Upper Thames River Conservation Authority: www.thamesriver.on.ca • 519-451-2800 x 281