London is an Accessible City.
It is recommended that you contact each individual business prior to your arrival to see if they can meet your specific accessibility requirements.
---

Accessible Attractions In & Around London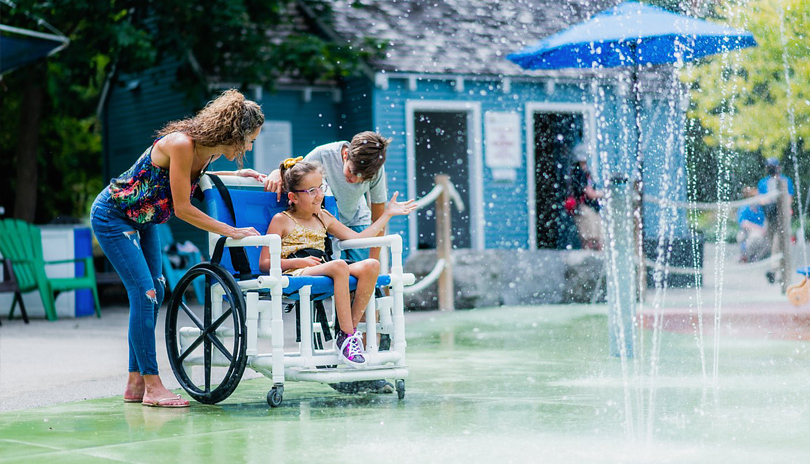 Several of the attractions listed above may offer complimentary or a reduced admission fee for a support worker that is accompanying an individual. The support worker may be asked to provide identification upon arrival to the attractions. Please call the attraction ahead to inquire further and to determine if accommodations for your specific needs can be met.

---

Accessible Accommodations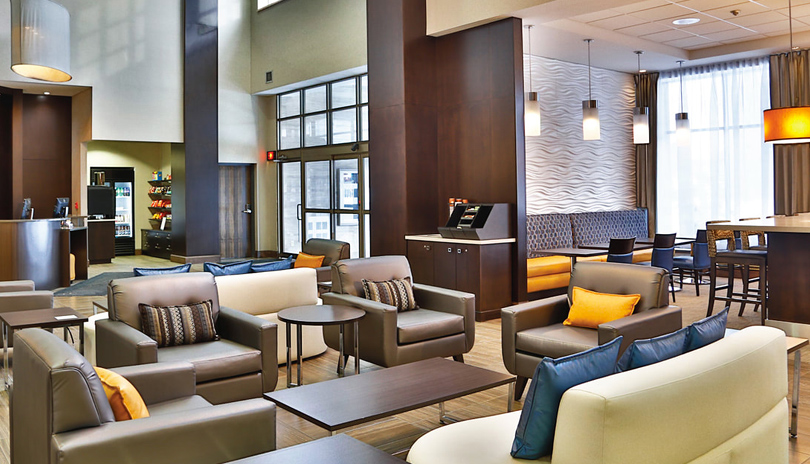 To see a list of Places to Stay in London that offer accessible accommodations, please click here. You may filter results by changing the 'filter by category' information from the drop-down menu for other results.

---

Explore Our Accessible Parks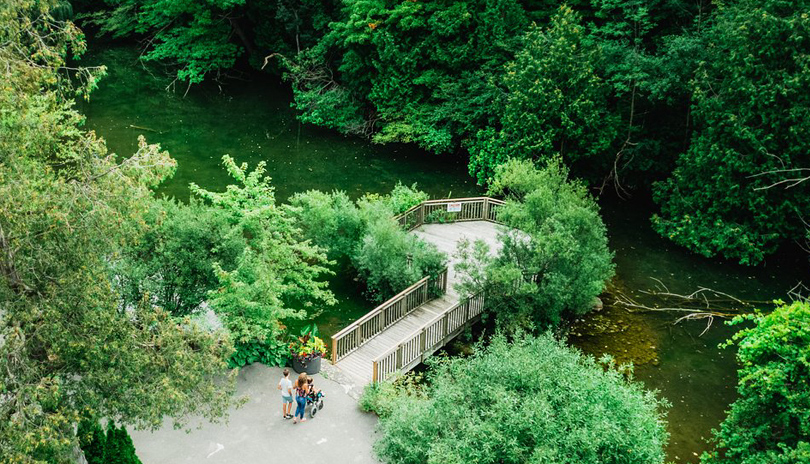 The City of London strives to provide inclusive play so that children of all ranges of physical and sensory ability, and their caregivers of all ages and abilities, can play together in a shared environment.

Neighbourhood Park Playgrounds typically include:
Accessible asphalt pathway to the play area
Depressed curb to access the play area
Woodchip safety surfacing
A transfer-station to facilitate access to the play structure
Ground-level play components
Park benches with arms, with space beside it for a wheelchair / stroller

District Park Playgrounds provide all the basic features listed above, with the addition of enhanced accessible features:
More play equipment
Separated area for junior (2 to 5 years) and senior (5 to 12 years) play equipment and additional swing area
Access to play structure can be from a ramp or transfer station, or a combination of both
More inclusive play components present, such as accessible swing seats
Accessible parking spaces
Accessible picnic tables

Click here for a listing of district park playgrounds with enhanced accessible features.
London also features a number of accessible spray pads, a 42 KM accessible pathway along our river which includes accessible washrooms and amenities along the pathway, and many accessible natural areas, with great trails, boardwalks and lookouts. To receive additional information please call the City of London at 519-661-5575 or TTY 519-963-1422 for more information. Alternatively, you may also email recreation@london.ca with inquiries.

---

Accessible Transit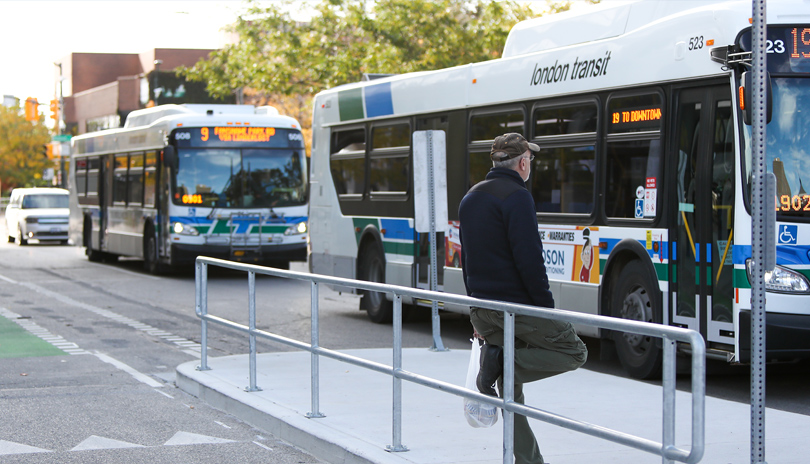 The London Transit Commission (LTC) offers transit service throughout the City of London. Conventional transit buses are accessible and can accommodate 2 wheelchairs on each bus. Passengers are not required to register or pre-book a trip to use this service. Simply go to a designated bus stop of the route you wish to take and board the bus using the accessible ramp. Please note that the LTC is a first come first served service.
For more information please visit www.londontransit.ca. Alternatively, you may call 519-451-1347 or email ltc@londontransit.ca for more information.
Other options for accessible transportation in London include:
Voyago Health: non-emergency patient transfer service, non-emergency transportation to medical appointments.
---

Accessible Parking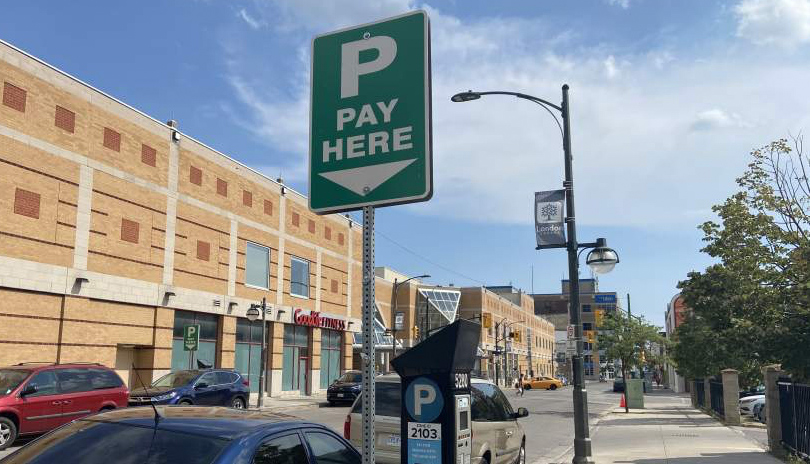 The City of London has approved the use of Accessible Parking Permits, APP's, in the following areas only:
designated parking spaces intended for the sole use of a person with disabilities identified by an official sign.
at any on-street meter, without depositing coinage, for up to the time limit of the meter as posted. If the time limit is surpassed, a parking ticket will be issued for parking at an expired meter.
in Municipal Off-Street Parking Lots that use a Pay and Display Master Meter, an APP must be displayed when parking in the designated accessible spots. A daily maximum of two hours free parking is available in these designated spaces. In all other parking spaces within the lot, time must be purchased from the Master Meter and the receipt displayed on the dash of the vehicle.
For more information please visit the City of London's Parking here or call the parking enforcement at 519-661-4537.

---
Accessible Taxi
Below is a list of taxi companies in London, Ontario that offer accessible cab services with equipped vehicles:
---
Accessible Vehicle Rental
The Bennett family has been in the automotive business for over 50 years offering a great variety of rental vehicles including wheelchair vans, 12 to 15 passenger vehicles, minivans, and high-end cars and SUV's. They take pride in making your travels more memorable, safer, affordable, and reliable. Visit www.bennetttruckrentals.com for more information or call 519-455-8296 (East London location) or 519-473-0064 (West London location).

---
Are we missing something?
Email us your comments and suggestions.