Picture it: it's a warm summer evening. The string lights and stars are glittering. Snatches of laughter and song fill the air as you sip on a hand-crafted cocktail made just for you.
It's getting late, but you're pumped up and know the night has just begun. Beautiful weather calls for nighttime patio adventures to celebrate the season.
New to London? We've got you. If you're a local, you may be familiar with some of these nightlife patios, but have you been to them all?

---

JOe kool's & toboggan brewing co.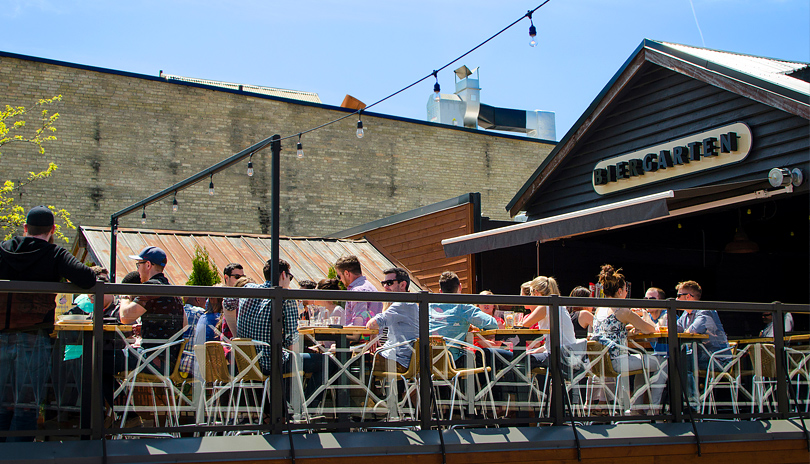 Joe Kool's specializes in real food made in-house with a variety of options available at lunch and dinner. Don't miss out on their Kitchen Sink Pizza (one of the most popular dishes for the past 38 years). Joe Kool's is a London favourite, with a patio and nightlife scene that attracts people of all ages.
Right next door from Joe Kool's is Toboggan Brewing Co. Serving up delicious pub fare and wood-fired pizza, such as their street tacos and carne pizza, Toboggan's patio is warm, inviting and appealing to any age group. What makes it unique? Toboggan also features an onsite brewery plus a pub, store, live entertainment venue and restaurant all in one!
---
CHUCKS ROADHOUSE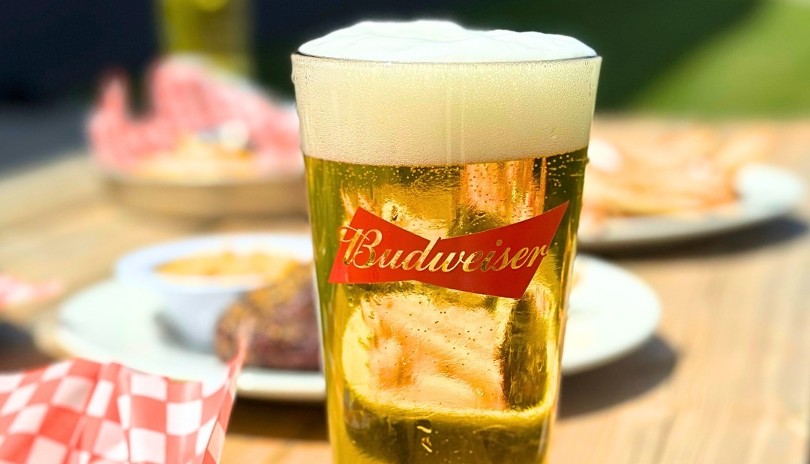 Looking for a casual spot to enjoy your night out? Check out Chuck's Roadhouse for great service, cold drinks and their large menu of wings, burgers and much more. Their large patio is centrally located on Richmond Row so you won't miss out on any of the fun that downtown has to offer! On a beautiful summer night, it's definitely a top place to be!

---

Wink's Eatery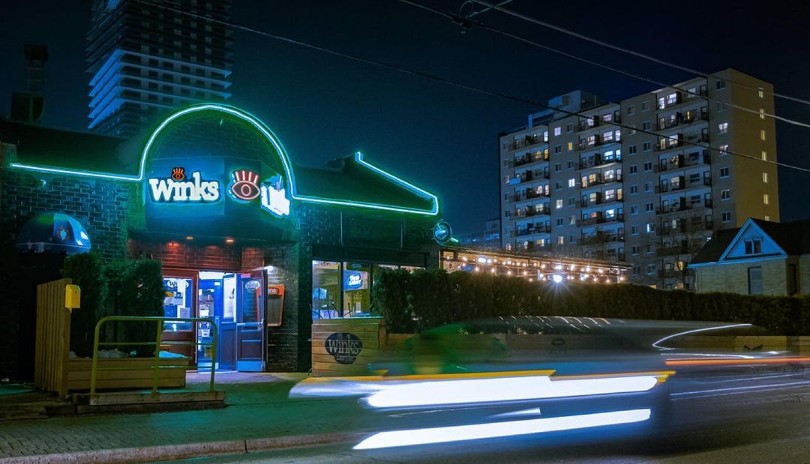 Wink's Eatery patio offers casual dining with pub-style food. Their large menu is popular for their chicken wings, nachos, wraps, salads, shareables and veggie options. Their patio is intimate and secluded, located just off the main strip on the corner of Albert and Richmond Streets, and features beautiful lighting, lattice for added privacy, umbrellas and plenty of seating. With live music, karaoke nights and events like Rock'n'Roll Bingo and trivia, Wink's always delivers a good time!

---

London brewinG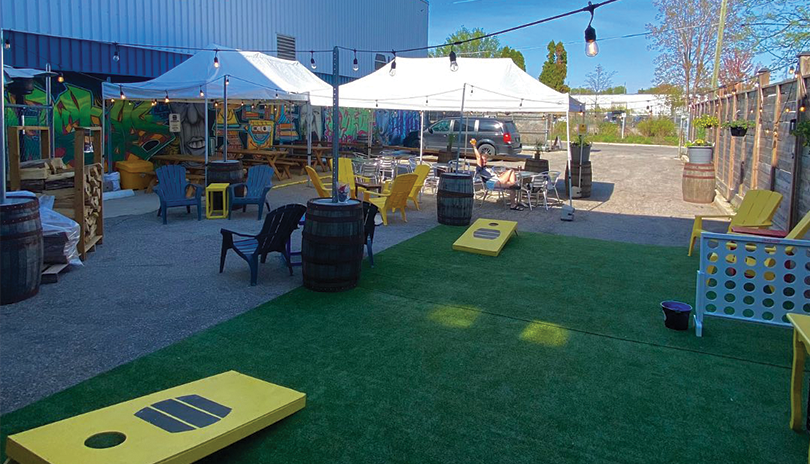 London Brewing has rotating pop-ups partnering with a variety of restaurants and food trucks serving up delicious food for any palette. The patio feels laid back, inclusive, fun and family-friendly, where you can enjoy a craft beer, stunning outdoor art murals and the musical stylings of incredible local performers. With the addition of more picnic tables, lounge chairs and bigger tables more people can enjoy this great spot. Their back patio is covered, heated, winterproof and rainproof making patio season all-season!

---

POwerhouse brewing Company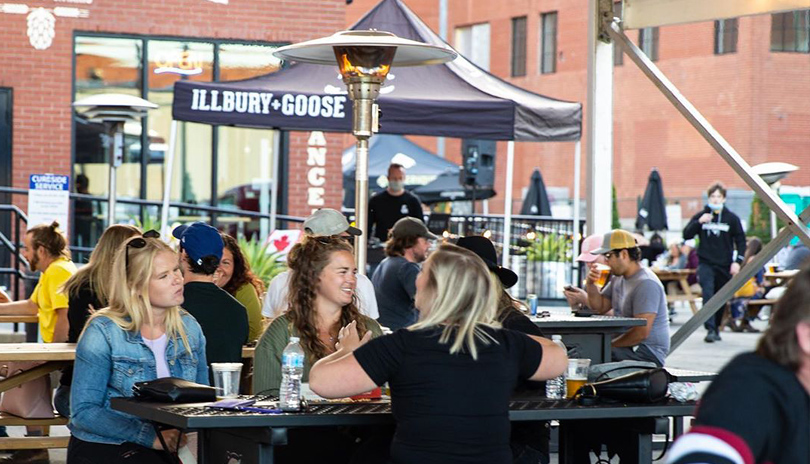 Powerhouse Brewing Company at 100 Kellogg Lane carries on the legacy of our London-strong manufacturing roots, infused with a little modern power-up. Serving up chill vibes, cool nights and deliciously cold brews, their menu also features a tasty twist on classic brewpub fare with popular items such as the Powerhouse smoked chicken wings, pulled pork and brisket sandwiches. Powerhouse's patio is perfect for everyone: dads, moms, kids and even dogs; the ideal neighborhood patio!

---

Barney's Lounge & the ceeps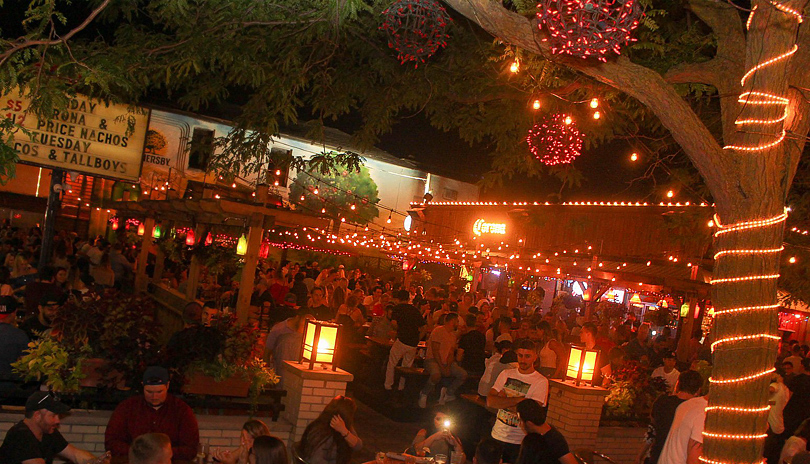 Rated the best outdoor patio 10 years running, Barney's Lounge and The Ceeps is an institution in Downtown London. This spacious outdoor patio, open every day at noon, is one of London's oldest and most popular patios and definitely a top spot for a good time. Even celebrities like Ed Sheeran have stopped by! For those who appreciate nightlife with style (and want to be seen), it's the perfect place to kick back and enjoy a pitcher of sangria or their signature Frank Sinatra cocktail.

---
What's your favourite night life spot? Support one of your tried-and-trues or try something new! Snap a pic of your idea of patio perfection, tag @tourismlondon and use #ExploreLdnOnt for the chance to be featured on our socials or website.