While frying chicken as a main dish has been around for centuries, a new hype for the breaded meat is undeniable as of late.
Fast food chains and privately-owned spots are taking note, and it seems that fried chicken sandwiches are popping up anywhere and everywhere.
It's hard to know who's the real deal, but we've got you covered with our comprehensive list of the top spots for fried chicken in London, Ontario.
---

BTRMLK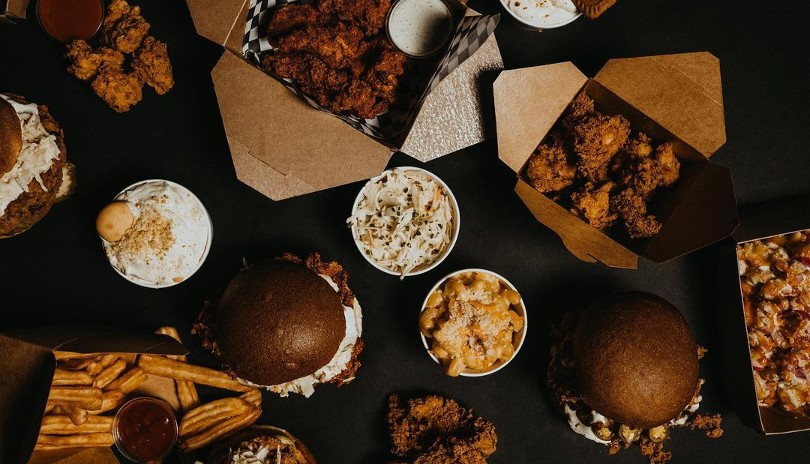 Ah, the infamous BTRMLK. After opening their doors in 2020, they quickly became the talk of the town and with good reason. They offer a truly premium experience. Flavourful, juicy chicken that is masterfully seasoned combined with excellent customer service.
There's an age old question that asks why the chicken crossed the road. Our guess is that he was probably on his way to line up at BTRMLK before they sold out.
Their menu is refined and focuses on what they do best. Their specialties are fried chicken, deluxe fries, mac and cheese and their delicious banana bread pudding.

---

Kosmos Eatery London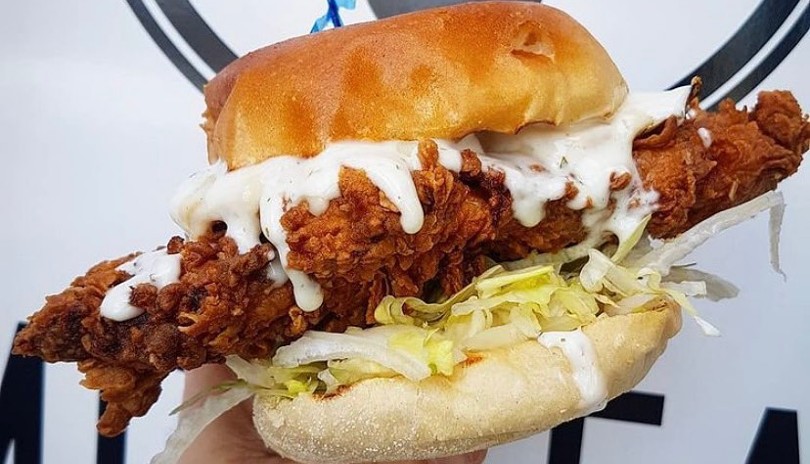 A true staple in downtown London. With over 50 years of restaurant/catering experience, Kosmos Eatery London is a place that prides themselves on fresh, quality ingredients. Their menu is unique with a mix of modern-creative and traditional recipes.
Be sure to come hungry! The chicken sandwiches at Kosmos are massive. Finishing one by yourself should come with some sort of prize, however we'd consider the sandwich itself to be prize enough.
Their sides are equally delicious. We highly recommend the loaded fry options or the fried pickles.

---

Bird Box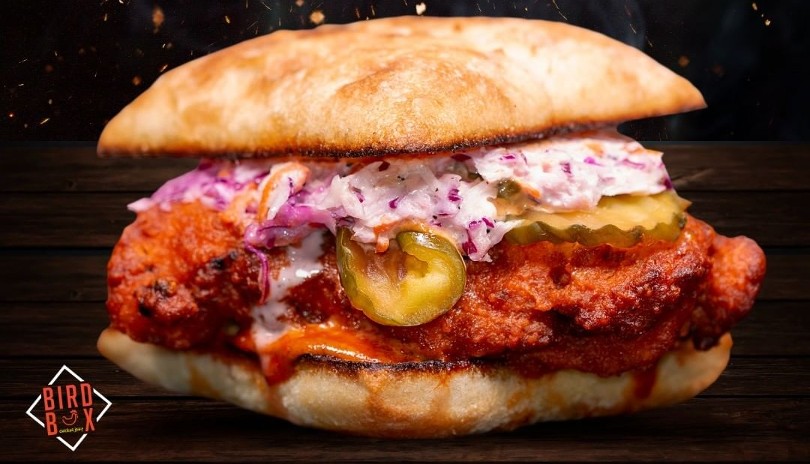 Bird Box opened the first location in 2019 on Richmond Row in Downtown London. Since then, they've also expanded to Toronto. All of their chicken is Halal, hand battered and marinated for 24 hours creating a tender, juicy, flavour-filled experience worth writing home about. Their 'Hottest Chick' sandwich is a standout if you're a fan of spice and the fancy fries are another crowd favourite.

---

KLUCK IT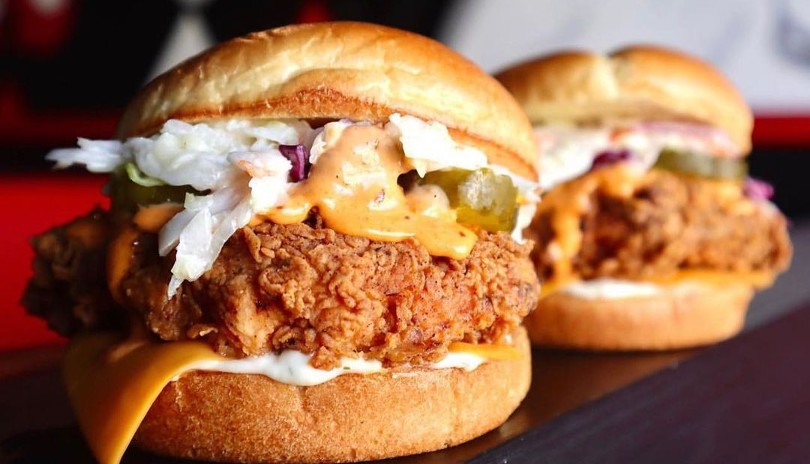 Located in the heart of downtown London, Kluck It is a delicious hot spot that specializes in all things fried chicken.
The family-owned joint serves up halal chicken in the form of classic tenders, chicken burgers, chicken and waffles, chicken tacos and their special Krazy Fries which combine thick cut fries, sliced fried chicken, tasty coleslaw and their signature sauce.
Open until 11:00am - 3:00am every day of the week, Kluck It can satisfy your hunger whether it's a lunch time pick-me-up or a late-night crispy craving.

---

Kyle's Fried Chicken & BBQ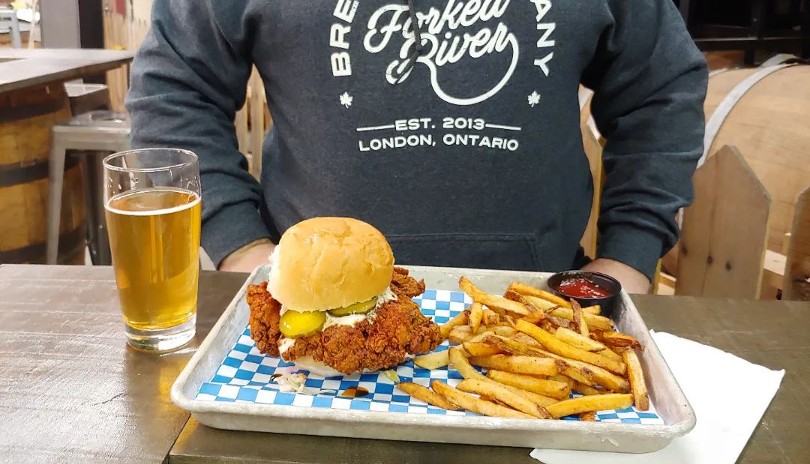 Kyle's Fried Chicken & BBQ is a bit different from the other spots on the list as he primarily sells his food in a pop up style format at local breweries across London and more often than not will sell out within a few hours.
After seven years spent perfecting his recipe, we can say with confidence that Kyle makes one of the best fried chicken sandwiches in London. The meat is tender and juicy, the batter is crispy and well seasoned. Topped with a creamy Alabama white sauce, house made slaw, a few tangy dills and sandwiched between a soft potato roll, you can tell before taking the first bite that you're about to experience something special. Follow @kylesfriedchicken to stay posted on where he'll be next.

---
HONOURABLE MENTION:

HUNTER & CO.

While fried chicken isn't their primary focus, Hunter & Co. have still put together some delicious fried flavours worth mentioning.
Their "Hunter & Co. Fried Chicken with Spicy Bourbon Honey Glaze" is the definition of sugar and spice and everything nice. Of course, no food option is complete without pairing it with one of their delicious cocktails!

---


HONOURABLE MENTION:

THE MULE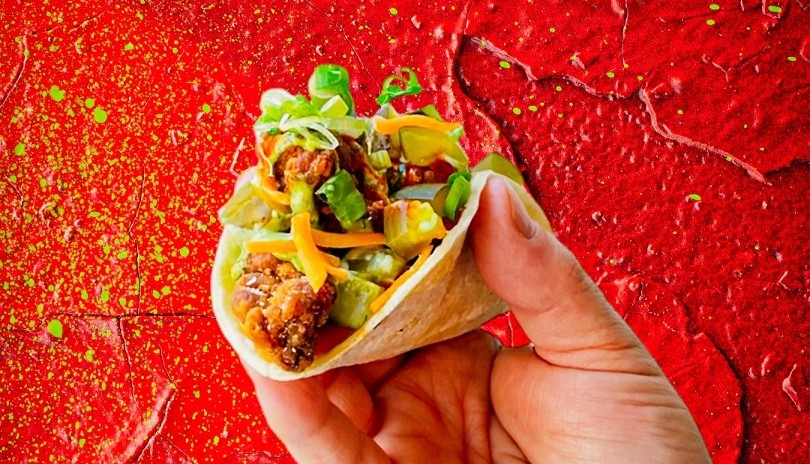 The Mule is London's latest taco spot that combines delicious cuisine with an impressive menu of tequilas and drinks.
What does this have to do with chicken? Well their menu features a delicious taco of buttermilk fried chicken, cabbage, house ranch, hot sauce, diced pickles and green onion. We'd say it's finger-licking good, but their lawyers prefer the term "digit lapping delicious".
---
Fried Chicken sandwiches can be a touchy topic. What type of batter works best? Does a fried chicken sandwich need pickles, or do tomatoes and lettuce suffice? No matter your taste, this list offers something for every palette. Our suggestion is to try them all because you really can't go wrong. And when you're posting all of your amazing fried chicken sandwiches to IG, be sure to tag @tourismlondon and #ExploreLdnOnt for a chance to be featured on our socials and our website!