Give someone a fish, and they'll eat for the day. Teach someone about all the resources, businesses, and wild spaces in London, Ontario where they can cast a line and they'll be hooked!
Learn how to obtain a fishing permit, where to purchase bait and equipment, and where to catch the big one, right in our backyard.
Always prioritize water safety, and don't forget to tag those fish pics with #ExploreLdnOnt to be featured on the Tourism London website!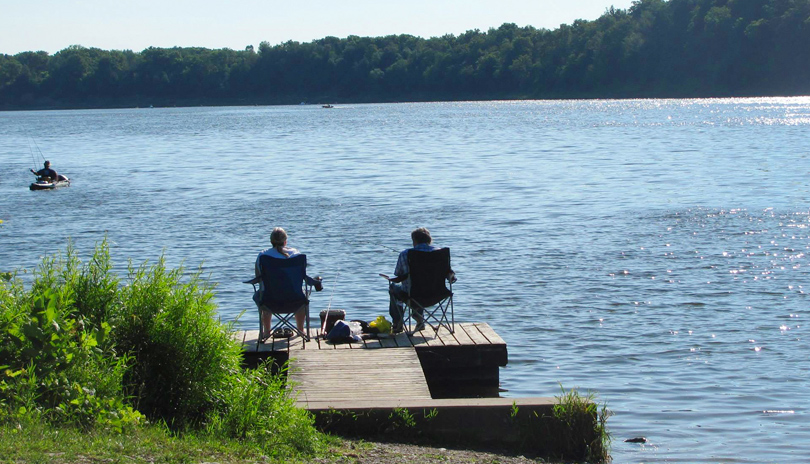 Outdoors Card and Fishing Licenses
Before casting out on your angling journey, you may need to obtain an Ontario Government issued Outdoors Card along with a fishing license.
Any Ontario resident (with the exception of veterans and active Canadian Armed Forces members) between the ages of 18 and 64 are required to carry these permits when fishing. Outdoors Cards remain in effect for three calendar years. If you buy a three-year fishing license at the same time you renew or buy your Outdoors Card, this license will be printed on the back of the card.
However, if you are just hoping to try fishing for the day, you can purchase a one-day sport fishing license without registering for an Outdoors Card, and license-free family fishing opportunities occur throughout the year!
Outdoors Cards, and one-day sport fishing licenses can be obtained online (see here for more information), or through ServiceOntario directly. For a ServiceOntario location in London, click here.

---


WHERE TO FISH:

THE FISH & PADDLE GUIDE

Once you're outfitted with everything you'll need to spend the day reeling 'em in, it's time to head to the water! The City of London's Fish & Paddle Guide features a comprehensive map with information on where paddlers and anglers can find shore access, fishing platforms, details on local species of fish, safety and more.

Stop by the Tourism London Welcome Centres to pick up your copy, or download the guide here!

---

London's Paddle Shop and Nova Craft Canoe
Did you know that the incomparable Nova Craft Canoe was established right here in London in the 1970's? Their reputation for quality and workmanship is now known around the world. For those anglers who love being out on the open water, London's Paddle Shop, the factory outlet for Nova Craft Canoe, is a must-visit! In addition to a wide variety of water craft, London's Paddle Shop also carries the supplies you'll need for your outing, including maps, safety gear such as personal flotation devices, and, of course, paddles.

---

Angling Sports
Angling Sports is the premier fishing and tackle store in Southwestern Ontario. Located in London, they are the biggest supplier of quality fishing and tackle gear from Woodstock to Windsor, and offer a full line of live bait options. Whether its minnows, worms, spawn, leeches, wax worms or frozen herring, they are always stocked with fresh product, available in bulk or conveniently packaged units to suit your every need and budget.

---

London's EnvIronmentally Significant Areas
London's Environmentally Significant Areas, or ESAs, are natural gems tucked away throughout our city. Each ESA is a protected, ecologically diverse and a unique area, where folks can enjoy birding, hiking, and with a valid provincial fishing license, fishing. Kilally Meadows, Meadowlily Woods, Medway Valley Heritage Forest, Lower Dingman, and Westminster Ponds/Pond Mills ESAs all offer recreational angling opportunities.
For ESA locations where fishing is permitted, activate the map at the bottom of this blog. For more information on ESAs in London, check out
London's Unique Natural Areas
.
---
London and region conservation areas
The fishing is good at Fanshawe, Wildwood, and Pittock Conservation Areas, from shore or in your boat! All three reservoir lakes are home to a variety of fish species, including perch, bass and northern pike. Walleye can also be found at Fanshawe.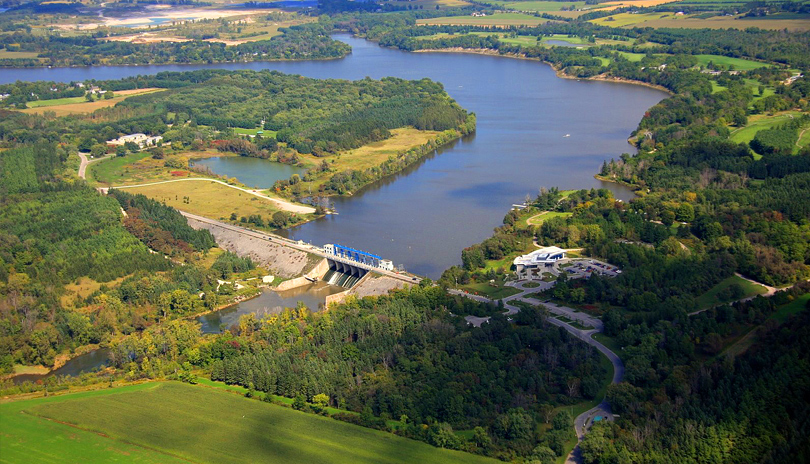 The Conservation Areas also partner with the Ontario Federation of Anglers and Hunters (OFAH) for TackleShare: a program that helps equip new and young fishers with rod, reel and tackle at no charge. Kind of like a library loan service for fishing! For more information on the TackleShare program, click here.


---

The Thames River
Part of the Lake St. Clair/Lake Erie basin(s), the Thames River is the second largest river in Southwestern Ontario. Due largely to its plentiful fish and game, and its connection to the Great Lakes, human habitation along the Thames can be traced back as far as 11,000 years.

Today, recreational anglers continue to take advantage of the Thames River as a prime fishing destination. The varied fish community in the Thames (which includes species such as smallmouth, largemouth, and rock bass, yellow perch, northern pike, trout, pumpkinseed, white sucker, bullhead and carp) provides anglers with first-rate fishing. Day angling, fly fishing and ice fishing are all popular with fishers of the Thames, along with canoeing, kayaking and rowing (Cathy Quinlan, UTRCA).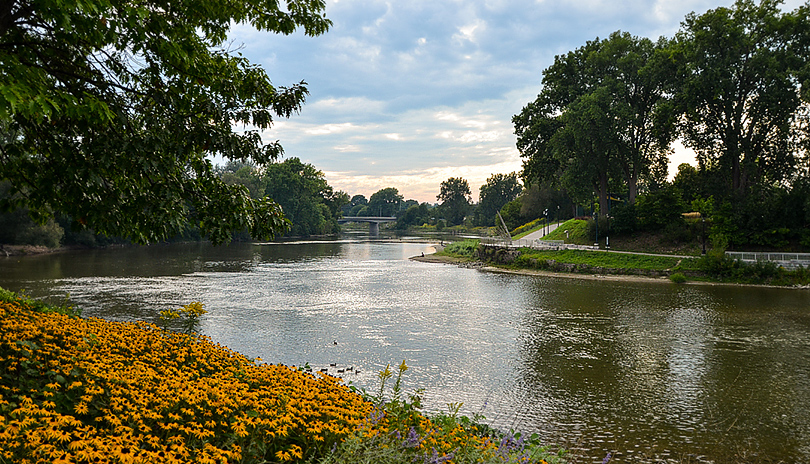 For those who would like to learn more about fishing the Thames, the Upper Thames River Conservation Authority (UTRCA) has put together a poster that lists the nearly 100 species of fish found in the Thames River. Beautifully illustrated, the Fish of the Thames poster features information such as average species size, risk status of fish, the different habitats of the Thames River watershed and more.