You often hear people say "there's always room for dessert" and we tend to agree. With so many great restaurants in London, we wanted to take a second to highlight the sweeter side of things. From chocolates to cakes and everything in between - check out our top 10 favourite spots for dessert in London, Ontario.

BLACK WALNUT BAKERY CAFE
Black Walnut Bakery Cafe may have some of the city's best coffee, but their baked goods are also phenomenal. With two London locations, they start baking in the early hours, using high quality ingredients and crafting each baked good from scratch. Some of their highlighted menu items are butter tarts, scones and cruffins that will knock your socks off. They're constantly adding new and innovative features to keep you on your toes. Did we mention that they also have some of the best coffee in the city?

ARVA MILLHOUSE BAKERY
Located on site at the historic Arva Flour Mill, all of the food at Arva Millhouse Bakery is made with some of the country's best flour which is milled next door. For those that don't know, the Arva Flour Mill is North America's oldest operating flour mill. Everything is local and baked fresh daily. If you're struggling to decide what to try first, their banana bread is hands down some of the best we've ever had.

SHRAIMS SWEETS
Shraims was established in 2019 by two young brothers, Ibrahim and Mohammad, with big dreams. What started in a small corner of Shelby's Horton location, has grown to include a soon-to-be open second location at Oxford and Wonderland. Their innovative creations have solidified them as one of the best places for sweets in London. Shraims stakes claim on being the creators of the 'Sushi Crepe' which is just as good as it sounds. Their menu also features everything from mojitos to cheesecakes leaving no shortage of goodies to try.

SOONIES
Soonies was inspired by a trip that the owner took to Dubai in 2016. Everyday was filled with new foods and flavours that he hadn't experienced previously. When he returned home, he was dead set on bringing a similar dining experience to London. Soonies sells waffles, milkshakes and cheesecakes topped with the unique taste of Belgian cookie butter and biscuits. Although simple, everything they serve is decadent and delicious.

CHICK BOSS CAKE
Owner Rebecca is a true chick boss. With locations in London, St. Thomas and Woodstock, she's definitely been keeping busy. Chick Boss offers unique and creative desserts with exceptionally fun flavour combinations. Her cakes are over the top and definitely Instagram worthy. And a dollar from every cake is donated to the Make-A-Wish foundation - justifying not only the purchase but also the calories.

the cookie place
Everyone loves a good cookie, but you've NEVER had a cookie like this before! The Cookie Place specializes in over-the-top gourmet creations that will have your eyes wide and stomach rumbling. They pride themselves on using fresh ingredients to make unique cookie creations with a variety of fillings and toppings. Don't forget their cookie cakes, which are an amazing way to celebrate any occasion.

FORRATS CHOCOLATE
The Forrat family settled in London with the goal of bringing affordable luxury treats to the community. Forrat's specializes in quality European handcrafted truffles and fine chocolates. They also have their signature 'Chocolate Lounge' which further embraces the European lifestyle and allows you enjoy their chocolate as an event with family and friends. Forrat's chocolates are made fresh on site using natural ingredients like milk, butter and cocoa beans. Forrat's in-house chocolate studio allows you to try your hand at making chocolate.

BOXCAR DONUTS
After starting CommonWealth Coffee Co., the owners felt that something was missing and donuts seemed like the obvious answer. This two person, husband and wife baking team at Boxcar have quickly become a staple in London, and with good reason. They use fresh fruits, all natural colourings and melt-in-your-mouth yeast dough. Their flavour combinations are ever-changing and always delicious and they just opened a second location at 1673 Richmond Street to further serve your donut needs.

V FOOD SPOT
Located in East London, V Food Spot specializes in plant based comfort food that will change your mind about vegan eats. Their small batch, artisan donuts are undoubtedly some of the best in the city and won the community vote in 2019. Not feeling adventurous? They have classic flavours that serve as menu staples as well.

HAPPINESS
This small family owned business, Happiness, has definitely lived up to its name. What started as an at home hobby in the Ukraine has turned into a fruitful business for owners Olha and Anatolii. Their offerings are simple in the best way: refined, beautiful and made from scratch with real ingredients. Located in downtown London, Happiness also offers specialty cakes, savoury options and so much more. They recently introduced picnic boxes which we're super excited about and there are plenty of dairy-free and gluten free options to enjoy as well.
With so many incredible options locally, it's hard not to embrace your sweet tooth. Follow @dinein519 for all things food in London and beyond.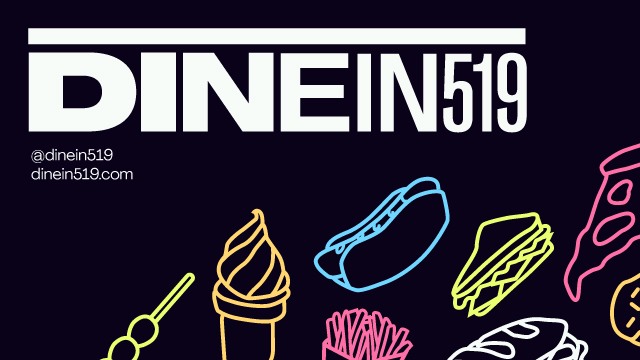 Jesse Walker started @dinein519 in February of 2021 as a way to support local restaurants that may not have the time, resources or skillset to properly market their business. Dine in 519 supports restaurants by providing them with a professional photo shoot free of charge, writing about the experience and then marketing the photos through their digital channels. A lover of food and all things local, Jesse has been working as a marketing professional and photographer for nearly a decade. As the platform grows, Jesse looks to expand into other regions that may benefit from similar services.
If you're interested in having your restaurant featured on @dinein519 or www.dinein519.com please reach out to dinein519@gmail.com directly.
READ MORE IN THIS SERIES
Top 5 Spots for Fried Chicken in London, Ontario