London has such an amazing food scene! As a travelling foodie, one predicament I always find myself in is not having enough time to check out absolutely all the restaurants I want to try while visiting the destination.
This is why I love to do food crawls. It's a great way to hit all of the best local restaurants and get a taste of must-try dishes in a short amount of time while getting to explore different parts of the city.
I had a whirlwind food trip while I was in London, Ontario! Here's how you can partake in the ultimate Travelling Foodie food crawl in the downtown core, visiting seven of London's best restaurants within a 30-minute walking distance.
You will end up experiencing a tasting menu of the city's best food and drinks!
---

Covent Garden Market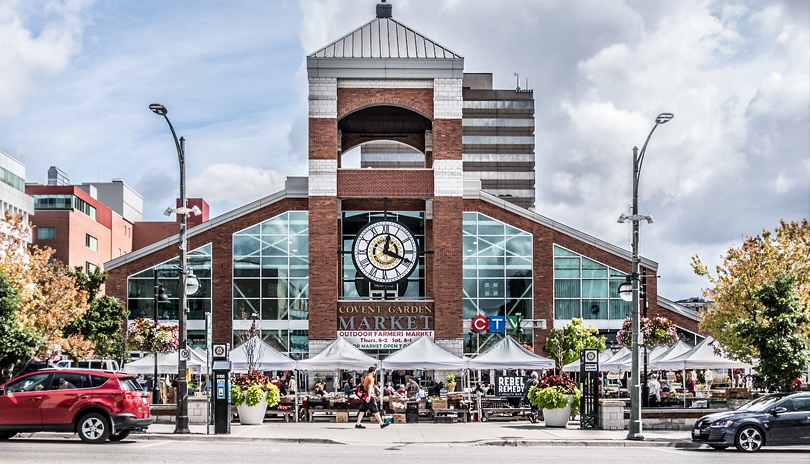 Start the food crawl at Covent Garden Market, one of London's most cultural landmarks dating back to 1845. From people enjoying their meals to buying farm-fresh produce, quality meats and various locally made products, this place is a gathering hole for locals throughout the day.
Here, you'll want to fuel your appetite with a freshly baked croissant from Pastry Culture and coffee from HasBeans.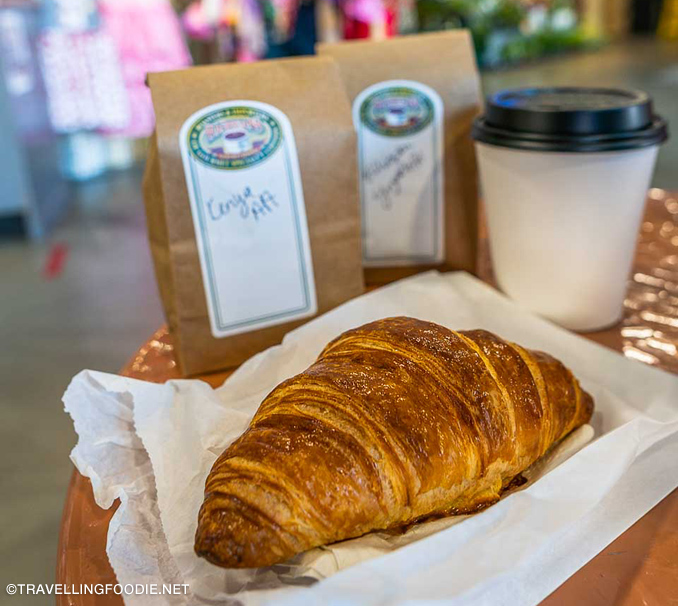 ---
The Early Bird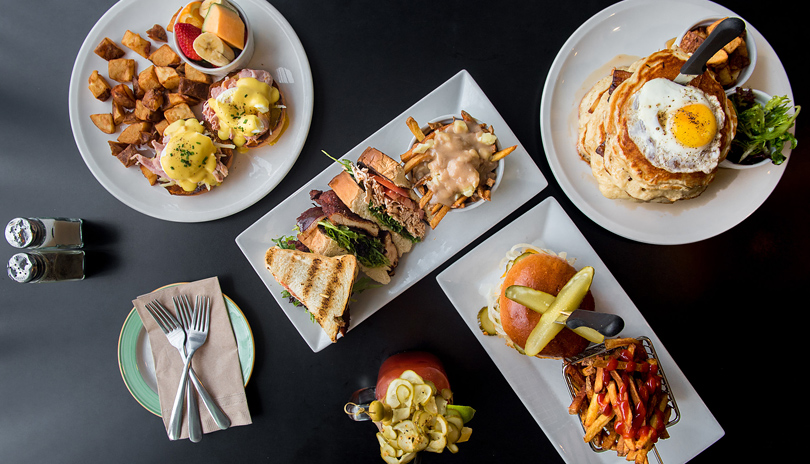 Next, you're enjoying brunch at The Early Bird located just across the street from the Covent Garden Market. This popular local spot serves all-day breakfast and was even featured on Food Network Canada's You Gotta Eat Here! You'll love the retro diner vibes decked with funky decor, vintage posters and vinyl records on the walls.
If you're craving some fried food, go with the delicious chicken and waffles which uses fried chicken thighs for a juicier meat. The cincher is the waffles are also fried, which makes for a great guilty pleasure or hangover cure. Top it off with your choice of either syrup or hot honey.
For something different, their huevos rancheros are some of the better ones I've had and it's the most Instagram-worthy one too. Be sure to add on the tender and moist brisket if you do.

---

Thaifoon Restaurant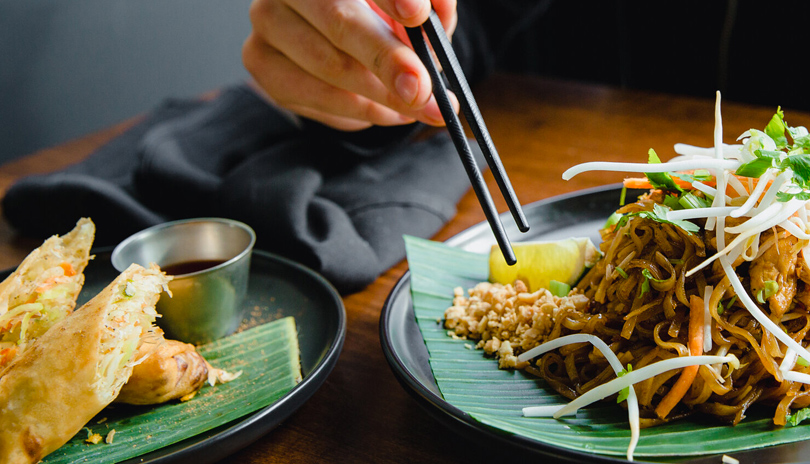 Now it's time for lunch! You're heading to London's oldest street, Dundas Street, for some Thai food.
A play on the word "typhoon", one of the natural disasters common in Thailand, Thaifoon Restaurant has been a local mainstay in the area for over a decade.
You must try the peanut pasta here, something unique that you won't normally find in Thai restaurants: a medley of wide rice noodles, coconut milk and their homemade peanut sauce that will leave you wanting more.
If you're feeling for something boozy (because it's always 5 o'clock somewhere), get their Sand + Fog which is their cocktail twist to Thai iced tea that has coconut milk, maple moonshine, aromatic bitters and graham cracker sand. It's a sure treat!

---

Church Key Bistro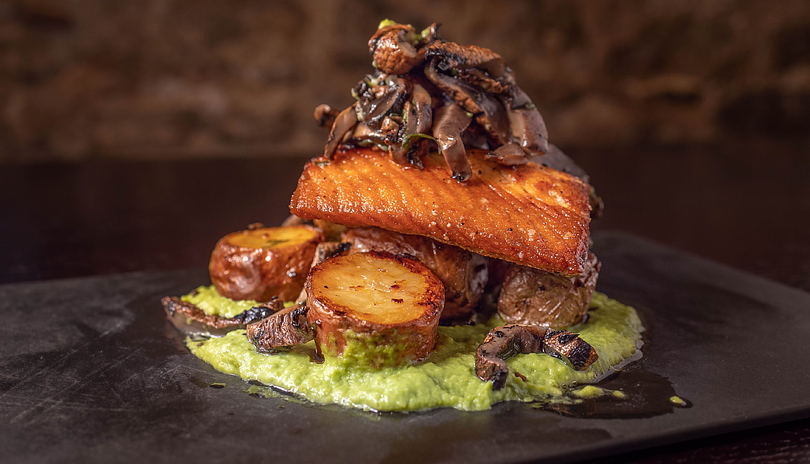 After Thaifoon, the rest of the food crawl is on Richmond Row, London's shopping district with over 200 businesses to fill your needs. First stop is at Church Key Bistro, a British gastropub in a heritage building with an intimate outdoor courtyard.
Here you won't find the common bacon-wrapped scallops, but instead, find delicious sea scallops wrapped in house-smoked salmon. If you prefer red meat, the Irish Enchilada gives you a deliciously tender, Guinness-braised pulled lamb with cheddar cheese baked in a flour tortilla. While you're at it, why not pair it with a local craft beer!

---

BoxCar Donuts
After which, it's DONUT time! Walk literally next door to BoxCar Donuts to grab a specialty donut from this husband and wife bake team that makes all the donuts in house. Expect unique flavours like Lavender Earl Grey Sugar Cookie and Cinna Sugar Churro.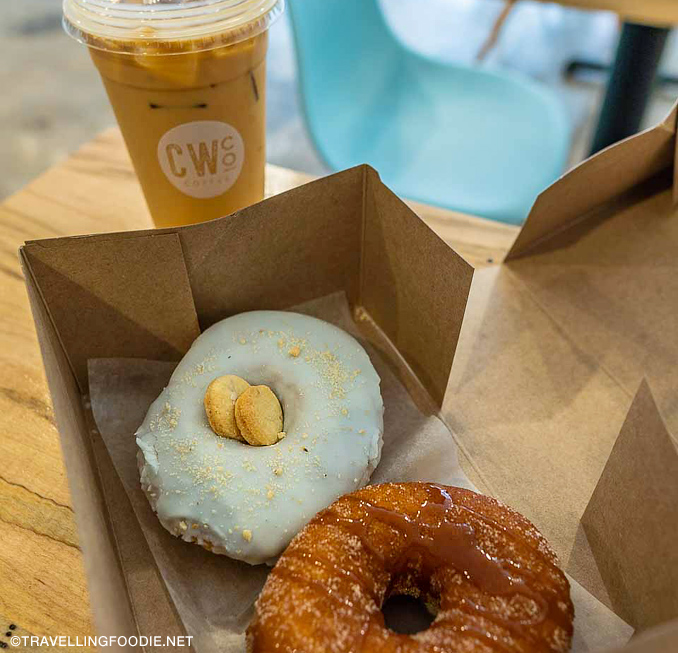 Now you get some time to digest as you walk the rest of Richmond Row through the 18-acre Victoria Park, which was part of the original site of the 32nd British Regiment Garrison and Cricket Grounds. Did you know London is known as the Forest City because of its numerous, beautiful pathways and acres of rolling parkland right in the city? Victoria Park is the perfect spot to enjoy that donut if weather permits!
---

Wich is Wich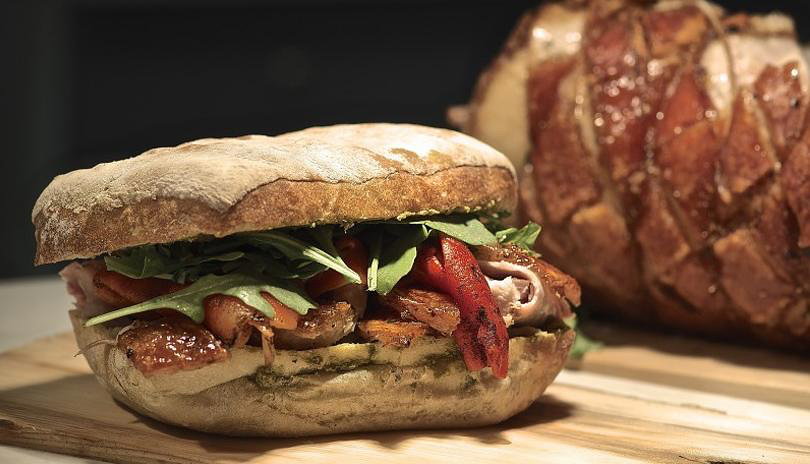 Your next stop is Wich is Wich, a gourmet sandwich shop based on flavours from chef Josh Sawyer's travels from all over the world and experiences from having made meals for Bill Gates, Warren Buffett, Oprah Winfrey, Leonardo DiCaprio and more.
You'll have to try the Jerk Chicken sandwich, with a juicy tender chicken, pickled cabbage slaw, "irie" sauce and a unique dark rum banana aioli. Don't worry about it being spicy because the banana aioli works very well in cutting through the spice.

---

Haven's Creamery
The last stop is just around the corner at Haven's Creamery for handcrafted small-batch ice cream.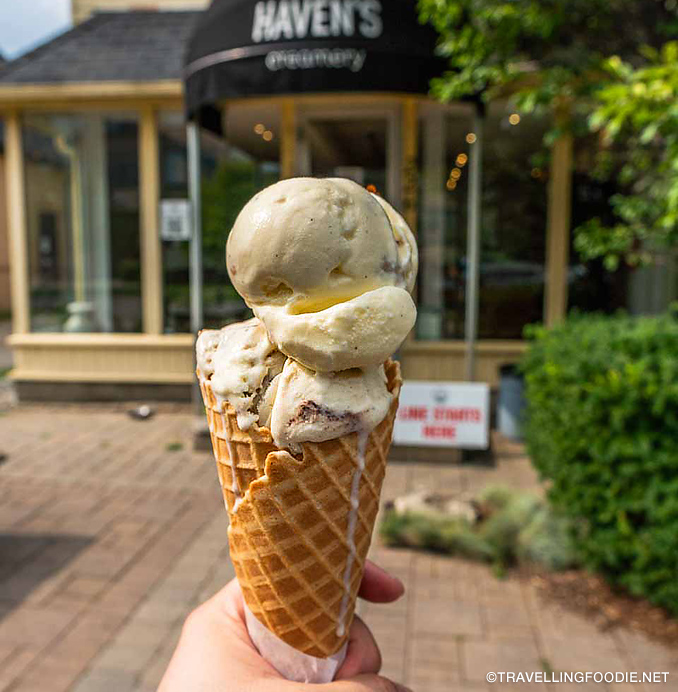 Taste test the different flavours to decide which one you want and be sure to check out their rotating Haven's Features. If it's available when you're there, try the Banana Fudge Ripple, a banana-based ice cream with rich fudge ripples throughout. A sweet way to end the food crawl and the perfect last stop especially if you're experiencing London in the summer months!

---
I hope you love this curated Travelling Foodie crawl in downtown London as much as I did! Thank you to Tourism London and Ontario's Southwest for hosting me on this delicious trip.


About the author and photographer
Raymond Cua is the founder and publisher of Travelling Foodie, exploring the world and highlighting culinary experiences as a way to enjoy destinations. Originally from the Philippines, Raymond has called Ontario home for over 10 years where he's usually found exploring the province's unique experiences and diverse culinary scene. Instagrams: @travellingfoodie and @journeytraveler.