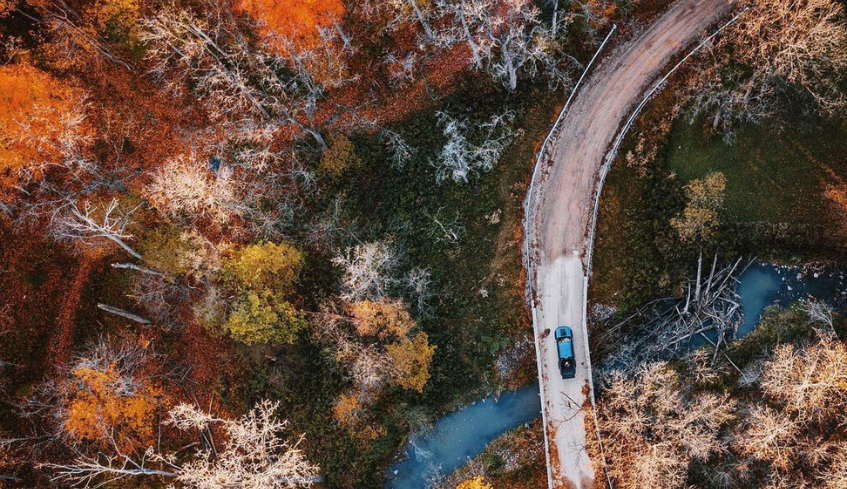 The arrival of fall is a perfect opportunity to explore London, Ontario with a road trip! Whether you're planning a trip with family, a romantic couple's getaway, a thrill-seeking experience or some time to unwind and relax, the Forest City has something for you!
starting off the morning
London has plenty of opportunities to get outside and enjoy the changing fall colours. No matter where you are in the city, a park or hiking trail is always nearby. Start your day off with some leaf peeping at one of Springbank Park's or Sifton Bog's accessible trails. If you're looking for something a little more active, a hiking trail at Fanshawe Conservation Area, Kains Woods or Westminster Ponds will get your blood pumping.
Looking to stay inside? Visit a farmers' market to get some fresh fall produce, baked goods, coffee, tea and delicious treats! The Market at the Western Fair District, Covent Garden Market and the Trails End Farmer's Market are all great options that also feature local artisan vendors selling lots of unique, one-of-a-kind items. If you're in the mood for a warm seasonal drink or a hot coffee on a crisp fall day, settle in at one of the many nearby cafes and bakeries. Local spots like 10Eighteen, Black Walnut Bakery Cafe, Locomotive Espresso and Asmara Coffee House are just a few of the many delicious cafes that London has to offer.
For the art enthusiasts, there are many public displays and murals all throughout the city! For those seeking London's public art, you'll want to visit the Good Hands display at Ivy Park, The Sentinel at Mitchell A Baran Park, the Walter J. Blackburn Memorial Fountain at the Forks of the Thames River or the Metal Rhino outside of Museum London. London is home to many amazing murals, such as those found at Market Lane, Neighbourhood Laundromat Cafe and Dundas Place. You can also find unique photo opportunities at the displays on London's Clay Art Centre and the Old East Village Wayfinding Mosaics. Indoor art and history more your thing? London has plenty of great museums and historical sites for you to discover. Museum London, Eldon House, the Jet Aircraft Museum and the Benz Gallery all make for a rich cultural experience.
Afternoon adventures
After spending the morning out and about, it's the perfect time to recharge with lunch at one of London's great local restaurants. Covent Garden Market, Dos Tacos, Wich is Wich and CHICKPZ are all great places to grab a quick bite before your next adventure.
London has a number of exciting outings perfect for continuing your autumn afternoon. Boler Mountain is the place to go for some trill seeking fun! Their treetop adventure park will bring you up close and personal with the beautiful fall leaves. They also have mountain biking and fitness trails for those who prefer to seek their thrills a little closer to the ground. Clovermead Adventure Farm is another great option for an afternoon outing that has something for the whole family. They offer wagon and bee train rides, an animal barn, corn maze and a pumpkin cannon! Don't forget to stop into their Honey Shop for a hive of sweet treats. For an apple themed afternoon, Apple Land Station has bushels of options to keep you busy. Hop on the train and head into the orchard to pick a variety of fresh apples or find the perfect pumpkin in their pumpkin patch. The children's play zone, corn maze and bakery also provide lots of entertainment and seasonal snacks.
Looking to enjoy a drink or two in the afternoon? Sip, sip, hooray! London and the surrounding area have many fantastic breweries, distilleries and wineries to visit. Beer enthusiasts can take a brewery tour or enjoy a fresh pint with a visit to London's many taprooms and breweries like Anderson Craft Ales or London Brewing Coop. Great glasses can also be found at wineries only a short drive from the city. Spots like Dark Horse Estate Winery are perfect for wine lovers to sip back and relax. Can't decide which brewery or winery to visit? Let Ride the Bine do all of the planning and driving for you! This Ontario company provides local beer, wine, cider and distillery tours with two London tour options to choose from!
Ending the evening
After working up an appetite from an afternoon of fun, it's time to visit a local restaurant for dinner. London has lots of casual and family friendly spots like Palasad SocialBowl, The Bungalow Neighbourhood Hub, Los Lobos and Through Thick & Thin Pizza. Looking to treat yourself to some finer dining? Check out some local favourites like The Church Key Bistro-Pub, Grace, Craft Farmacy and Blackfriars Bistro.
Staying in town a little later? Keep the fun going after dinner and head to Fleetway for some bowling or glow in the dark mini golf. If you're up for a challenge, check out one of Escapology London's themed escape rooms and look for clues to find your way out. If you would rather something more relaxing, catching a movie at the historic Hyland Cinema is the perfect way to spend the evening and wrap up the day.