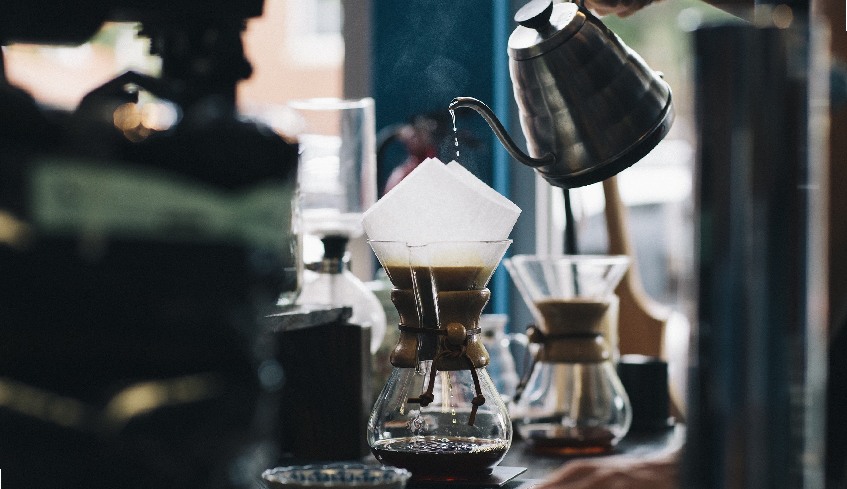 Join Londoners in their long-standing enjoyment for brewing pots of fairly traded, environmentally responsible and ethically sourced beverages. These brews of small-batch specialty bean coffee and quality loose-leaf, single-origin tea are available at coffeehouses, tea lounges, restaurants and culinary retailers in and around London.

Black Walnut Bakery Café
The independent Black Walnut Bakery Café has grown into a pair of locations in Wortley Village and on Richmond Row at Piccadilly Street. Drop by for in-store, hand-batched roasts with diverse flavour profiles and delicious from scratch baking. Seasonal soups, quiches, scones, squares and savoury meals have made them a home-grown foodie destination. Be sure to try their "cruffin," a fusion of a croissant and muffin and a huge hit on social media. The friendly and outgoing baristas are knowledgeable and passionate about the culture of Black Walnut and have a strong bond with the community.

Locomotive Espresso
Since 2014, Locomotive Espresso has been the perfect spot for espresso-based drinks, local and fresh food fare and baked goods with vegan and gluten-free options. Don't miss vegan donut day every Friday! Now with two locations at 408 Pall Mall St. and 350 Ridout St. S.! Both cafes feature a large patio area. Sit back and relax while sipping the barista brewed hand-crafted hot and cold beverages and shop their emporium of retail brewing accessories. Locomotive Espresso brews direct-trade coffee from Pilot Coffee Roasters.

10Eighteen
This stylish refurbished space in Old East Village is emphasized with reclaimed wood, beams and architectural accents featuring an original sky-light. 10Eighteen coffee bar specializes in hand-crafted, fresh pour over coffee and espresso roasted by Trebilcock Coffee Roasters. The locally-sourced menu offers sandwiches, croissants, butter tarts, charcuterie and cheese boards, craft beer and wine. There is even a suspended bicycle rack at the backdoor for biking enthusiasts.

Hasbeans
Promoting the distinct qualities that each coffee bean develops within its natural environment, Hasbeans has been a Covent Garden Market staple for their Fairtrade brew and one-of-a-kind personal touch. Hasbeans has been roasting and shipping fresh, specialty-grade, gourmet coffee across Canada since 1969.

Fire Roasted Coffee Co.
Fire Roasted Coffee Co. features over 30 types of coffee, including 20 single origins, decafs and blends. Owner Dave Cook has established direct trade with producing countries to benefit the growers in meaningful ways with 95% of their coffees being Fairtrade certified. They only work with suppliers who source beans in an ethical and sustainable manner. Join them at either of their two locations including one at Somerville 630, or Saturdays and Sundays at The Market at Western Fair District.

The Tea Haus
A premium loose leaf tea shop with a retail location as well as an online store. They carry a variety of over 200 premium loose leaf teas and tea-ware. You will find every type of tea available including white tea, green tea, oolong tea, black tea, rooibos and herbal wellness infusions. Escape your day by dropping in for a visit at The Tea Haus. Have a cup of tea, sit back and relax in the atmosphere of the Covent Garden Market.

The Tea Lounge
An artisan tea shop with delicious food and a beautiful gathering place, nestled in the heart of Piccadilly Street. The Tea Lounge welcomes you with old world charm with all the quality and unique experience you're looking for! Featuring over 100 exceptional quality, ethically sourced teas and tisanes/herbals, you are sure to find a selection to please every palette.

Wisdom Café, Teashop and Japanese Creperie
The Wisdom Café, Teashop and Japanese Creperie in Old East Village, offers over 130 loose leaf teas and a large selection of tea pots and accessories. Unlike their French brethren, their savoury crepes are less sweet and are served in a cone shape for easy eating. Try the applewood smoked ham crepe with melted cheddar cheese or a banana crepe with with whipped cream and chocolate sauce.

Craft Beverages
True craft goods cannot be mass-produced: they are limited in quantity and have specific characteristics deemed to be specialty in nature. The trend for locally-made craft beverages by independent artisans is on the rise and always growing!

Pulp & Press Juice Co.
The cold-pressed juice movement has garnered the attention of health minded people looking to get their fruits and vegetables in a quick, drinkable form. London's Pulp & Press Juice Co., makes juice from raw organic fruits and vegetables that are fed through a grinder before the pulp is slowly pressed through an industrial grade, hydraulic cold press juicer. With 3-4 pounds of fresh, organic produce in every 473-millilitre bottle, Pulp & Press delivers a delicious and 100% nutritious juice, every time. With names like Envy, Surge and Rinse, Pulp & Press mixes everything from cucumber, kale, parsley and spirulina too! Available for purchase online and various retailers throughout London.

Booch Organic Kombucha
Some call it the elixir of life, but no matter what you call it, kombucha is one of the hottest trends in health beverages. Booch Organic Kombucha is a raw, probiotic beverage handcrafted right here in London. The owners of "Booch" found their calling in brewing kombucha made from fair trade fermented tea and selling it initially at the Covent Garden Farmers' Market. Booch now crafts sensational signature flavour options as well as many small-batches of their seasonally-infused elixirs. They are available at the Booch Brewery Retail location and found in 450 locations across Ontario and growing! Booch promotes strong core values that set a foundation for their organization's culture of health promotion, local organic food security and environmentally sustainable business practices.

Rebel Remedy health bar
Rebel Remedy is a takeaway cafe, indie grocery shop and kombucha brewery in Downtown London. Find locally-sourced and healthy sandwiches + salads, smoothies, craft-brewed kombucha, and gluten free baked goods for takeaway, as well as direct-trade Pilot Coffee on the espresso bar. Lots of vegan and gluten free options! Along their walls, you'll find a huge selection of unique and artisanal pantry goods from across the world. On weekends, pop by for a loaf of fresh sourdough bread and local vegetables. Rebel also produces their own kombucha, which you can find in-store, online, or at other fine local establishments. Shop online for local delivery or Saturday pickup at www.rebelremedy.com
Read Similar Articles
The Best Vegan Restaurants in London, Ontario