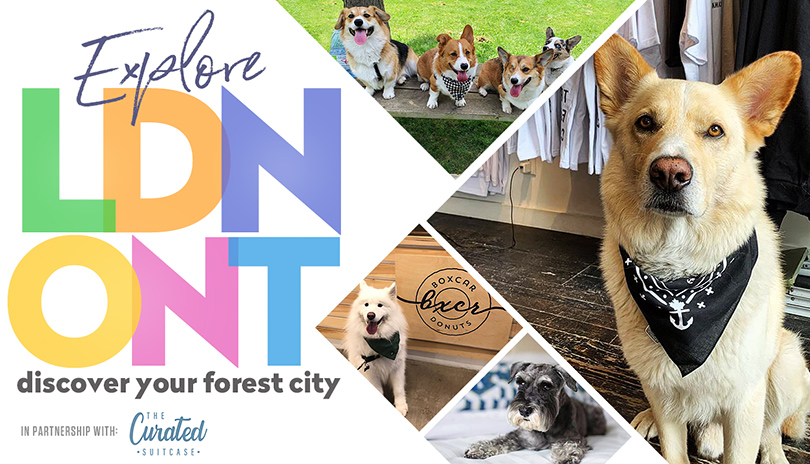 It's official, I live in a zoo. My house is now home to more four-legged family members than two. We recently rescued three kittens, with the intention of only keeping one… we all knew how that was going to play out. Onyx, Atlas and Piper were lovingly welcomed by our 8-year old labradoodle, Cooper. OK maybe not lovingly at first, but he's come to terms with his new sibling arrangement.
It can be hard spending time away from our fur-babies - they really are members of our family! Cats fare a bit easier when we're gone, but what about our canine companions? This week we're exploring a London, Ontario staycation that's not only inclusive of, but tailored to "man's best friend". No need to look for doggy daycare - now the entire family can enjoy the perks of summer fun in the forest city.
The Paw-fect Itinerary
London boasts many accommodations that are ready to welcome your furry roommate. Right downtown, The Park Hotel London is the perfect base for your pet friendly staycation.
9:00 AM
Head out for a walk and make your way down Richmond Street to Commonwealth Coffee Co./Boxcar Donuts. Not only will human appetites be satisfied with their incredible array of homemade donuts and caffeinated options, but your pooch can indulge with yummy puppy bites!
11:00 AM
If your dog is looking to make some new friends, head to the Greenway Park Off-leash Area - one of 5 off-leash dog parks in the city. Not a social butterfly? Why not hit the trails at Medway Valley Heritage Forest or Meadowlily Woods?
1:00 PM
Drop your furry companion off for a spa day at Bloomingtails Pet Boutique in Byron. Pamper yourself as well with a treatment at one of London's finest day spas like Fayez Spa, Tetherwood Spa or Zana Day Spa.
4:00 PM
London has many fantastic boutique shops for humans and pups alike. Pick up a little something special like a new outfit before you leave Bloomingtails, a tasty treat or toy at Bark & Fitz, or wear your local love proudly with a matching t-shirt for you and bandana for your pooch from Illbury + Goose.
6:00 PM
Patio season is great because you can dine al fresco and your four-legged companion can tag along too. Back downt