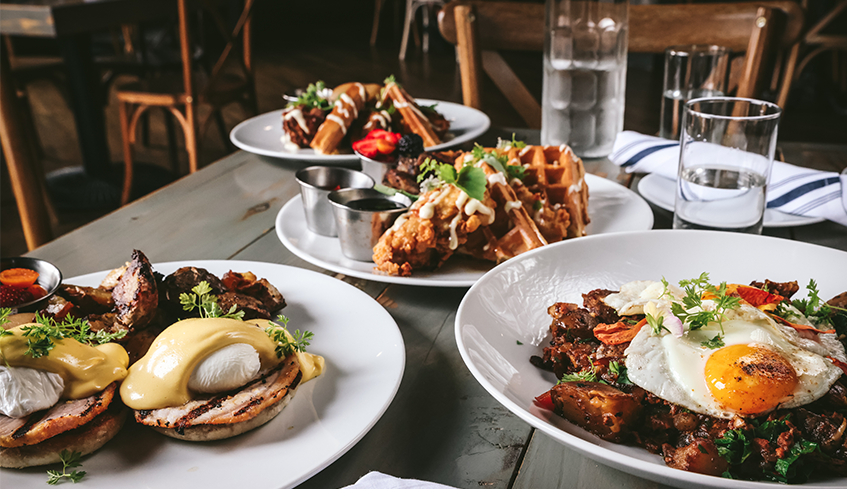 Brunch exists for those of us who may not be early risers but still enjoy a hearty breakfast. Hunting for a place to eat can be stressful, especially first thing in the morning. Whether you're looking for a classic greasy spoon diner or an upscale spot with a killer mimosa, we've got you covered with our list of the top spots for brunch in London, Ontario.

The Early Bird
A Graceland-inspired spin on a classic diner. A very eclectic space with silkscreen poster art collaging the walls. Once owned by the Wolfe brothers, the Early Bird was recently taken over by the former manager.
They offer hearty dishes made with fresh local ingredients and everything is made to order. All of their proteins are prepared in house using various methods of curing, smoking, grinding and pressing. Something as simple as bacon can take 7-10 days to prepare properly but you can taste the difference.
Their menu also plays on the Elvis theme with must try dishes like the 'Fat Elvis' which is thick cut French toast filled with fried bananas, peanut butter, bacon, syrup and honey.

Craft Farmacy
Craft Farmacy is the definition of upscale casual and offers brunch on Sundays from 11:00 a.m. - 2:00 p.m. They're rustic and refined while remaining cool and comfortable. Their brunch is no different. Features include everything from a delicious chorizo hash to their infamous chicken and waffles. Every dish is elevated with farm to table ingredients and presented beautifully. Their cocktails are great as well. We highly recommend pairing breakfast with one of their classic mimosas. You won't be disappointed.

The Bag Lady Variety
The Bag Lady Variety is such a special place with a wild, colourful interior filled with vintage collectibles that remind you of days gone by. The space is warm, inviting and offers a creative touch that makes you feel right at home. Their breakfast menu is equally unique and features everything from freshly baked cinnamon rolls to the Bag Daddy's Big Stack which is two slices of sourdough French toast, filled with spinach, scrambled eggs, Swiss cheese, honey ham, maple bacon, tomato and avocado slices then topped with their delicious house made hollandaise sauce.

The Singing Chef
While The Singing Chef has the look and feel of a successful franchise, the food here speaks for itself. The generous portions and friendly service are reason enough to visit, but their special features are what sets them apart. Everything from massive stacks of Churro French Toast to deliciously sweet peanut butter cup pancakes are a small taste of what you can expect. Both are equal parts Instagram worthy and delicious.

Billy's Deli
Billy's Deli is a family owned / operated breakfast spot that has been serving downtown London for over 30 years. Billy's specializes in the breakfast classics that we've all come to know and love such as eggs benedict, hash and flapjacks stacked high.
Billy's has a cozy atmosphere that feels like home and the service is always great. This is the type of place that will keep you coming back time and time again.
Although the portion sizes are large, we recommend saving room for dessert because their homemade pies are fantastic.

Edgar and Joe's Café
Edgar and Joe's Café is a bright, beautiful, open space that was created as a social purpose enterprise by Goodwill Industries. They make their food affordable and approachable for everyone without sacrificing farm to table quality. They use locally sourced ingredients wherever possible and have a wide variety of from scratch, healthy options that are impossible not to love.
Edgar and Joe's also offers an incredible coffee donation program that allows you to pay it forward by donating a coffee to someone that may not be able to afford one otherwise.

Campus Hi Fi
Campus Hi Fi is a Western University themed breakfast joint that has been serving downtown London since the 1950's. They're one of the few fixtures in the city that have survived the constant updates and changes on Richmond Row. This place has been a go to for both Western and Fanshawe students for years because of their hearty portions and reasonably priced menu. The 'All American' is a menu standout that features two English muffins filled with sausage patties, scrambled eggs, American cheese and two hash browns. A unique character and a rich history make Campus Hi Fi a must visit in London.
the armouries grille
Located in the historic Delta Hotels by London Marriott Armouries, the Armouries Grille has been voted London's Best Sunday Brunch 6 years in a row by the London Free Press. This luxury buffet-style brunch features an eggs-quisite eggs benedict bar, omelet station, kids buffet, live entertainment and so much more. There's nothing wrong with starting off the day with a little sweetness and options like deep fried cheesecake, chocolate fondue and European cake bites are sure to hit the spot for those who need a sugar kick to start off Sunday.
Well, there you have it. After a successful weekend, there's nothing better than a delicious brunch and now you're well equipped with plenty of suggestion that are worthy of getting out of bed before noon.
More about Dine in 519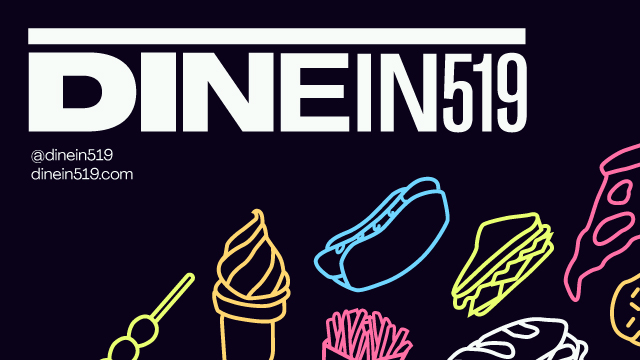 Jesse Walker started @dinein519 in February of 2021 as a way to support local restaurants that may not have the time, resources or skillset to properly market their business. Dine in 519 supports restaurants by providing them with a professional photo shoot free of charge, writing about the experience and then marketing the photos through their digital channels. A lover of food and all things local, Jesse has been working as a marketing professional and photographer for nearly a decade. As the platform grows, Jesse looks to expand into other regions that may benefit from similar services.
If you're interested in having your restaurant featured on @dinein519 or www.dinein519.com please reach out to dinein519@gmail.com directly.
READ MORE IN THIS SERIES
Top Spots for Pizza in London, Ontario
Best Ice Cream Spots in London, Ontario