London boasts a downtown treasure full of music nostalgia, cool gear and award-winning recordings.
The London Music Hall of Fame, located at 182 Dundas Street, is the only one of its kind in Canada – a real gem in a former jewelry story! Cases once filled with diamonds now display platinum albums – and musical glitter galore.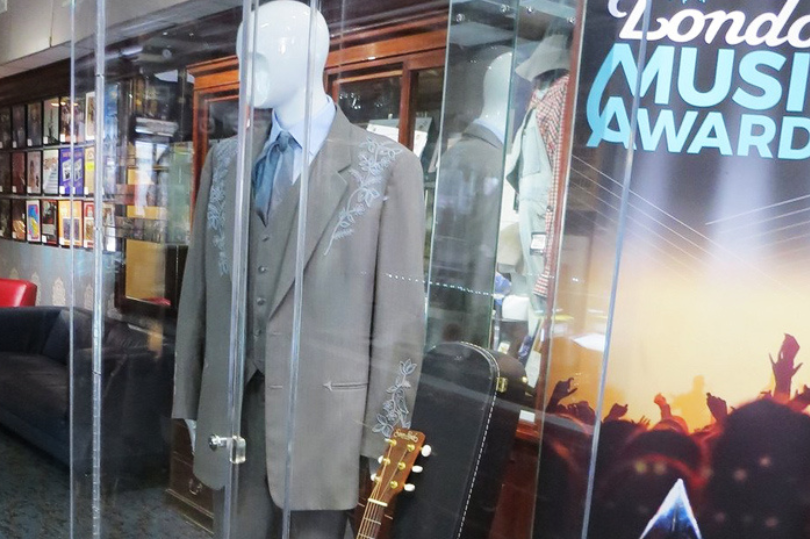 Discover a who's who of globally renowned musicians. See what they played – on numerous gold records (Santana, Helix and Kitty) or Thundermug's bronze cymbals and Carlos Santana drummer Graham Lear's gear. Check out their stage attire, including leather jackets from punk band '63 Monroe, a Guy Lombardo red band jacket (the only female one), singer/songwriter Marie Bottrell's frilled dress and country gentleman Tommy Hunter's custom suit with matching cowboy boots. Hear what they played in video montages. Feel like you're there through vintage concert and behind-the-scenes photos.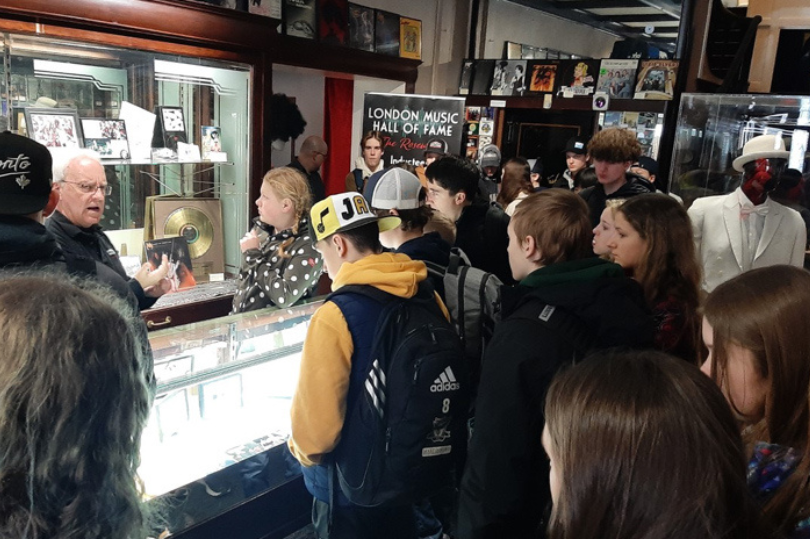 "We have a lot of cool stuff," says curator Rena O'Halloran. More than 40 acts representing every musical genre from opera to punk have donated items, including guitars, costumes and vinyl recordings.
"Everybody loves Tommy Hunter and the Kittie boots." Compare Hunter's custom snakeskin cowboy boots with Kittie's mile-high platforms. Alf Tibbs' curled-toe Shriner shoes are a hit with kids. Victor Garber's mother Hope Wolf was the blues singer in Tibbs' band. He block-listed a venue for its racist policy.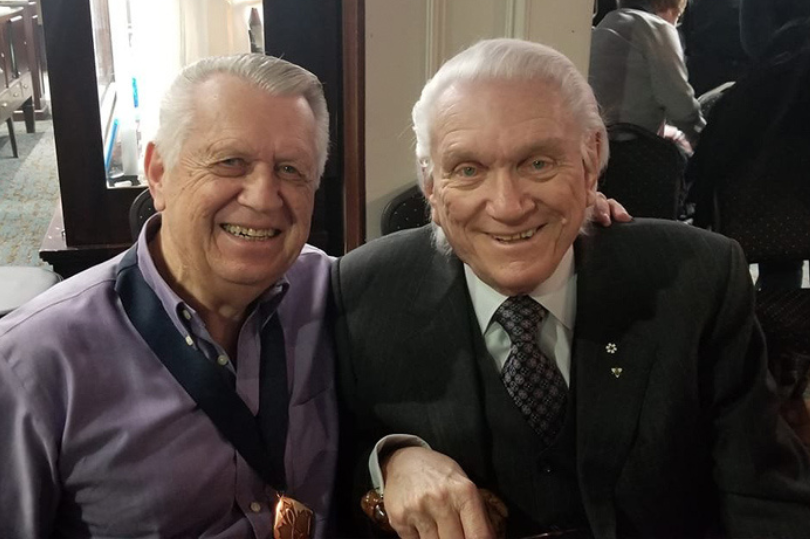 A 1920 Ludwig snare used by Guy Lombardo's first drummer, George Gowans, features a light at the back that was used to tighten the calfskin drum head until the 1950s.
"I love talking about Joey Hollingsworth (dancer, singer, actor). He was such a gentleman. He was so courtly. People love to hear about his connection to the civil rights movement and Martin Luther King."
One of his trademark tuxedos and tap shoes are displayed. Joey danced with Bojangles Richardson, on Mr. Rogers' Neighborhood and the Ed Sullivan Show. Rumor has it he also danced on the cafeteria tables as a student at Beal Secondary School here in London, Ontario.
"Visitors have no idea comedian Gordie Tapp was from London. Or impressario Jack Fallon's connection to the Beatles." He booked them and the Rolling Stones in 1962 and played fiddle with them on The White Album.
Indigenous singer/guitarist Mary Lou Smoke, and host of radio show Smoke Signals with her husband Dan, is a big attraction. Others include Garth Hudson, from The Band, post punk group Sheep Look Up, heavy metalists Thundermug, classic rockers Helix, Zuul's Evil Disco and Nihlist Spasm Band that included artist Greg Curnoe and has a huge fan base in Japan.
"Everybody seems to know Johnny Downs and have a story about him – both sides of him. I listen to them all," says Rena.
Singer Garnet Brooks made it big on European opera stages.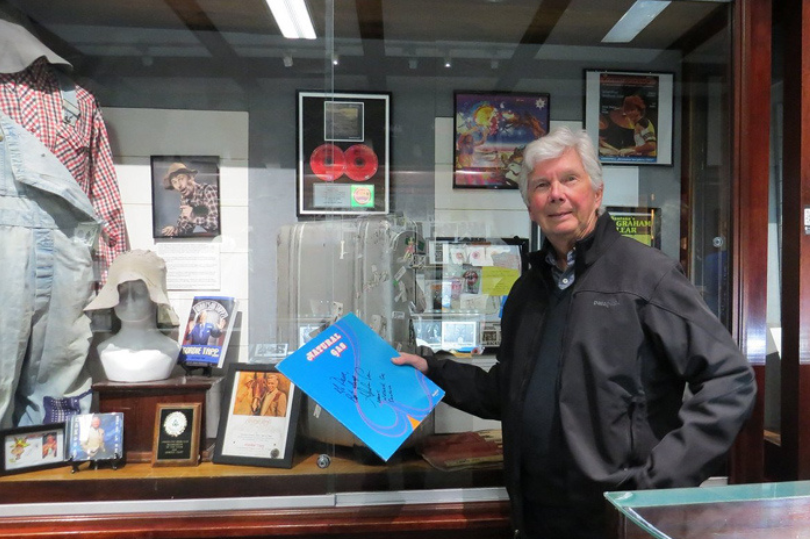 The 2021 inductees to the London Music Hall of Fame include classical violinist Lara St. John; R&Bers Johnny Stevens and the Canadians; Earl Heywood, a pioneer of Canadian country music; folk musician, producer, broadcaster Paul Mills; B.W. Pawley and Plum Loco with what they described as "crock, Texas-stuff, sort of rock and country" that always drew a crowd.
This is a mere peek at the many items displayed, the photos and posters, the music and the stories.
"People are astounded so many people from London made it this big," says Rena.
Come for the music. Stay for the stories.
Visit the London Music Hall of Fame, operated and curated by the non-profit, volunteer-run Forest City London Music Awards located at 182 Dundas St. in the heart of downtown London. Open Saturday and Sunday from 12:00 to 5:00 p.m. Admission is by donation.