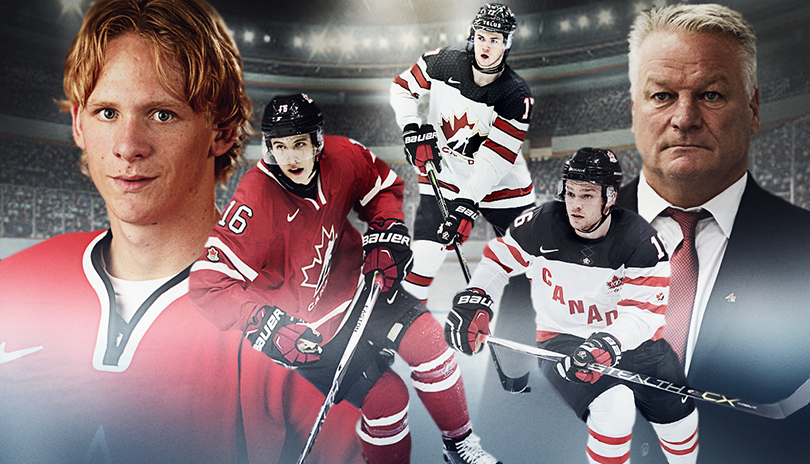 It's the most prestigious junior hockey tournament in the world, and London has been making its mark on the IIHF World Junior Championship for decades.
Over the years, London Knights players have helped lead Canada to several gold medals – while foreign-born Knights have also helped their home countries enjoy success at the event. Meanwhile, London born and raised players (as well as coaches, trainers and other staff) have made an impact at the under-20 tournament, solidifying London's strong connection to the World Juniors.
London hockey fans have certainly enjoyed rooting for Team Canada and their local talent on the international stage – sometimes in person, when the tournament is held in North America, and other times from afar when it's hosted in Europe.
Canada's five-peat – London connections
Knights fans remember fondly the 2004-05 season, in which London won its first ever Memorial Cup. That same year, the Knights sent a pair of stars, Corey Perry and Danny Syvret, to help a stacked Team Canada win its first World Junior title since 1997 (the team also included London-born Jeff Carter).
That win was the start of an impressive five straight gold medals for Team Canada (from 2005 to 2009). In 2005-06, it was Dave Bolland who wore the red and white and captured gold. In 2007-08, London-born Drew Doughty helped the Canadian juniors win the title.
And it wasn't just on-ice talent from London that helped Canada during those years. Former long-time Knights physiotherapist Doug Stacey, also a London native, served on the Team Canada staff for years, including on multiple championship teams. (In more recent years, Bob Martin, the Knights' head of security, has traveled with the Canadian Junior Team – since 2014-15 – as security liaison).
Knights and Team Canada
Following Canada's five-peat, the Knights continued to send top talent to compete at the tournament. London-born Nazem Kadri represented Team Canada in 2009-10, while Scott Harrington was a two-time member (2011-12 and 2012-13). Josh Anderson played in the 2013-14 tournament, joined by London-born Bo Horvat, then a Vancouver Canuck.
In 2014-15, the Canadians returned to the top, winning on home soil. Knights forward Max Domi led the way in the final against Russia as Canada earned its first gold medal since 2009.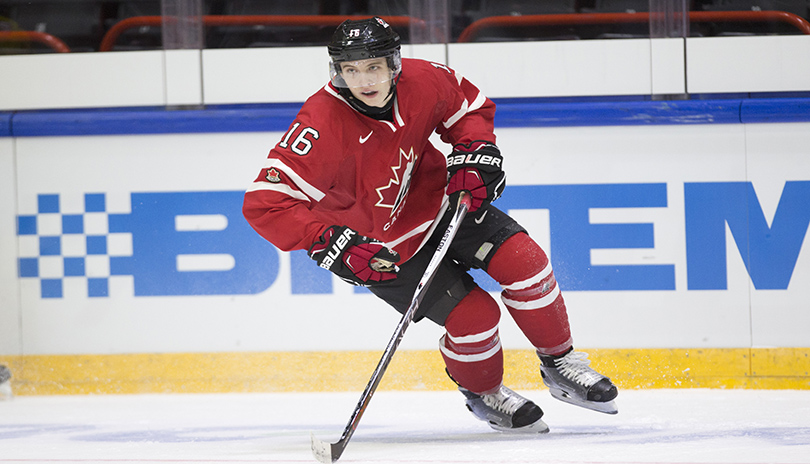 Mitch Marner - Hockey Canada Images
Mitch Marner wore the red and white the following year, and then Team Canada brought back the gold in 2017-18, beating Sweden – with the help of a trio of Knights, including Robert Thomas. The title was sealed with an empty net goal by Alex Formenton (assisted by Victor Mete, then a Montreal Canadien).
In 2018-19, it was Evan Bouchard who represented the Knights at the tournament, joined on the Canadian team by London-born Nick Suzuki.
Hunter Brothers help return gold to Canada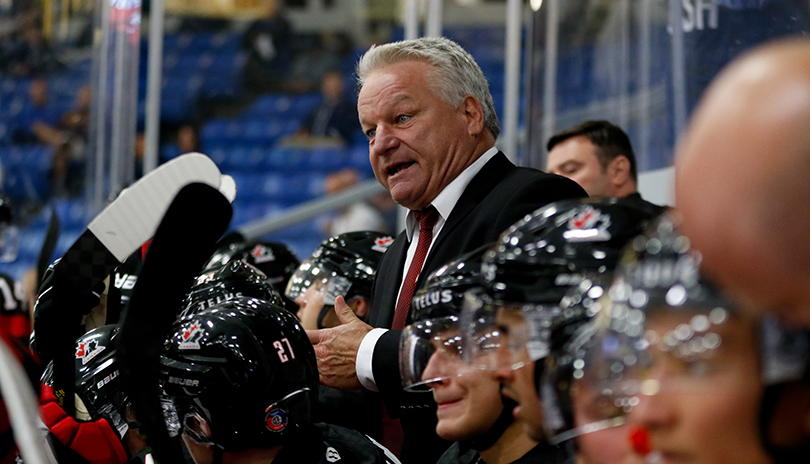 Dale Hunter - Hockey Canada Images
And then came 2019-2020. Knights head coach Dale Hunter, one of the most successful bench bosses in junior hockey history, was tapped to lead Team Canada, while Mark Hunter served as the team's GM. Under their leadership, Canada earned a thrilling 4-3 come-from-behind win over Russia in the tournament finale to bring home the gold. It was Canada's first win on European ice since 2008.
Knights forward Connor McMichael, who scored five times in the tournament, had a pivotal goal in Canada's comeback win in the final, while Liam Foudy was a steady force for Canada, tallying three goals of his own. Besides Martin, the security liaison, the Knights were also represented by equipment manager Chris Maton.
Back home, Londoners rooted hard in front of their television and computer screens, trying to will the Canadians – and their local players and coaches – to victory in the Czech Republic. The comeback win was celebrated across the city – and a special hometown celebration took place when London's contingent returned home.
Foreign-born Knights at the tournament
Over the years, several London Knights players have competed at the World Juniors for countries other than Canada – and have had great success doing so.
Back in 2004-05, during London's Memorial Cup-winning season, Rob Schremp was a member of Team USA, while Sergei Kostitsyn represented Belarus. Both players returned a second time, Schremp in 2005-06 and Kostitsyn in 2006-07.
In 2009-10, a pair of Knights – Phil McRae and John Carlson – hoisted the gold as members of Team USA, who beat Canada in the final that year. Olli Maatta was a three-time member of Team Finland, from 2011 to 2013, while Nikita Zadorov won a bronze medal with Russia in 2013-14.
Julius Bergman played for Sweden in 2014-15, while Matthew Tkachuk and Christian Dvorak won bronze with Team USA in 2015-16. Olli Juolevi was a member of the gold medal-winning Finnish team that year. Juolevi played twice more in the tournament, joining Knights teammates Janne Kuokkanen (Finland, 2016-17, 2017-18) and Max Jones (USA, 2017-18).
What's on tap for 2020-21?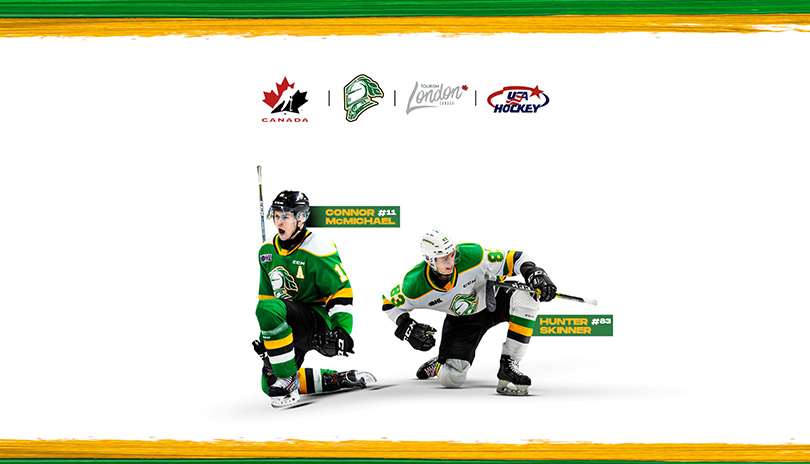 Connor McMichael and Hunter Skinner named to Team Canada & Team USA respectively - London Knights
Knights star McMichael is expected to play a big role for Team Canada at this year's World Juniors, set for Dec. 25 to Jan. 5 in Edmonton, and he'll be joined by London-born Ryan Suzuki (Saginaw, OHL). Martin is back on security detail for a Canadian team looking to repeat. Meanwhile, Hunter Skinner will be competing for Team USA.
One thing is for sure: Londoners across the city will be rooting on their Knights – and particularly Team Canada – during the holiday season, hoping that their country – and their local players – will be crowned champions at the World Juniors in early 2021.
Todd Devlin is a writer and editor in London. You can visit his website at www.todddevlin.com.
Read Similar Articles:
Turning back the Clock: Knights win first Memorial Cup
Six Unique Ways to Stay Active this Winter in London, Ontario