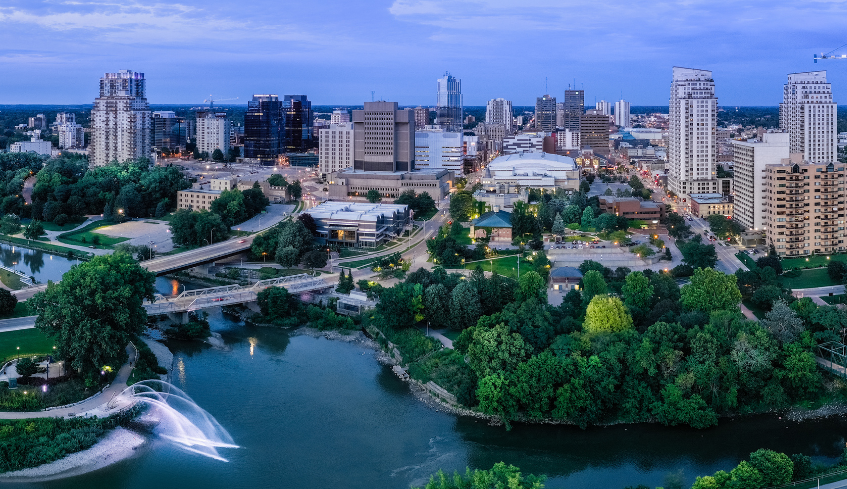 Get your walking shoes on, slather on some sunscreen and head outside into downtown London, Ontario with this new Walkable Summer Scavenger Hunt! Gain a new perspective of the Forest City! This summer is all about getting outdoors and partaking in fun, safe activities to enjoy with family and friends. This summer scavenger hunt is a perfect way to get some exercise and explore the beauty of downtown London. While you are out exploring, there will be plenty of opportunities to take a break and explore the local businesses that add to the downtown's unique and welcoming vibe. This scavenger hunt also exhibits some history that many locals may not know.

These landmarks are all walkable, and if you want to snap a picture, don't forget to tag us on Instagram at @tourismlondon. You can also upload a picture with your location using #ExploreLdnOnt.
Labatt park
25 WILSON AVE

Labatt Memorial Park, is the world's oldest continually operating baseball grounds. Beginning later this summer, guests will have the opportunity to participate in a behind-the-scenes access tour, see artifacts and learn about some famous teams and players that have come through the current home of the London Majors.

Blackfriars bridge
connecting ridout street to blackfriars street

Blackfriars Bridge opened in 1875 and is the only bowstring arch truss in Canada. It's also the oldest wrought iron or steel through bridge on the Ontario Heritage Bridge list. Find it where it connects Ridout Street and Blackfriars Street! Sunsets along the river are a must see from this beautiful lookout spot.

eldon house
481 RIDOUT STREET NORTH

Eldon House was built in 1834, but did you know there is a 150-year-old Sycamore tree located on the grounds of London's oldest residence. Can you guess how tall the tree is? It's 84 feet and with a trunk circumference of more than 3 feet!

dundas place murals
139 dundas street

Painted as part of the theme 'Forest City Playground', Market Lane has been brought to life on the wall of the WIL Employment Connections building in the space that connects Dundas Place and Covent Garden Market. These beautiful murals were completed by three incredibly talented female artists. Did you know that the birds in each mural can be brought to life through the Engage ARt App (Augmented Reality)? There's even a game for you to play as you're taking in the incredible art pieces and flying birds.

St. paul's cathedral
474 Richmond street

St. Paul's Cathedral is the oldest church in London with the tower bearing the date 1845 on a shield high up on the outside. Generations of bell-ringers have left a record of great moments in the Cathedral's history by their penciled notations on the walls of the loft.

victoria park
580 Clarence street

Victoria Park was originally a British Military Base between 1838-1869. In 1878, the City of London came into possession of the land and has since used it as a park. Located in the heart of downtown London, Victoria Park plays host to numerous festivals in the summer months and is a popular spot for a picnic or taking a stroll at any time of year.

One London place
255 queens ave

Noted as the tallest building in London, One London Place is impossible to miss! Towering over the rest of the city, Londoners have climbed its stairs or even rappelled down its side to raise money for charity.

Tourism london
391 wellington street


Also known as the J. Allyn Taylor Building, this London landmark was constructed in 1929 and originally built for use by the Bank of Toronto. Over the course of 70 years, the Bank of Toronto merged with other banks and became Toronto-Dominion followed by TD Bank and finally TD Canada Trust. J. Allyn Taylor was a former President of Canada Trust and an extraordinary community leader. How much do you think the City of London bought the building for? A whopping $1.00!
read similar articles
Patio Season in London, ON: The City's Most Popular Patios