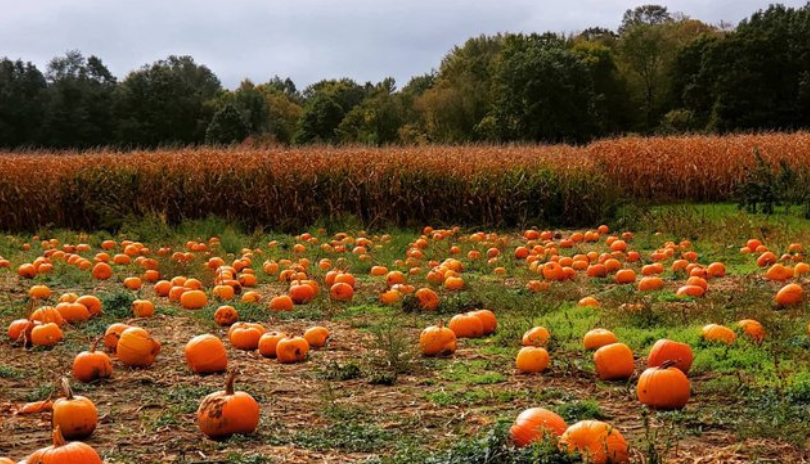 The weather may be cooling off, but London, Ontario is still red hot when it comes to fall events! If you enjoyed September events like the return of the Western Fair, Skydrive by Airshow London and Western University's Homecoming, then you'll love what the rest of the season has in store for the Forest City!
outdoor adventure and family fun
Fall is the perfect time to get outside and enjoy an outdoor adventure! Whether it's getting lost in a corn maze, taking a bite out of a freshly picked apple or finding that perfect pumpkin for your front porch, some of the best things of the season happen out in nature. For a full day of family fun at the farm, a short drive to Kustermans Adventure Farm or Clovermead Adventure Farm will provide tons of fun fall activities like wagon rides, corn mazes and pick-your-own pumpkins. If you're looking to stroll through an apple orchard for the afternoon, Apple Land Station is for you! You can pick a bushel of apples or spend the day playing at their family farm and visiting the farm animals.
Looking for some family fun for your little pumpkins? "Pumpkin Drop" is going down October 27, 29 and 30 at the London Children's Museum and is sure to be a smashing good time for the little ones! Add even more adventure to your day with the "Halloween Pumpkin Patch" at the Covent Garden Market on October 29. This will get your family in the fall spirit with activities like face painting, a bouncy castle, pumpkins for sale and more!
Fall food
Is fall food more your passion? Heeman's "Food Trucks on the Farm" is the perfect event to try out some amazing local food trucks and is taking place every weekend until October 9. While you're there, you can also pick up some fall decor for your home! Meanwhile back in town, the Covent Garden Market is having their "Fall Food Fest" on October 16 where they will be celebrating food, fall and community in the Market Square.
Halloween Haunts
For those wanting to get into the Halloween spirit, Storybook Gardens is getting spooky with "StoryBOO" from October 13 to 30. This evening event, geared towards families with children under the age of 10, will see the park transformed into a spooky (but not scary) place! For the adults, the Grand Theatre's "Grand Ghosts" is bringing some eerie vibes to the main stage. This haunting production will see ghosts that haunt the Grand relive an event that happened over 100 years ago. This production will run from October 13 to November 5. Looking for a scare you won't forget? Grosvenor's Haunted Lodge invites you to test your will as you venture through the disturbing results of the dark side of science. Check it out if you dare during the last two weekends of October.
film lovers And art enthusiasts
Movie lovers rejoice! The Forest City Film Festival returns from October 15 to 23. This festival (featuring an 85 film lineup) celebrates films with a connection to Southwestern Ontario. This festival will take place in the downtown core and is a must for lovers of the cinema!
For all the art enthusiasts, don't miss Imagine Van Gogh! Coming to 100 Kellogg Lane from October 22 to January 8, this one-of-a-kind immersive exhibition allows visitors to get up close and personal with the work of one of the greatest artists in history, Vincent Van Gogh. Music more your thing? The largest annual folk music conference in Canada, Folk Music Ontario, will be held in London from October 13 to 16, bringing Canadian folk artists and industry professionals together for networking, professional development and exclusive showcases!
Sports fans
Fall is a great time to be a sports lover in London, Ontario! The London Majors just clinched their second IBL Championship, the puck drops for the London Knights at Budweiser Gardens and the Western Mustangs football team has already kicked off their incredible season. You don't want to miss the 57th Vanier Cup which will be hosted for the first time ever in London at Western's Alumni Stadium on November 26. Take in the high stakes action where national champions will be made!
No matter what you are looking for this fall, one thing is certain, you won't have to go far to find the perfect fall activity in the Forest City. For a full list of events, be sure to visit the Tourism London events page.