Attention country music fans! The 2022 CMAOntario Festival and Awards are quickly approaching! Join us June 2-5 to celebrate with some of Ontario's best country music stars.
There will be exciting ticketed events, free concerts including this year's nominees, street fairs with food, games and vendors and many talented artists for you to discover! With exciting events happening each day this weekend, you won't wan to miss the sweet sound of country music filling the summer air!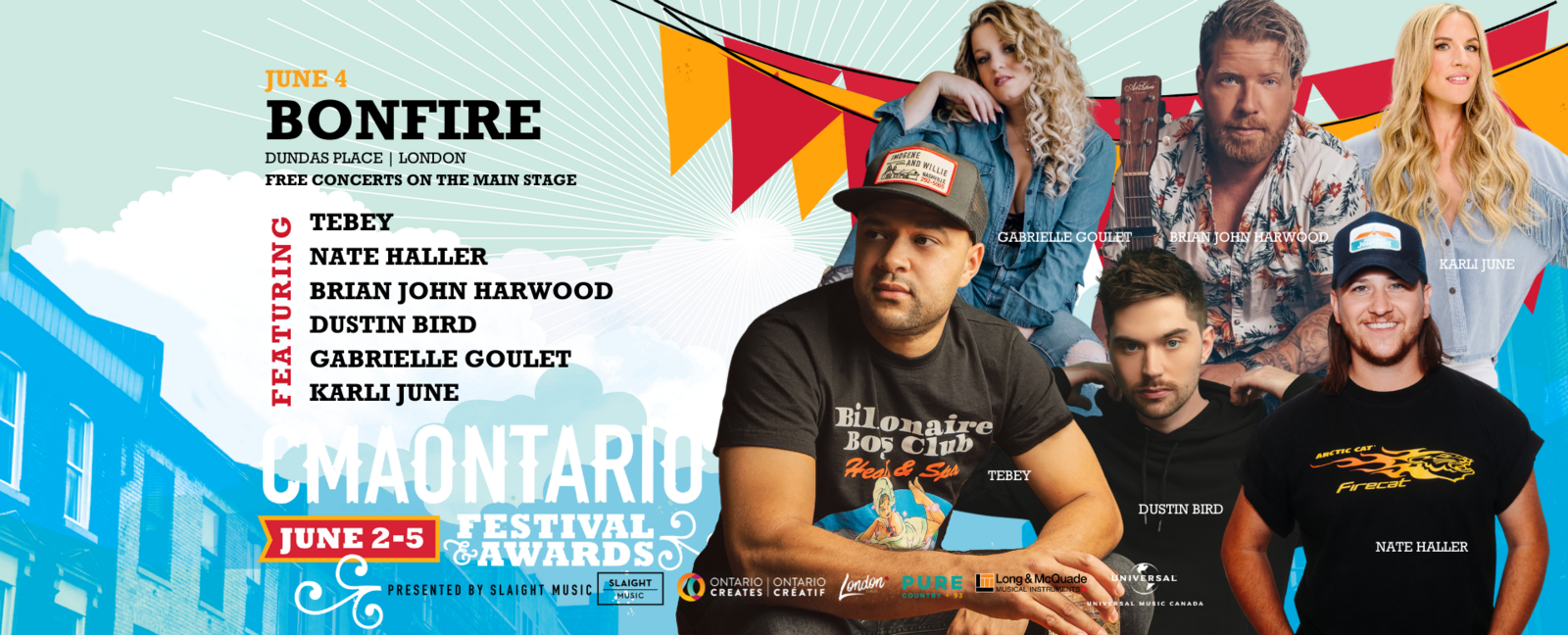 ---
Legacy Revival:
Thursday, June 2 • 7:30 p.m.
Purple Hill Country Hall
Kick off the CMAOntario celebration with the Legacy Revival at Purple Hill Country Hall. Hosted by Jamie Warren and Gary Taylor, this event will celebrate some legendary figures in country music. Don't miss performances by Canadian Country Music Hall of Famer Michelle Wright, seven-time CCMA winner Thomas Wade, JUNO nominated country trio Lace, Canadian Songwriters Hall of Famer Robert Paquette and ten-time CCMA nominee Diane Chase.
Tickets: $35 plus fees HERE, start your weekend with excitement!

---
Songs and Stories: Songwriters in the Round
Friday, June 3 • 9:00 p.m.
Toboggan Brewing Co.
Creating music is a personal and unique experience. And although their processes may differ, this group of musicians have all created messages through song that speak to many. Come join CMAOntario Male Artist of the Year nominee Jason Blaine, Dani Strong, JUNO Award winners "The Wilkinson's" and Canadian Country Billboard Top 40 Artist Ryan Langdon as they share their songs and the stories behind them.
Tickets: $25 plus fees HERE, don't miss this intimate musical experience!

---
Street Fair
Saturday, June 4: 11:00 A.M. - 11:00 P.M.
Sunday, June 5: 11:00 a.m. - 4:00 p.m.
Dundas Place Block 1 (Ridout to Talbot Street) & Convent Garden Market Square
On June 4 and 5 Dundas Place will be transformed into a country street fair! Featuring carnival rides, games and a super fun kid's zone with juggling, face-painting, bubbles and more, you also won't want to miss the series of free evening concerts performed by Ontario's finest country music stars! There's even a set on Saturday from 12-2 p.m. featuring local London artists!
Admission to this event is FREE, don't miss out on the carnival fun!

---
London Artist Showcase
Saturday, June 4 • 12:00 - 2:00 p.m.
Dundas Place Block 1 (Ridout to Talbot Street)
London is a UNESCO City of Music, so you know there has to be local talent included in the weekend festivities! Catch London's own Maddy McKenzie, Patrick James Clark and Lindsey & The Lonelies. They'll all be performing on the main stage with the London Artist Showcase.
Catch these local talents at this FREE event!

---
outdoor Bonfire concert
Saturday, June 4 • 7:00 p.m.
Dundas Place Block 1 (Ridout to Talbot Street)
This FREE concert will feature some of Ontario's hottest new music and up-and-coming talent. Make sure to catch performances by Brian John Harwood, Dustin Bird, CMAOntario-nominated Gabrielle Goulet, Karli June, Roslyn Witter, Rising Star Award nominee Nate Haller and headliner Tebey, a four-time CMAOntario nominee.
Don't miss these rising stars at this FREE event!

---
tailgate PARTY
Sunday, June 5 • 1:00 p.m.
Dundas Place Block 1 (Ridout to Talbot Street)
Don't miss the pre-show bash before the CMAOntario Awards celebrations! Another FREE concert will happen at Dundas Place featuring some of this year's best CMAOntario nominees! Live performances from Alli Walker, David Boyd Janes, Graham Scott Fleming and Mackenzie Leigh Meyer. A perfect way to celebrate before the weekend is over!
This FREE Tailgate is a must attend event!

---
cmaOntario awards
Sunday, June 5 • 7:00 p.m.
Centennial Hall, (550 Wellington Street)
This is what everything has been leading up to! Hosted by Jason McCoy and Robyn Ottolini, the awards show will include performances by Tebey, Tim Hicks, London's own Genevieve Fisher, Sacha, Cory Mark, Jason Blaine, Kristine St-Pieree, Nate Haller, River Town Saints, The Western Swing Authority and guest artists Michelle Wright, Beverley Mahood and Patricia Conroy in a tribute performance to Impact Award recipient Carrol Baker. Tickets are still available for the hottest awards show of the summer!
Tickets starting at $69 available HERE, get yours before they sell out!
For more information on the 2022 CMAOntario Festival and Awards, visit www.cmaontario.ca.