Request For Proposals:
"Support Local" Campaign Photography & Videography
Deadline To Submit: September 3, 2021 at 11:59PM

---
Summary
Tourism London is looking to contract an agency or independent photographer/videographer to lead the development of a rotational storytelling campaign to support their city wide "Support Local" campaign. The successful candidate will be required to develop a video series of 100 videos and photography of 100 London-based businesses.
---
Background
In collaboration with Argyle BIA, Downtown London, Hamilton Road BIA, Hyde Park BIA and Old East Village BIA, a city wide "Support Local" promotional campaign is to be established and led by Tourism London. The project is funded through the London Community Recovery Network.
This is a coordinated, city-wide promotional partnership effort that is intended to create a sense of community and drive recovery in the city while stimulating local tourism and economic growth. Through this idea, we are telling the stories of the community, gaining trust, creating relationships and building connections that will encourage people to want to invest or experience activities here in London.
The partnership program would focus on promoting local tourism and small businesses through several initiatives and would build upon the already successful and proven Stay a Little Longer and Support Local promotional campaign.
For more information on each of the partners, please visit below:
Argyle BIA
Downtown London BIA
Hamilton Road BIA
Hyde Park BIA
Old East Village BIA
Tourism London
---
Project Scope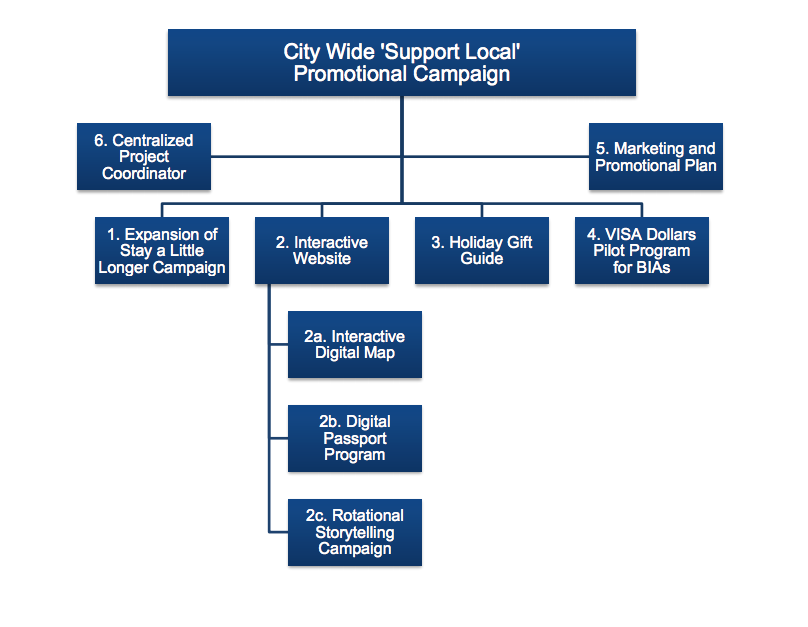 Tourism London is seeking an agency or independent contractor to facilitate and develop a video series and photographic documentation of London-based businesses (item 2c) in the above chart.
The total budget for this project must range between $75,000 - $90,000.

Reporting, Roles, and Responsibilities
The selected agency will report directly to Tourism London.
The photographer/videographer will be tasked with writing scripts, shooting, editing and finalizing videos in addition to photographing local businesses to support written blog articles.
A project coordinator at Tourism London (currently in the hiring process) will be responsible for the day to day project management, working closely with the agency and will provide and arrange for logistical support for the agency as needed.
All final products must fully conform to the vision and needs of Tourism London as identified in each project outline.
Qualifications of Proponent
The successful proponent will be London, Ontario based and will have the following:
Advanced and demonstrated videography and photography abilities
Experience working with Tourism and Business Improvement Area Associations
A keen eye for diversity while developing content
Proposal Evaluation
Proposals should highlight the agencies:
Demonstrated work in large scale marketing campaigns supporting local tourism and business
Relevant experience and success in photography and videography including any references and level of satisfaction of current/past client experience
Complete proposal
Proposal Submission Requirements
Proposal submissions should be accompanied by a covering letter summarizing your understanding of the project and the services to be provided. A list of names of all individuals and their company name (if subcontracting any project work) who will be participating and working with the proponent. The person signing the covering letter must be authorized to bind the agency. The proposal should be a maximum of 10 pages plus CVs.
The proposal will include:
Detailed CV of each individual working on the project and providing service (including any subcontractors and their firm's name), along with their qualifications and experience
Identification of the project manager of the agency, detail of what each team member will be responsible for and will carry out as part of the project
Critical path that clearly identifies the project tasks and timelines
Any previous experience and relevant projects that have been carried out
A fee schedule including deliverables, hours, rate/hour and total cost to complete the work in each phase of the project
Total costs must include all service costs and reimbursable expenses. No additional charges will be considered unless there is a change in the scope of the work that has been mutually agreed upon by both parties in writing.
Minimum of three references detailing the work of the agency and any subcontractors have carried out
Must be addressed to Natalie Wakabayashi and sent electronically in PDF format via email to nwakabayashi@londontourism.ca
Proposal submissions will be received up to September 3, 2021 at 11:59pm.
---
Questions should be directed to Natalie Wakabayashi via email at nwakabayashi@londontourism.ca by August 30, 2021. Questions will be addressed within two working days of its receipt.
Selection of Successful Candidate
| | |
| --- | --- |
| August 19, 2021 | Call for Request for Proposals (RFP) |
| September 3, 2021 | RFP Closes |
| September 8, 2021 | Proposals reviewed and evaluated |
| Week of September 13-17 | Presentations from Top Candidates |
| September 20 | Notify successful candidate and commence project |