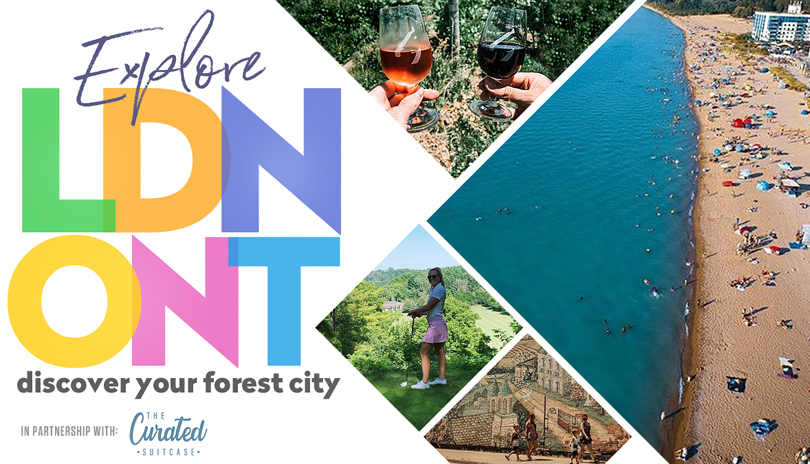 Aruba, Jamaica, oooh I wanna take ya to… Southwestern Ontario! OK, so it doesn't have the same ring to it. Since it's unlikely we're going south of the border anytime soon, there's good news - you don't have to go far to lay out in the sand and dip your toes in the water.
In less than an hour, you can be immersed in the beach vibes of two small towns known for their summer hospitality - Grand Bend and Port Stanley. Each with its own distinct atmosphere, you can visit these waterfront havens just for the day or spend a few nights and really soak up the beauty of an Ontario summer.

Grand Bend
I grew up cottaging in Grand Bend. Strolling along "the strip" to grab a cotton candy ice cream cone from The Original Fast Eddie's Ice Cream & Froyo and then watching the sun set from atop the tall blue slides… Grand Bend holds many happy memories of my childhood. (Sorry, the slides are gone!)
Located on Lake Huron and just shy of an hour from the city, this is a classic summer day trip for Londoners. Whether you've been visiting for years, or this is your first trip, you'll enjoy the fusion of nostalgic charm with modern updates and old favourites with fresh, new offerings.
If you're spending a bit of time in the area and not heading immediately for the beach, the first thing you'll want to do is take a tour of the main street, fondly known as "the strip". Scope the place out, loop down by the beach to see what the water is like and get a feel for what's going on.
Planning a full day at the beach? You can take advantage of the long stretch of sand, lifeguard patrolled shores, sports activities, splash pad for the kiddos and other amenities directly located on the Blue Flag status Main Beach. You need only walk up the street a bit to hit bars, dining establishments and shops.
Want to stay downtown but looking for other ways to stay active? Why not challenge your travel mates to axe throwing or a game of mini putt?
If you need a caffeine fix, you'll want to head over to Highway Girl. Traditional burgers and fries? It's Denny's Drive-In you'll want. Ice cream? Take your pick! But you should give Hawaiian shave ice a try from the Grand Bend Sweet Shoppe instead. Looking for romantic water-side dining? Head over to River Road and check out the art galleries before enjoying dinner on the patio overlooking the river at 71 Grille.
If you're able to take a weekend or mid-week break, a stay at the Oakwood Resort offers a tranquil getaway. Enjoy the private beach, hit the links and indulge your taste buds.
And, Grand Bend isn't ALL about the beach. Cyclists can ride along fantastic trails out to Pinery Provincial Park, families and racing aficionados will have a thrilling day at Grand Bend Motorplex, aspiring sommeliers will want to visit Dark Horse Estate Winery and movie lovers can enjoy a classic theatre experience at the Starlite Drive-In when the sun goes down.
One thing I know for sure - one day won't be enough. Grand Bend will entice you back time and time again.
Port Stanley