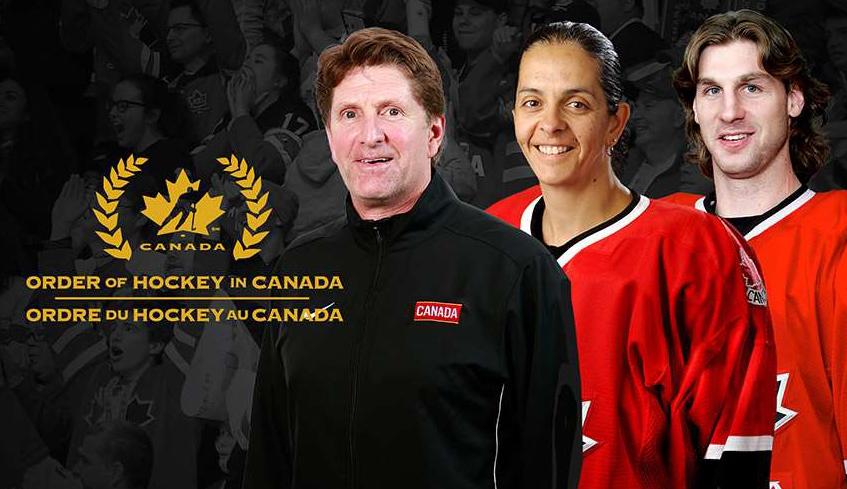 Babcock, Goyette, Smyth join group of 21 to be recognized for contributions to the game
LONDON, Ont. – Their successes with Team Canada have been well-documented, but it is their contributions to Canada's game that will be honoured on June 18 at the Hockey Canada Foundation Gala & Golf in London.
Mike Babcock (Saskatoon, Sask.), Danielle Goyette (St-Nazaire, Que.) and Ryan Smyth (Banff, Alta.) are the 2018 Distinguished Honourees of the Order of Hockey in Canada – a Hockey Canada initiative that began in 2012 to celebrate individuals for their outstanding contributions or service to the growth and development of the sport of hockey in Canada.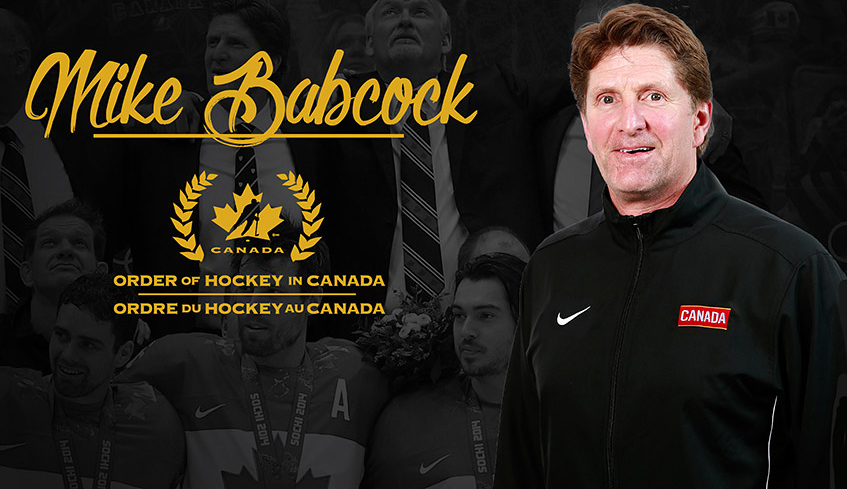 Mike Babcock – His NHL accomplishments are well-documented, and include winning the Stanley Cup in 2008, and the Presidents' Trophy in 2005-06 and 2007-08 with the Detroit Red Wings. A three-time finalist for the Jack Adams Award as NHL coach of the year, Babcock has been the head coach of the Toronto Maple Leafs since 2015. Throughout his coaching career, which has spanned collegiate sports as well as the CHL, AHL and NHL, Babcock has always answered the call when presented with an opportunity to be part of Team Canada. He's the only coach in the IIHF Triple Gold Club – having won Olympic and IIHF World Championship gold as well as a Stanley Cup – to which he can add IIHF World Junior Championship gold and a win at the 2016 World Cup of Hockey.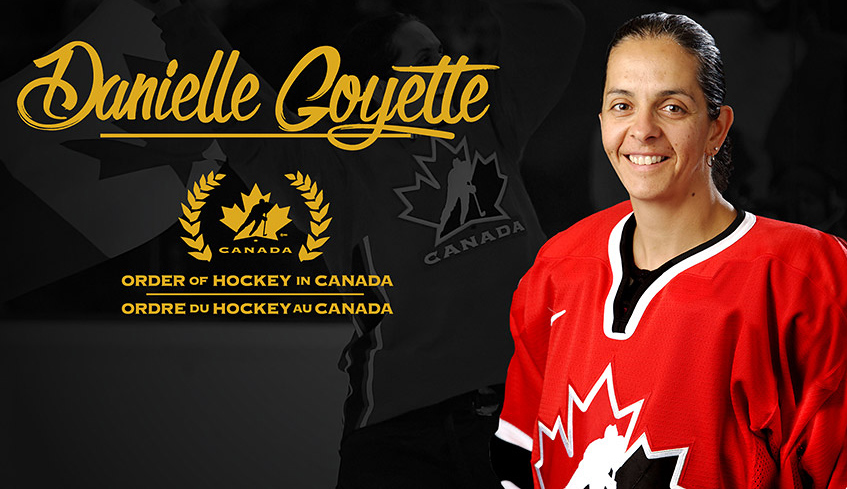 Danielle Goyette – Currently the head coach of the University of Calgary women's hockey team, Goyette's career is filled with highlight-reel moments, including eight IIHF World Women's Championship gold medals, and three gold-medal-winning goals at worlds. Goyette is a four-time Olympian – three times as a player, once as an assistant coach – having won three gold medals and one silver, and she was selected to carry the flag into the Opening Ceremony of the 2006 Olympic Winter Games in Turin, Italy. Goyette recorded 219 points in 172 games with Canada's National Women's Team over her 15-year international career. She was inducted into the IIHF Hall of Fame in 2013, and the Hockey Hall of Fame in 2017.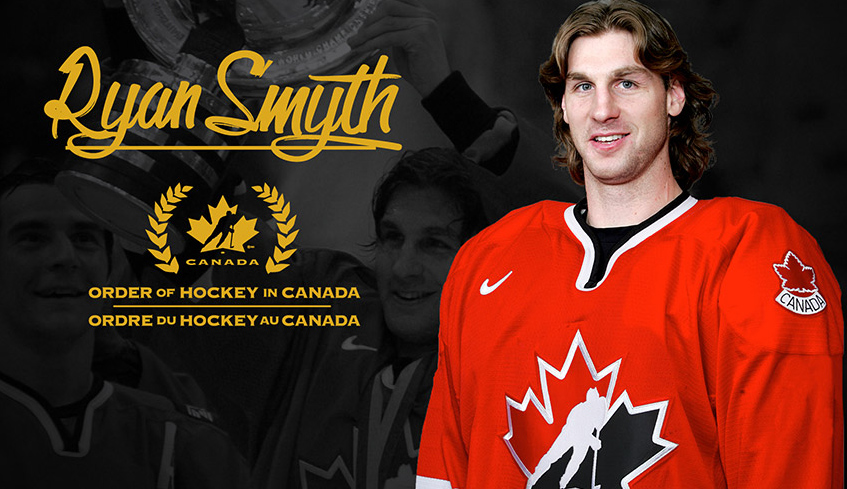 Ryan Smyth – He earned the nickname Captain Canada, having captained the red-and-white at six IIHF World Championships, winning two gold medals and one silver over that span. He is an Olympic and IIHF World Junior Championship gold-medallist, and a Spengler Cup and World Cup of Hockey champion. Smyth is the all-time leader for games played by a Canadian at the IIHF World Championship. And when he wasn't wearing the Team Canada jersey, Smyth also managed to log 842 points in 1,270 NHL games over 19 seasons with Edmonton, the New York Islanders, Colorado and Los Angeles.
"As players and coaches, this group has led the way on and off the ice, teaching and inspiring Canadian players at all levels of the game," said Tom Renney, chief executive officer of Hockey Canada. "To be selected as a Distinguished Honouree of the Order of Hockey in Canada is one of the most prestigious accomplishments one can receive in hockey in Canada, and this year's honourees are well-deserving of the recognition. On behalf of my colleagues at Hockey Canada, the Order of Hockey in Canada selection committee, as well as our board members, I would like to congratulate Danielle, Mike and Ryan, and we look forward to celebrating them in London on June 18."
Since its inception in 2012, the Order of Hockey in Canada has recognized 21 honourees, including: Jean Béliveau (2012); Scotty Bowman (2017); David Branch (2016); Cassie Campbell-Pascall (2012); Clare Drake (2014); Jim Gregory (2015); Wayne Gretzky (2012); Geraldine Heaney (2016); Paul Henderson (2013); Gordie Howe (2012); Dave King (2013); Mario Lemieux (2016); Mark Messier (2013); Bob Nicholson (2016); Pat Quinn (2015); Gordon Renwick (2012); France St-Louis (2014); Serge Savard (2015); and Steve Yzerman (2014).
A selection committee of 12 members – appointed by the Order of Hockey in Canada executive committee, established by Hockey Canada – is tasked with nominating and selecting, via secret ballot, the annual recipients of the Order of Hockey in Canada. The committee members represent a cross-section of individuals with great and varied experience around the game of hockey in Canada, including members of the media and hockey administration.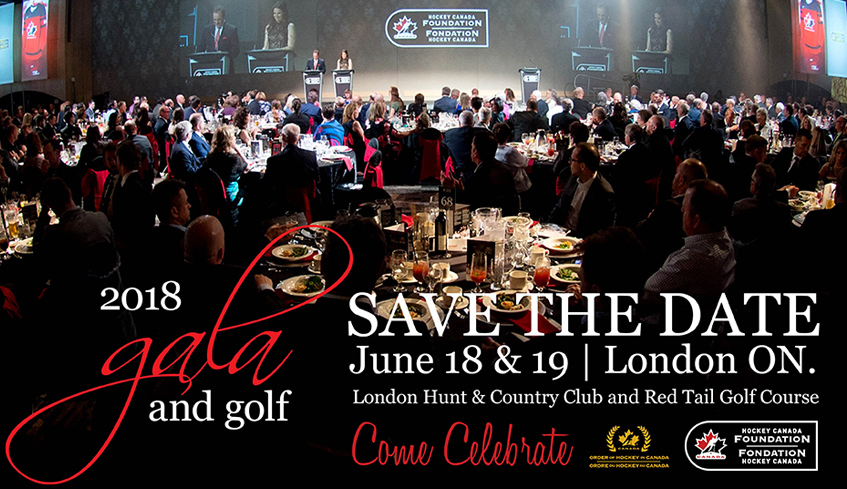 Legacy plan unveiled for 2018 Hockey Canada Foundation Gala & Golf
The 15th annual Hockey Canada Foundation Gala & Golf will be hosted in London, Ont., June 18 and 19, 2018, where the 2018 Distinguished Honourees of the Order of Hockey in Canada, along with world championship and Olympic-winning teams, will be celebrated – including the gold-medallist from the 2018 IIHF World Junior Championship, Canada's National Junior Team.
Steering committee chair Jeff Macoun announced on Tuesday that the legacy plan for this year's event will support the establishment of an endowment fund that will focus on assisting families demonstrating financial need whose children's passion for the game has been fueled by programs such as the Canadian Tire First Shift and Try Hockey, to pursue the game within their local minor hockey system.
"This area of the province has many great programs aimed at introducing new-to-hockey kids and families to the game, and we want to make sure that once that passion for the game is ignited in those children, we are able to assist those families in helping fuel their child's love of the game through continued participation within our minor hockey system," said Macoun. "This isn't about developing the next NHL or Team Canada star, it's about making sure that all Canadian kids have the opportunity to learn from the game. Hockey teaches us about more than on-ice skills; the life-lessons we take away from the game help us at home, within our community, and right into the boardrooms and offices of Corporate Canada. This is about giving kids a leg up in life through participation in our great game."
The Hockey Canada Foundation Gala & Golf, which leaves 50 per cent of its net proceeds within the host community and surrounding region as a legacy, has raised approximately $4 million alone since 2009 – including more than $650,000 at the 2017 Hockey Canada Foundation Gala & Golf in Saskatoon last June.
Visit the Hockey Canada website for more information on the Hockey Canada Foundation and the Order of Hockey in Canada.