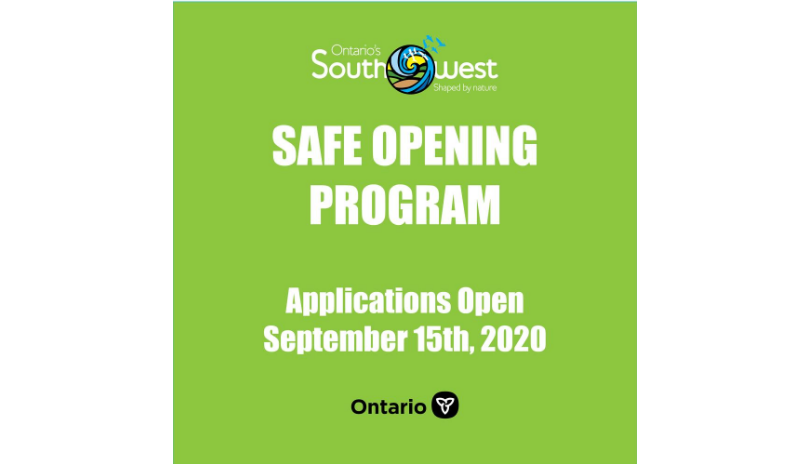 WOODSTOCK, Ont., August 27, 2020 - The Southwest Ontario Tourism Corporation (SWOTC), supported by the Ministry of Heritage, Sport, Tourism and Culture Industries (MHSTCI), announced a new limited time 'Safe Opening Program' that will support tourism operators within Ontario's Southwest for a portion of their safe opening expenses.
The fund offers grants of up to $1,000 to businesses that are involved in actively selling tourism products or experiences or have a specific mandate to attract tourists. The grant can be applied to items that were purchased retroactive to April 1st 2020 to meet safety requirements to allow the safe re-opening of their business.
Reimbursement can be applied to costs for:
Physical distancing (signs, plexiglass, etc.)

Technology upgrades supporting touchless service

Increased cleaning and sanitization

Other requirements as outlined in 'A Framework for Reopening our Province'
"After consulting with many levels of the industry it became evident that supporting tourism businesses in this way addresses their most immediate need. Now seeing and hearing the initial overwhelmingly positive response from the operators, it's clear they appreciate that we are listening and want to help" says Jim Hudson, Executive Director, Southwest Ontario Tourism Corporation.
Susan Judd, Chair of the SWOTC Board of Directors, adds "It is very important to those of us in the tourism industry to ensure our opening environments are ultra-safe. Research shows that is the most important consideration in the mind of prospective visitors in deciding whether to come."
We are not able to offset every cost our tourism partners have incurred. We continue to listen and strive to support more of their needs.
The intake process will be on a "First Come, First Served" basis until the budget is reached with a second intake in December 2020. Each business will only be reimbursed one time.
Visit www.swotc.ca/safeopening to learn more about the program. Applications for the 'Safe OpeningProgram' will be at or after 10 am on Tuesday, September 15.
SWOTC operates as a non-profit organization, working collaboratively with tourism stakeholders and municipal tourism offices to champion tourism as a vital economic driver. This regional tourism organization spans ten municipal tourism offices from Windsor to Cayuga in Haldimand County. The mandate established by MHSTCI is to increase revenue, profit, and employment through: Workforce development, Product development, Investment attraction and Marketing.
For more information about SWOTC, visit our website at www.swotc.ca. For program information please contact sos@swotc.ca.