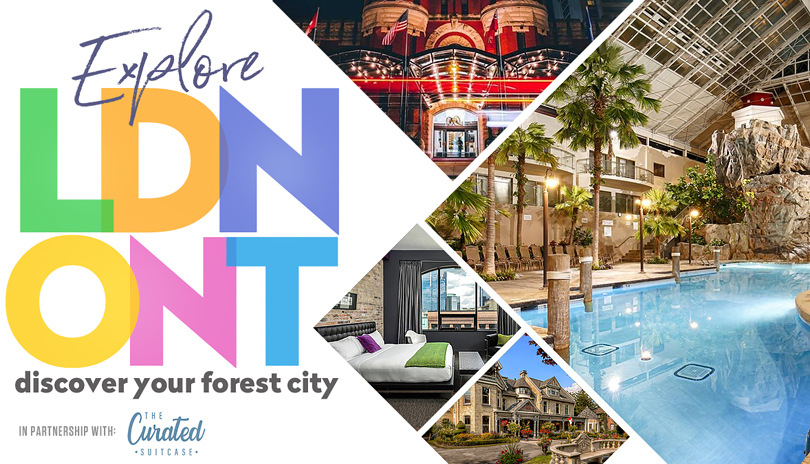 This summer brings us the opportunity to take a vacation in our own backyard - OK, not literally. I'm sure we all feel a sense of gratitude for any outdoor space we've been able to enjoy during the Covid-19 stay-at-home orders. But, I bet you're ready to experience a change of scenery and stay somewhere else for a few days.
So, here comes the staycation to the rescue - with an upgrade. Typically, a staycation is based from your own home, so let's change it up a bit and combine your location with the perks of a vacation away - where you don't have to cook, or clean and activities lie at your doorstep.
Whether it's fun for the family or a romantic weekend you're in need of, London has accommodations for any type of break you're looking for.
Victorian Romance
If it's a tranquil romantic retreat you're seeking, you'll find it tucked away near the heart of the city at Idlewyld Inn & Spa.
Nestled in lovely Wortley Village, guests can enjoy modern accommodation with the unique character of Victorian era elements that have been lovingly preserved.
Featuring an on-site restaurant where you can enjoy a delicious meal including brunch or afternoon tea on the front porch, and a premiere spa inviting you to pamper your cares away, the Idlewyld is ready to welcome you for an escape of understated luxury.
All in the Family
The pandemic has been hard on families, especially those with young children. Grab your crew and check-in to the Best Western Plus Lamplighter Inn & Conference Centre.
As your home away from home, all ages will enjoy the atrium oasis, equipped with heated pool, waterslide and hot tub*. With poolside service, room service and an on-site restaurant, hungry tummies and picky eaters don't stand a chance.
Offering traditional rooms and suites, free parking, fitness facilities, game room and exceptional service, the kids will be entertained and parents can enjoy a much-needed break too.
*As of July 23, 2020, the pool is open but advanced swimming reservations are required. Waterslide & hot tub remain closed. Check current restrictions/availability for these amenities in case of change by contacting the hotel directly.
Urban Oasis
An upscale, boutique destination in the downtown core, Hotel Metro invites guests to unwind with unique architectural details, a hip, urban vibe and a premier location.
Hotel Metro features rooms and suites - some with a Euro Open Concept design - premium in-room spa products and Keurig coffee maker, plush bed and sleek elements, you'll want to rush back from your day out to sink into these inviting spaces.
When you're ready for a libation or a bite to eat, head to Gnosh Dining + Cocktails - or stay in your room where they will cater to you directly! With new summer lunch and dinner menus, you'll enjoy exciting dishes created with locally sourced and sustainable ingredients, all while seated in a cozy, yet chic venue and surrounded by the work of local artists.