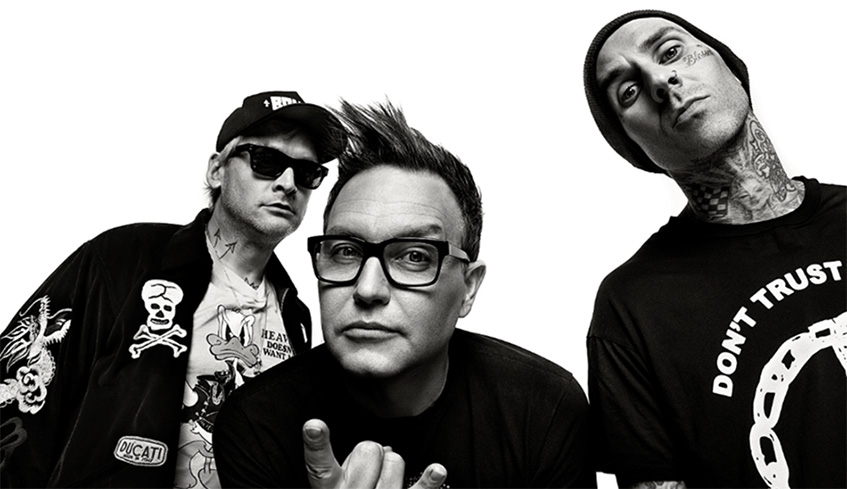 Updated on April 27, 2020.
Important notice: This event has been postponed to Thursday, July 15th, 2021. Please see www.rockthepark.ca for information regarding your ticket purchase.
By Whitney South, Best of London. 02.03.20
Early this morning, the crew over at Start.ca Rocks the Park announced its second offering of music for 2020, teaming up with London's Best Rock FM96 for one of the biggest nights in the festival's history.
On Thursday, July 16, Harris Park will play host to the iconic sounds of Blink-182, alongside Simple Plan, and Grandson, with further additions to the line-up to be announced in the coming weeks.
According to Brad Jones, president of Jones Entertainment Group, rock has always done extremely well in London, and this year's spectacle should be no exception.
"Although we made the change from Classic Rock a few years ago, we always wanted to stay true to our roots with a rock element," he explained. "This year, we are proud to have one of the most iconic punk rock bands of their era, Blink-182. And who better to support them than Simple Plan? This is going to be a special night for us, London, and all our attendees."
One of the most prominent bands to emerge from the Southern California punk scene, Blink-182 toured heavily behind the band's debut, Cheshire Cat, before signing with major label MCA Records to co-distribute its second album, Dude Ranch. It wasn't long before the group gained mainstream success, arriving in the wake of a pop-punk explosion and gaining a large fan base with a slew of hooky, high-energy tracks, and breaking through with their third album, 1999's Enema of the State — releasing a steady stream of hits bolstered by humorous, tongue-in-cheek music videos.
Since 2015, the lineup of the band has consisted of bass guitarist and vocalist Mark Hoppus, drummer Travis Barker, and guitarist and vocalist Matt Skiba. These days, Blink-182 have remained chart favourites, scoring five Top 10 albums and two No. 1 Billboard 200 hits, including 2016's California. Their most recent effort titled Nine, was released on Sept. 20, 2019.
Simple Plan is a multi-platinum Canadian rock band from Montreal whose accolades include a 2005 Teen Choice Award, 2006 JUNO Fan Choice Award, 2012 Allan Waters Humanitarian Award, 2012 Yahoo! Canadian Impact Award, 2012 NRJ award and the 2013 Allan Slaight Humanitarian Spirit Award. Since its formation in 1999, the band's lineup has consisted of lead vocalist Pierre Bouvier, lead guitarist Jeff Stinco, rhythm guitarist and backing vocalist Sébastien Lefebvre, bassist and backing vocalist David Desrosiers, and drummer Chuck Comeau. So far, the guys have released five studio albums: No Pads, No Helmets...Just Balls, Still Not Getting Any..., Simple Plan, Get Your Heart On!, and Taking One for the Team, in addition to two live albums: Live in Japan 2002 and MTV Hard Rock Live.
Born in the small town of Englewood, New Jersey, alternative artist Grandson relocated to the cultural melting pot of Toronto at a young age and grew up surrounded by music ranging from jazz and rock 'n' roll to rap, dancehall and R&B. Searching for his voice and for meaning in today's divisive, chaotic world, Grandson confronts the most pressing issues of his generation through his songwriting, such as financial inequality, governmental, environmental accountability and social justice, giving these topics a soundtrack with a genuine sense of urgency and frustration.
Start.ca Rocks the Park's second night, featuring Blink-182, Simple Plan, and Grandson, will take over Harris Park (531 Ridout St. N.) Thursday, July 16.
Tickets go on sale Friday, Feb. 7 at 10 a.m., and can be purchased in-person at the Centennial Hall Box Office (550 Wellingston St.) by phone (519-672-1967) or online at www.rockthepark.ca.
General admission is $64 + tax/sc, while VIP is $129 + tax/sc.
Stay tuned for more announcements as they become available.