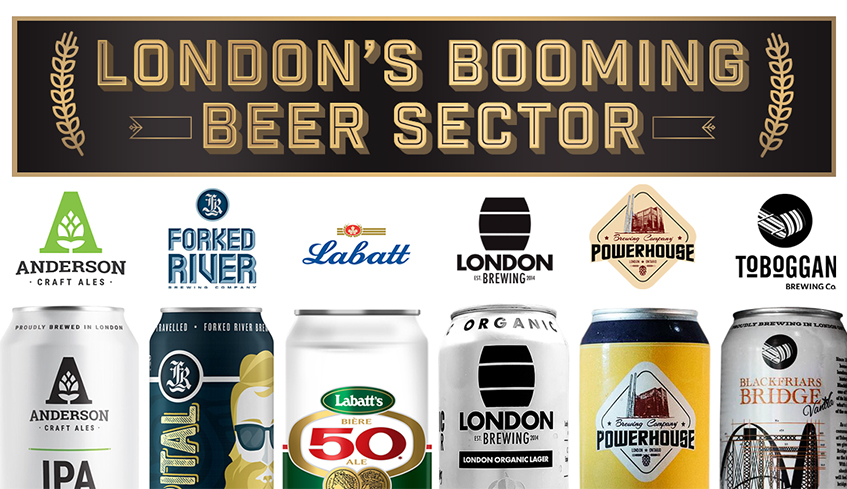 By Whitney South, Best of London. 11.29.19
It was the classical Athenian philosopher Plato once said, he was a wise man who invented beer.
And no one knows that better than the folks behind London's booming brewery industry.
Catching the attention of connoisseurs across the country and beyond, the Forest City has become known as a mecca of sorts, drawing visitors year-round, eager for just a sip of the city's superb selection of suds.
According to Tim Stewart, manager of the taproom, retail and events at London Brewing Co-op, ours was simply the perfect city to set up shop.
"There was really an absence of vibrancy and personal experiences, and I think craft beer kind of fills that gap — we have a lot to offer," he explained, adding it's not always just about the product, but about bringing people together. "For us, we wanted to create interesting events that people can engage in. So, that's something we've brought to the London community that wasn't always prevalent in other areas. There's also a lot of solidarity amongst (all the breweries), and that really helps us grow."
In fact, London Co-op recently delved into their annual collaboration with Anderson Craft Ales on two seasonal sensations, an Irish Cream Ale (think Bailey's but the beer version), and a Winter Ale, which is a Belgian double, with ruby red colour and medium body, with flavours and aromas of caramel cocoa and dark fruits. Each will be offered at both breweries starting Saturday, Dec. 14.
That same kind of cultural closeness was echoed by Toboggan Brewing Co. Brew Master Sam Smith, who maintained he always looks forward to engaging with the local community, as well as working alongside all of London's great breweries.
In fact, there's also another pair-up out there.
"A recent project we worked on in coordination with Powerhouse Brewing Company and their brew master Chris Patterson was our Galactic Imperial Wheat, which is available in both brewery's tap rooms right now," he said. "It turned out to be a great experience and was a lot of fun for both of us as brewers to put together a recipe we both hoped would have a lot of potential enjoyment for people to try."
The offering is a nine percent ABV wheat beer with surprisingly smooth balance and a tropical fruit aroma and flavour from the use of Australian Galaxy hops, which will be available alongside Toboggan's seasonal December Chocolate Orange Stout, a product designed with the holidays in mind with a creamy cacao and roasted barley background, finishing with a refreshing citrus orange zest aroma and flavour.
"Being involved in London's brewing business has provided us with many opportunities to work with great people who are enthusiastic about unique and great tasting products," said Smith. "I hope this next year brings even more ways for us to work together."
In addition to those partnerships, each brewery will be offering even more selections special to the season. London Brewing Co-op will be pouring their Perky Porter coffee-flavoured beer (offered twice a year) Nov. 30, as well as their Bourbon Legend oatmeal stout and Winter Tart cranberry wheat ale next month, while Anderson will be offering a spiced ale gingerbread beer spiced ale made with actual gingerbread cookies mixed right into the recipe beginning Dec. 4. Meanwhile, Powerhouse Brewing Company will also get in on the game with their Gingerbread Amber Ale with the aroma of a malty sweetness with light cinnamon, ginger and nutmeg, and their TazMania Golden Ale, made in partnership with the brewery's "96th favourite radio host" Taz (of London's Best Rock FM96 fame), which is a twist on the classic Australian Sparkling ale with citrus, pine, passionfruit and pineapple.
Visitors can also make their way over to the folks at Forked River Brewing Company, London's oldest Craft Brewery, who are always brewing something new and serving up consistent and flavourful seasonal brews made with care. Besides their three flagship brews — Capital Blonde Ale, Riptide Pale Ale and Interstellar IPA, Forked River offers an ever-rotating roster of seasonal flavours.
But keep in mind, the Forest City's dedication to the brewing industry is nothing new — fact is, Labatt has been a staple of the London's community since 1847, and it shows.
"Labatt has been producing quality beers for more than 172 years and today offers a portfolio ranging from international premium brands to regional favourites and, through our sister company Mill Street, the best craft has to offer," said Alex Martel, general manager of the London Brewery. "London's vibrant brewing industry has been a major contributor to the community over many decades. Today, Labatt in London brews the equivalent of 820 million bottles of beer every year and employs 340 skilled craftspeople right here in the city."