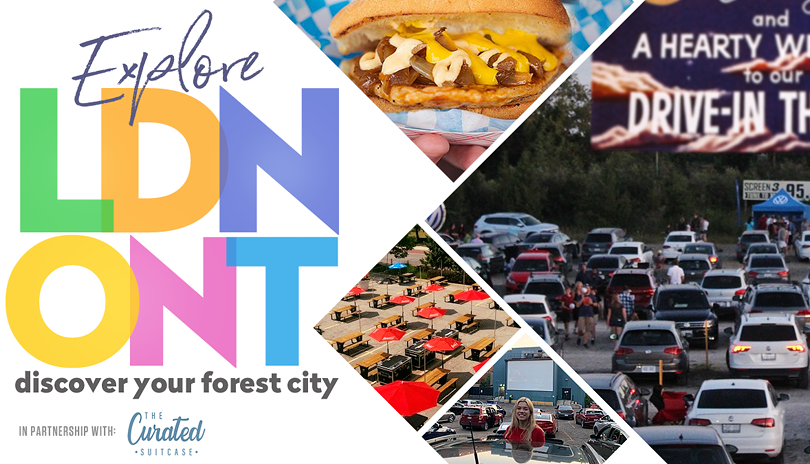 How wonderful it is to walk outside at 9pm and be enveloped in a breezy, warm hug… the sky turning shades of pink, purple and orange. I LOVE Ontario summer nights!
Last week I brought you ideas for how you could experience a "day trip" in the city. This time we're heading out later to look at night time activities that are sure to give you all the summer feels.

Mid-Week Nostalgia with a Twist
Perfect for:
Couples, families or small groups (if they are in your bubble!)

The Western Fair District has been an iconic destination in London for decades, with the Western Fair Association founded back in 1867. With the emergence of Covid-19 and the halting of indoor functions, their team worked to switch gears and get creative to bring Londoners a unique experience. Park It At The Market, held each Wednesday evening, features artisan vendors and a food truck alley complete with Beergarden serving London's own Anderson Craft Ales. Open from 4-8pm, this is the perfect outdoor destination to begin your evening. If you've got kids in tow, they can also cool off at the splash pad. Grab dinner, shop the vendor offerings and soak up summer at the Western Fair District in a fun, new way.
As the sun begins to drop and you've had your fill of eats and treats, continue east to the Mustang Drive-In. If you grew up in the city, you'll remember this destination fondly. Touted as an "old-school drive-in showing new releases" you can get your cinematic fix directly (and safely!) from your own vehicle.
Currently showing nostalgic classics - The Goonies, Gremlins, Jurassic Park and Jaws - check their website to see what's on and coming soon. Movie tickets must be purchased online in advance, but concessions are available on-site. This is a childhood favourite I'm ready to re-live and I can't wait for my son to experience the magic of the big screen under the stars.
On another night …
Hyland Cinema has re-imagined their theatre experience to bring you a drive-in option right in the middle of London! With showings on Tuesday, Friday and Saturday nights, this is a fantastic way to show support of a historic and beloved landmark. Just get there early as spaces are limited and the front spots are sure to fill up quickly!
What you'll need:
Sunscreen (the sun is still strong at 4pm!), bug spray, hand sanitizer, vehicle stocked with blankets and pillows to enhance your viewing experience (while a mask may not be required with these activities, it's always good to have on hand)


Friday Night on the Town
Perfect for:
Couples and small groups (if they are in your bubble!)

Longing for a European escape? Bavaria calling your name? Well, the forest city is answering your call. Head downtown on Friday nights and you'll be welcomed to a German-inspired Biergarten at Budweiser Gardens!
Bud's Brew Garden is open from 3-11pm, and serves up pub favourites along with pints (if you're a wine drinker, there's something for you too). You might choose to start here late afternoon/early evening (PS. it's all ages!) or join the late-night crowd.
What you'll need:
sunscreen (if going early), bug spray (if going late), hand sanitizer (while a mask is likely not required, it's always good to have on hand)
A Saturday (Virtual) Night In
Perfect for:
Flying solo, couples, families, or small groups (if they are in your bubble!)

While many are craving the chance to finally get out after being stuck at home for so long, sometimes it's nice (or necessary) to curl up indoors. Maybe you've got younger kiddos, have had a long week at work, or just need to justify the number of pj's you purchased during lockdown.
Enjoy your dinner a little later tonight. Support a local restaurant by ordering takeout from them directly. Then, grab your comfiest outfit, blankets and pillows, and hunker down for a night of celestial viewing - virtually!