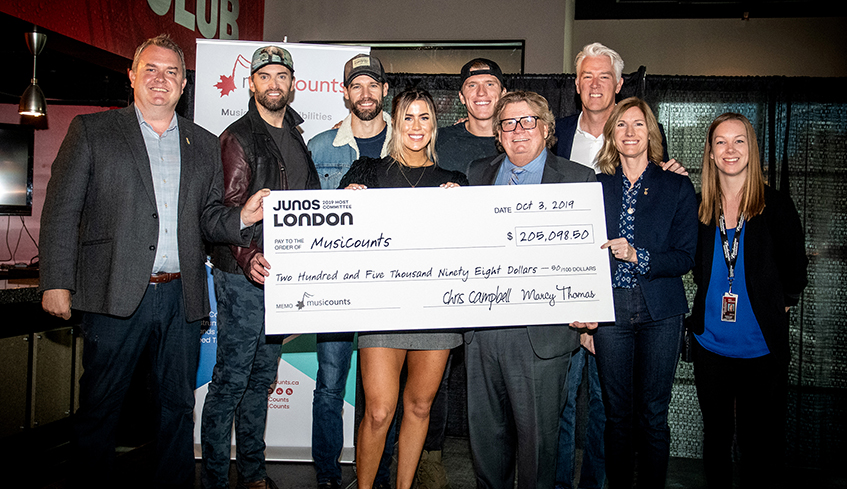 By Whitney South, Best of London. 10.03.19
It's been over six months since London welcomed the biggest names in Canadian music, and the hits just keep on coming.
On Oct. 3, the JUNO train once again rolled into the Forest City, this time taking over Budweiser Gardens for a number of legacy announcements spearheaded by 2019 JUNO Host Committee Chair Chris Campbell.
"There were many incredible, unforgettable moments during the 2019 JUNO week that I feel were very Canadian and significant for London; Sarah McLachlan on stage with the Western marching band, and to-be Juno Award-winning artists Loud Luxury opening the show to a national audience," Campbell recalled, reading off a list of amazing events featured throughout the festivities, and citing truth and reconciliation as well as inclusivity as major significance in the celebration's overall success. "It really was unforgettable."
In addition to looking back on some of London's finest musical and memorable moments, a presentation was made to representatives from MusiCounts, Canada's music education charity associated with the JUNO Awards and CARAS, dedicated to keeping music alive across the country by putting musical instruments into the hands of children that need them most.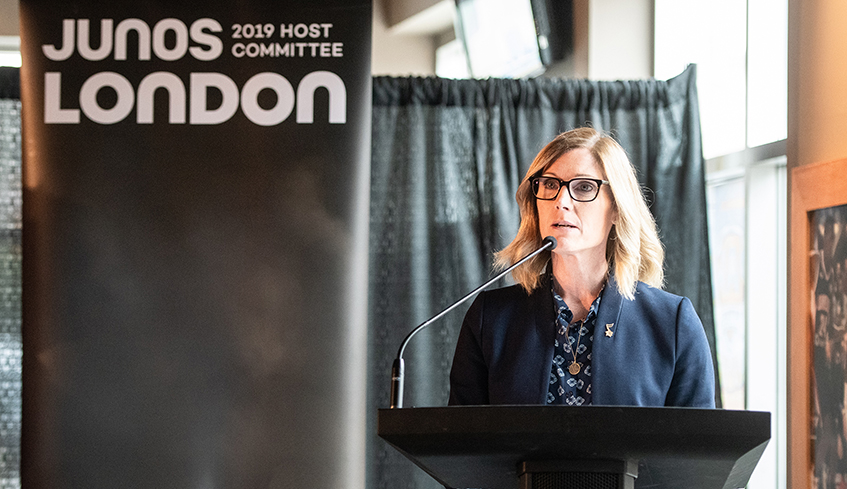 Last year, the 2019 JUNO Week Host Committee dedicated themselves to championing a very special initiative, collecting $1 from each ticket sold at Centennial Hall, Budweiser Gardens and London Music Hall. Today, they were honoured to present the organization with a cheque for over $200,000, along with a little help from visiting artists JUNO Award-winner Dean Brody, and past JUNO Award nominees Chad Brownlee and The Reklaws.
"That's really overwhelming and incredible . . . this city went above and beyond to help ensure that all kids have access to music, education and their school or community. The results are astounding," said Kristy Fletcher, executive director of MusiCounts.
There are so many people in need of recognition for this incredible donation . . . we are so very grateful. At MusiCounts we believe that music adds possibilities. This substitutional contribution from the London JUNO Host Committee means that thousands of our youth will be able to experience the transformation benefits of music education, and many of those kids will be right here in London.
Expanding on that legacy, the London Public Library will soon play host to a new and innovative initiative, which will offer local musicians the opportunity to borrow instruments from a lending library. More information on that to come.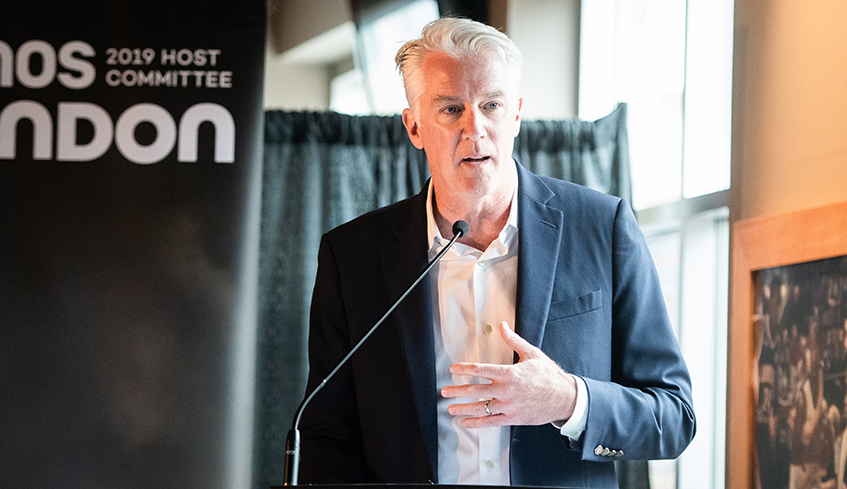 In addition, Allan Reid, president and CEO of CARAS/The JUNO Awards and MusiCounts, shared the economic impact of this year's awards.
In total, a $12.5 million boost was felt nationally, with $9.1 million directly impacting the City of London.
Reid went on to add London's JUNO Awards saw over 300 artists participating, with nine shows selling out, and 37,000 people attending the many events offered throughout the week, while over four million tuned in to CBC radio, TV or their digital platforms — all of which have been hailed major accomplishments.
"What London has is a community with lots of heart . . . we want to say thanks for the great difference you made, and to everybody here in the city for accepting and having us. The successes us this year were undeniable," he said. "Everyone in this city turned out to support us and make it one of the best shows yet. It was an exceptional JUNOs and man, we'd love to come back someday."
Photos by: Whitney South