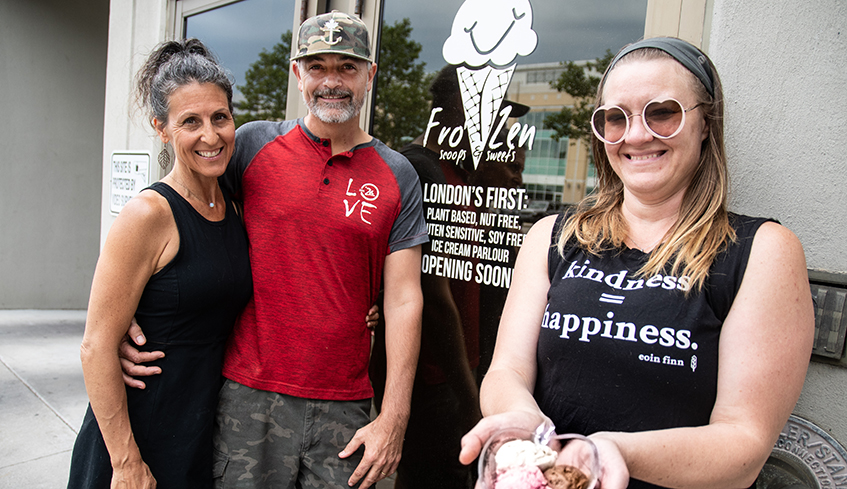 By Whitney South, Best of London. 08.27.19
While summer days may be getting shorter, fear not — it's impossible to be sad while you're eating ice cream.
On Wednesday, Sept. 4, London will welcome its newest destination for tasty treats, Fro'Zen Scoops & Sweets, on King Street downtown, directly across from Budweiser Gardens.
But more than just your run-of-the-mill ice cream parlor, Fro'Zen offers a little something different — plant-based, nut-free, gluten-sensitive, soy-free concoctions to suit any palate.
Fact is, it's pretty darn tasty.
What began as little more than a conversation between friends soon started to take shape as a brick-and-mortar location beside the already established Zen'za Pizzeria, as Rebecca Todd, Wayne de Groot and Jocelyn Morwood-de Groot set out to change the way Londoners look at the frosty favourite.
"Because (Rebecca) and I eat very similarly, the idea of desert and ice cream kept coming up," Jocelyn explained. "We thought, there's not a full-on plant-based ice cream shop here in the city at all . . . and we wanted homemade, vegan, plant-based, healthy ice cream. So, we figured, let's just freakin' do it."
To say the public has quickly embraced the idea is a bit of an understatement, as the team's original post (which simply showed the shop's logo on a window) garnered a reach of over 24,000 fans in just 24 hours.
"It was exciting to see the support from the community that people actually care and are open to a new concept. It's very validating," Rebecca said with a smile, adding while there was already an air of confidence thanks to the success of Jocelyn and Wayne's foray into the pizza world, the online reception was still pretty great. "Honestly, the whole idea of scoops and sweets everyone can enjoy . . . I don't know anybody who's plant-based who wouldn't be happy about that, but the excitement over the post was beyond what we were expecting that's for sure."
Just some of Fro'Zen's handmade offerings will include a spicy or salted dark chocolate scoop, as well as concoctions involving earl grey tea or turmeric, as well as a selection of other assorted ingredients — and of course, a traditional caramel. That said, new flavours will pop-up on the daily, one of the added benefits of creating batches from scratch.
Craftswoman Rebecca hasn't eaten meat for many years but had gone in and out of veganism due to the lack of options in the '80s and '90s. Choices have gotten better over time, making her own ice cream has always been a way to produce a product she craved, all while using simple, fresh, plant-based ingredients.
"Back in the day you could maybe get soy ground-round, and that was it. That's all that was available," she said, adding it was when she bought a home ice cream maker that she began experimenting with different flavours. "I'd make up batches whenever I'd go to anyone's house for dinner or have people over, like a pumpkin ice cream or avocado. I've always said if I had to choose a last meal, it would be ice cream. It's my favorite treat."
And while some could argue household names like Häagen-Dazs and Ben & Jerry's have made headway in the plant-based industry, the big difference is those ingredients. Chemicals and preservatives are not a part of Fro'Zen's master plan.
At this point, you could say her technique is perfected.
According to Wayne, while he may have been a little skeptical at first, it took no time at all for the recipes to win him over — especially his favourite, Moose tracks.
"I originally thought, hey there's really something to this, but can we really make it smooth and tasty?" he said with a laugh. "I said OK Rebecca, it you can make me a dish with chocolate bits and a peanut butter taste, and make it soy-free, nut-free and plant-based, I may cry — and she did. We can't wait for everyone to come in and give it a try."
Fro'Zen Scoops & Sweets opens Wednesday, Sept. 4, located next door to Zen'Za Pizzeria at 71 King St.
Keep an eye on their social media pages on Facebook and Instagram for more info.
Photo by Whitney South