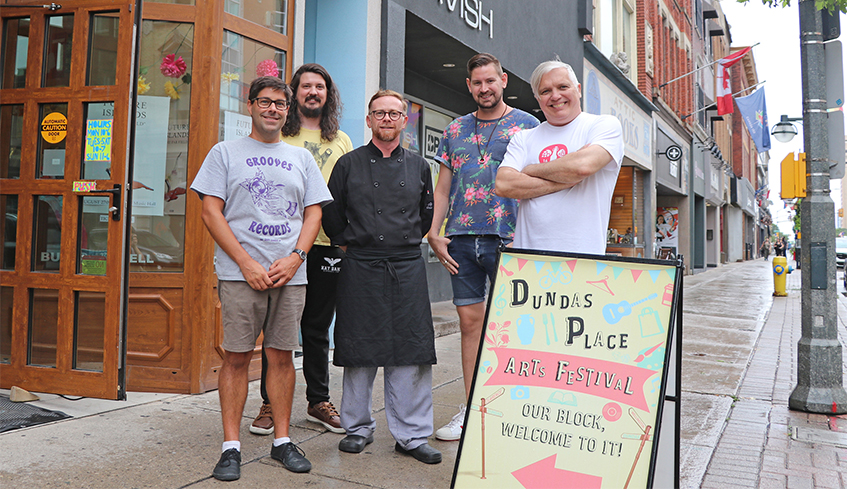 By Whitney South, Best of London. 08.09.18
Deep in the jungle of pylons and road closed signs, a legion of local shopkeepers is getting ready to celebrate all that downtown London has to offer, as well as give visitors a glimpse into the long-awaited future.
From artists to street performers, live music to salsa dancing, it all happens Saturday, Aug. 11, as the street comes alive during the first-ever Dundas Place Arts Festival — driven by the very businesses that call downtown home.
According to Andrew Sercombe, marketing coordinator at Downtown London, the event was the brainchild of Jonathon Bancroft-Snell, owner of the Jonathon Bancroft-Snell Gallery who, along with gallery manager Brian Cooke, travelled up and down the street chatting with his fellow merchants, eager to collaborate. Once word of mouth had spread and more businesses got on board, Downtown London was brought in to help make some connections and fill in the blanks.
Needless to say, they were thrilled.
"First and foremost, it's all created by brick and mortar businesses to celebrate the arts and to celebrate the block, which is absolutely amazing," Sercombe explained. "I don't think we've ever had an event quite like this, where the businesses have really taken up the torch, organized and led. It's a really unique opportunity for them to showcase just how experiential they are."
Saturday's festivities will see Dundas Street open to pedestrians and activities but closed to vehicular traffic between Clarence and Wellington Streets from 10 a.m. to 5 p.m, while each business will offer programming outside with artists, entertainment and sidewalk sales taking centre-stage.
Some of the day's programming includes bands performing outside Grooves Records, artist demonstrations at the Jonathon Bancroft-Snell Gallery, a celebration of the works of local author Roy McDonald outside Attic Books, and even a Dundas-themed scavenger hunt hosted by Trapdoor Escape Rooms. Dundas London will also be helping the young, and young at heart, create special buttons thanks to donations from Heroes Comics.
All-in-all, over 15 businesses will be participating, along with community partners like the downtown library and the London Arts Council.
The celebration is taking place as Dundas Street transforms into Dundas Place; London's first flexible street, an accessible, curbless space that can be closed temporarily to vehicular traffic for events easier and more frequently. It's the first transformational project of the City of London's Our Move Forward: London's Downtown Plan. While the first phase has reshaped Dundas between Ridout and Richmond Streets, blocks between Richmond and Wellington are scheduled to start construction in 2019.
With so much going on, some may find it easy to focus on the negative — instead, with events like the Dundas Place Arts Festival, it's easy to see the excitement the project has created, on both sides of the street.
"These are businesses that are here every day of the week, some of them for decades. So, for them to embrace change and embrace the disruption, while celebrating their community, is really special and should be shouted from the rooftops," said Sercombe. "Dundas Place has been a long, long journey of consultation and design . . . but when we think of what an event like this can do for the street, essentially celebrating people, it's amazing to see and it's what makes our downtown so special."
The Dundas Place Arts Festival takes over Dundas Street between Clarence and Wellington on Saturday, Aug. 11 from 10 a.m. to 5 p.m., and will be closed to vehicular traffic from 9 a.m. to 6 p.m.
For more information, visit www.downtownlondon.ca.