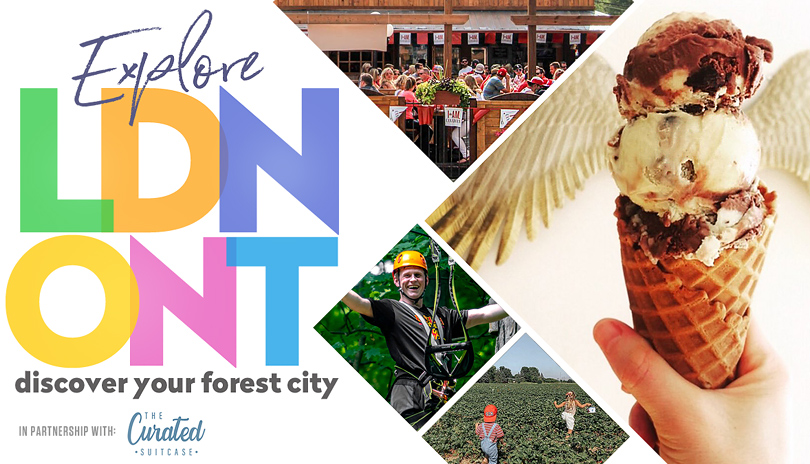 Summer is here and wow - what gorgeous weather we've had! Yes, it's steamy hot this week, but all things considered in 2020, I'll take it! Since we're in Phase 2 of re-opening in Ontario, this is the perfect time to take advantage of outdoor activities.
Here are three itinerary suggestions to get you out of the house, exploring both nature-based and urban settings.

Sunny Skies & Downtown Vibes

Perfect for:
Flying solo, couples, best friends or even a small group (if they are in your bubble!)
Start your day at home with coffee from local roaster O-JOE, a slice of fresh bread or bagels from La Noisette Bakery and some mouth-watering Heeman's strawberries.

You'll want to fuel up before heading out mid-morning to hike through Kains Woods. This trail is dog-friendly too! At this time of day, you'll beat the height of daily temperatures.

Head home to freshen up, then depart for an afternoon in the downtown core. Enjoy one of the many patios and support a local restaurateur - I love The Church Key Bistro-Pub!

After lunch, take a walk down Richmond Row to pursue a few stores or just window shop if you don't feel quite ready to go indoors. I can't get enough of Grow and Bloom, Folklore Candle Co. and Lofthouse Living.

Continue North to Haven's Creamery at Richmond and Piccadilly for delicious, handmade ice cream - enjoy it on their patio or walk back to relax in Victoria Park.

What you'll need:
A good pair of running shoes, sunscreen, bug spray, reusable water bottle, reusable shopping bag, hand sanitizer and a mask
Family Fun-Shine

Perfect for:
Families with young children
If you've got young kiddos (like I do) then you're ready to start your day bright and early! Make things easier by grabbing BoxCar donuts the day before to wake up to a yummy, sweet treat.

Take a walk mid-morning and engage your kids with a neighbourhood scavenger hunt. Pinterest has been my best friend throughout quarantine - I love the FREE printable offerings here

Once back home, have the kids help you pack up a picnic and gather a few outdoor game items like a soccer ball, bubbles, badminton set, etc. Grab a towel and put on your bathing suit - Gibbons Park is your afternoon oasis. Kids (and adults) can enjoy the splash pad to beat the heat, hunker down in the shade for your picnic, and let your kids run that energy out!

What you'll need:
Scavenger hunt printable, sunscreen, bathing suit, towel, outdoor play activities, picnic blanket, picnic lunch, hand sanitizer (while as mask is likely not required with these activities, it's always good to have on hand)
All-Day Adventure

Perfect for:
Couples, families with older children, or friends (if they are in your bubble!)
Get out your bike, roller blades or a pair of running shoes and head for the trails in Springbank Park. Loop around the park itself or complete the Greenway Park Trail.

Head over for lunch on the patio at The Byron Freehouse or Bernie's Bar and Grill.

Spend the afternoon at the Treetop Adventure Park at Boler Mountain. With courses for every experience level, you're sure to have fun and feel a sense of accomplishment after mastering the rope courses high in the sky.

Round out your experience with drinks or a snack on The Patio - you've earned it!

What you'll need:
Running shoes, bike or roller blades (optional), sunscr