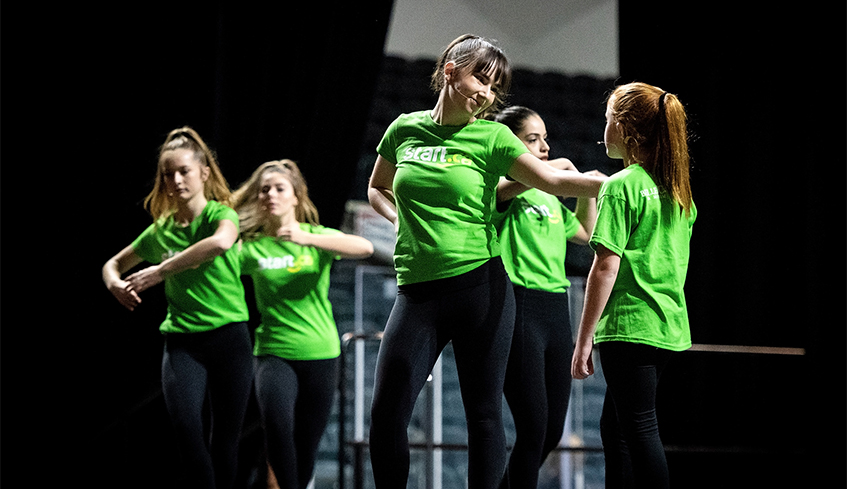 By Whitney South, Best of London. 11.27.18
Already known as pillars of London's entertainment community, Spectra Venue Management at Budweiser Gardens and Start.ca took to the stage Nov. 27 to announce a new partnership — one that will bring even more incredible performances to the Forest City.
Known for the ability to accommodate not only West End and Centre Stage productions, but touring Broadway shows and small concerts, the theatre setup within The Bud will be known as the Start.ca Performance Stage at Budweiser Gardens as of Saturday, Dec. 1.
And the powers-that-be couldn't be more thrilled.
"This really gives the city another venue to attract entertainment, whether that's theatre, concerts or what have you," said Brian Ohl, General Manager of Budweiser Gardens. "It's good for the city."
He went on to add while several businesses were considered for the sponsorship, Start.ca was clearly the best fit, describing the company's dedication to the community as unsurpassed.
"We kept coming back to Start.ca, they just rose to the top," Ohl explained. "It's a great partnership — we like to be involved with businesses and companies that align with our values and Start.ca certainly does that."
The Start.ca Performance Stage at Budweiser Gardens will boast the ability to seat up to 4,000 patrons, complete with a 40-line fly grid — a theatrical rigging system made up of rope lines, pulleys, counterweights and related devices enabling a stage crew to hoist quickly, quietly and safely components from curtains and lights, to scenery, stage effects and, sometimes, people.
Over the past 16 years the venue has seen a wide variety of performances come through, including 17 seasons of the Broadway in London series, Our Lady Peace, Just for Laughs specials, Peppa Pig Live!, and more.
According to Janet Smith, marketing manager for Start.ca, Budweiser Gardens is not only the premier entertainment centre in the city, but a venue that has helped create a lot of memories and traditions for patrons and their families, herself included. In fact, Smith even got the chance to see her favourite band, Blue Rodeo on Valentine's Day 2017, right there on the very stage her company now calls themselves fortunate enough to sponsor.
"One of our core values is community and getting involved, and while we do a lot . . . we hadn't tapped into the theatre arts and music areas of sponsorship yet," she explained. "The theatre and the arts are important parts to any community, especially here in London with Bud Gardens . . . so, just getting to reach out to so many people . . . it's nice to be able to spread the word about the friendly Internet."
The Start.ca Performance Stage will make its debut on Monday, Dec. 3 at 7:30 p.m. with Hip Hop Nutcracker, followed by an already impressive line-up heading into the New Year with performances from Paul Brandt with High Valley, Colin James, John Cleese and the 2018-2019 Broadway in London Series which will include tour stops from Rent and Kinky Boots.
To help celebrate the Start.ca Performance Stage at Budweiser Gardens, Start.ca will be donating 30 tickets to Paw Patrol Live! to the Children's Health Foundation, and 30 tickets to Kinky Boots to Belle Pointe Dance & Movement Company.
"To us, representing community is very important — our home base is here in London," said Smith. "For (Spectra) to think of us as such an integral part of London and to feel we have a strong enough brand to put up on their banners is a huge compliment for Start.ca, and we're very happy with this sponsorship opportunity."
For more information on the upcoming Start.ca Performance Stage line-up, visit www.budweisergardens.com.
Photos by: Whitney South