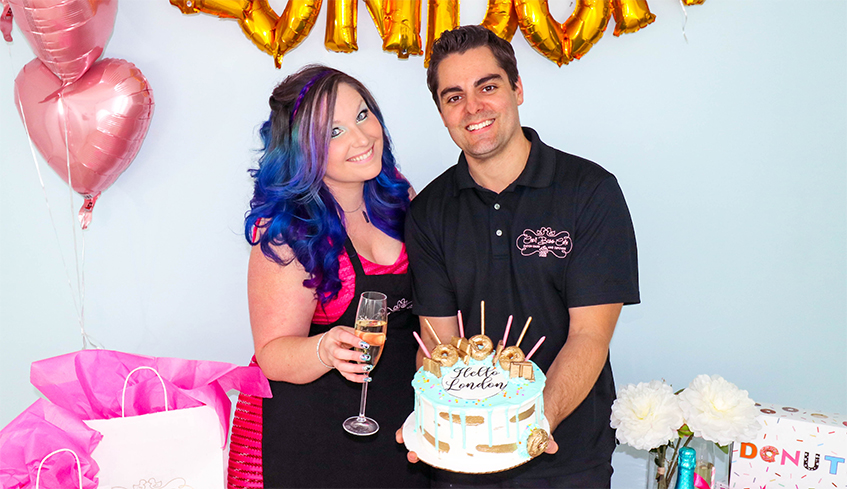 By Whitney South, Best of London. 08.06.19
They say art, undeniably, is conducive to happiness — and, really, the same could be said about cake.
Just ask Rebecca and Chad Hamilton, owners of Chick Boss Cake, London's newest confectionary sensation.
"What we really want to provide is a sense of wonderment," Chad explained with a smile. "We know our market and we want to inspire them, in addition to creating products that taste great. There has to be that jaw-dropping excitement as soon as customers walk the front door."
Already a southern Ontario staple since the pair opened their first store on Talbot Street in St. Thomas just four years ago, the London locale has been buzzworthy since day-one, welcoming line-ups of fans eager to try a little something new.
Whether its unicorn cakes, decadent macaroons or specialty lemonades and milkshakes, for the crew at Chick Boss Cake, anything goes.
And that's just the way they like it.
"It's really about creating your own lane — one that's so different and unique from anybody else . . . so you can just innovate and create. That's something we always try to do," said Chad, adding with their bakery, projects are never basic, or simple. "We have a bubble gum lemonade that looks like a unicorn, we have milkshakes that have donuts on top. We're constantly coming up with new ideas — it's just a matter of figuring out the logistics of it all."
Really, the Hamiltons have come a long way since selling wedding cakes, cupcakes and favours online, before joining the brick-and-mortar world. While Rebecca has always had a passion for confection, Chad worked in finance — though it hardly took much convincing for him to want to make the leap.
"Rebecca has always been an artist and really creative her whole life, while I have a financial background . . . so I got to be the one really taking it outside of the box," he said with a laugh. "When it came down to it, we had to decide what we truly wanted to do, and what would make us happy. It was the best decision we've ever made."
That means putting together some of the most eye-catching, delicious treats in the city — and social media gurus are taking notice, with over 11,000 following along on Instagram, as well as bloggers and visitors making the trek to the Forest City from near and far.
Not only that, but Chick Boss Cake also features vegan offerings, as well as dairy or gluten-free goodies — meaning there's something for pretty much anyone.
"We really want everyone to come visit, hang out, have a drink, have a dessert, and really take their time and enjoy," said Chad. "We have a VIP wall to take really cute selfies, and we love when customers get excited and inspired. It's all about creating that out-of-this world experience that really kind of captures that feeling of your inner child, right here in London."
Chick Boss Cake is open at 222 Wellington St., Tuesday to Friday from 7 a.m. to 9 p.m., and Saturdays 10 a.m. to 6 p.m.
For more information, or to place an order online, visit www.chickbosscake.com.