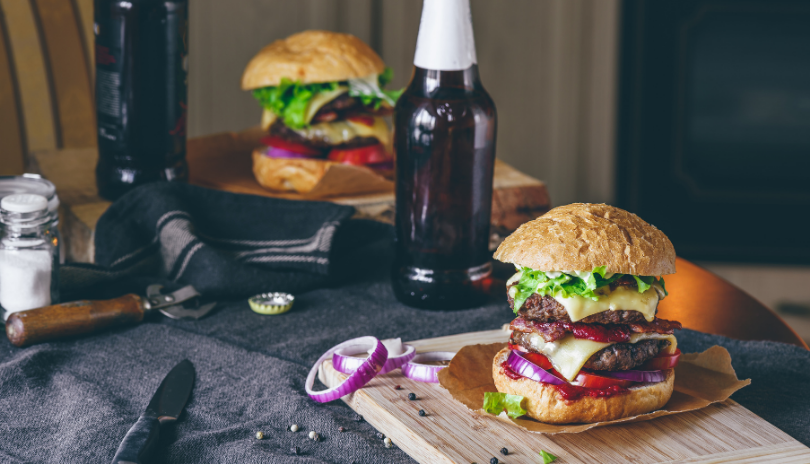 Last week we kicked off our virtual dinner party with some pretty delicious appetizer pairings - I'm still thinking about cider and potstickers… queso….cream ale... sorry, it's easy to drift off into a daydream when these options are so scrumptious!
Da da da da - next up on the menu is our main course!
The feature dish of the night is here. Typically the largest portion of all the courses, traditional options highlight meat or other protein sources as the star on the plate. Whether French, Korean, Portuguese, Lebanese, English, Persian or Ukrainian… there are hundreds of main course dish options across a multitude of ethnic and religious cuisines and you can find them all right here in the 519!
Pour a pint of these stellar London brews and pair with varying cuisine options found at independent restaurants in Oakridge, Wortley Village, and Downtown.
pale ale
Featuring: Forked River Brewing's Riptide Pale Ale
Notes: An award winning English style pale ale with a twist of rye
Pair With: Rich or sharp flavours like bold cheeses, barbequed meats and curries
Try: The Korma, Chana Masala or Chicken Tikka Masala from The Raja Premium Indian Restaurant or the Carnivore Platter from Wink's Eatery
lager
Featuring: London Brewing's London Organic Lager
Notes: This easy-drinking, food-friendly brew is light and malty with flavours of toasted cereal grains
Pair With: A wide range of foods from Mexican to Japanese and of course, traditional pub favourites
Try: "Torched" Gozen Roll or Green Dragon Roll from Gozen Bistro or Buttermilk Chicken 3 Ways from Joe Kool's
irish red ale
Featuring: Storm Stayed Brewing's Patina - Irish Red Ale
Notes: Smooth with hints of caramel and malt
Pair With: Pastas and roasted vegetables
Try: The Roasted Vegetable Wrap at Plant Matter Kitchen or opt for Fettuccine Primavera or the classic "Spageddy" at Spageddy Eddy's - try it with meat or veggie sauce and load up on tons of fresh topping choices!

Uh oh, I feel a food daydream coming on again - I think I see curry in my future! Are you full yet? Get those stretchy pants out because we aren't done yet.
Remember to abide by current local health restrictions - even if you can't host a "typical" dinner party with a large guest list, you can still have fun with those at home, coordinate and gather virtually, or plan ahead for when we can see friends and family in person.
Next week might be the sweetest of all - dessert is served.
Until then, cheers!
Nicole
Disclaimer: This content is for people of legal drinking age only following the Province of Ontario liquor laws. Please do not share with those who aren't. Enjoy responsibly.

READ similar articles:
Cheers to London, Ontario: The Appetizer Course
Cheers to London, Ontario: Happy Hour Pairings