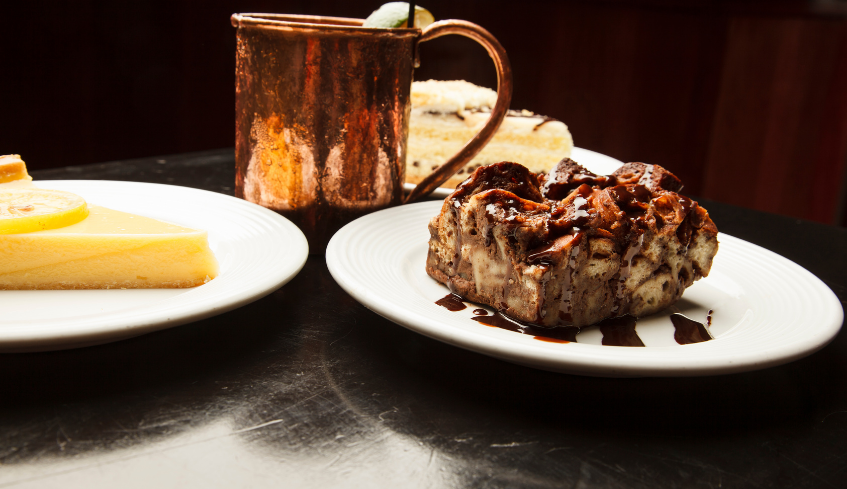 I hope you still have those stretchy pants on because we're not quite done with our virtual dinner party.
The moment I'm sure many of you have been waiting for is finally here ... dessert!
While some opt for a dish to satisfy their sweet tooth, others prefer something savoury like a cheese platter. Perhaps fresh fruit is your go-to, or maybe you enjoy a liquid ending to your meal and reach for a glass of port.
If it's a sweet treat you're after, here are some mouth-watering pairings to end your meal on a sugar high.

stout
Featuring: Toboggan's Blackfriars Bridge Stout
Notes: Slightly sweet, this stout features a roasted barley aroma with a background of coffee and chocolate
Pair With: Dark chocolate cakes and desserts
Try: Sticky toffee pudding from Crossings in Hyde Park or a chocolate pecan tart from Petit Paris
cider

Featuring: Heeman's Berry Blush Cider
Notes: A beautiful rose colour, this cider celebrates juicy strawberries and tart raspberries with a subtle apple finish
Pair With: Fresh fruits and berry-filled desserts
Try: A strawberry tart from Nova Era Bakery or the mini mixed berry cheesecake from Angelos
whiskey
Featuring: Paradigm Spirit's 5 Year Whiskey
Pair With: Let it shine by enjoying it on its own, or cool your palate after this warming drink with a scoop of ice cream
Try: Pick up a pint of salty caramel from Haven's Creamery or pour over Shaw's classic vanilla or butterscotch ripple ice cream - can't make it to the dairy bar in St. Thomas? Pick up locally at a number of grocery stores including Farm Boy and Sobey's
If those options aren't joy inducing, I don't know what is. I said in an earlier blog that I could likely live on soup, buuuut every so often I might need some sticky toffee pudding and a pint to wash it down.
As always, a friendly reminder to abide by current local health restrictions - even if you can't host a "typical" dinner party with a large guest list, you can still have fun with those at home, coordinate and gather virtually, or plan ahead for when we can see friends and family in person.
Our dinner may be at an end but the fun isn't over. Next week I'll share ideas for hosting and offer great gift suggestions that will have you shopping local and supporting our small businesses for occasions year-round.
Until then, cheers!
Nicole
Disclaimer: This content is for people of legal drinking age only following the Province of Ontario liquor laws. Please do not share with those who aren't. Enjoy responsibly.

READ similar articles:
Cheers to London, Ontario: The Main Course
Cheers to London, Ontario: The Appetizer Course