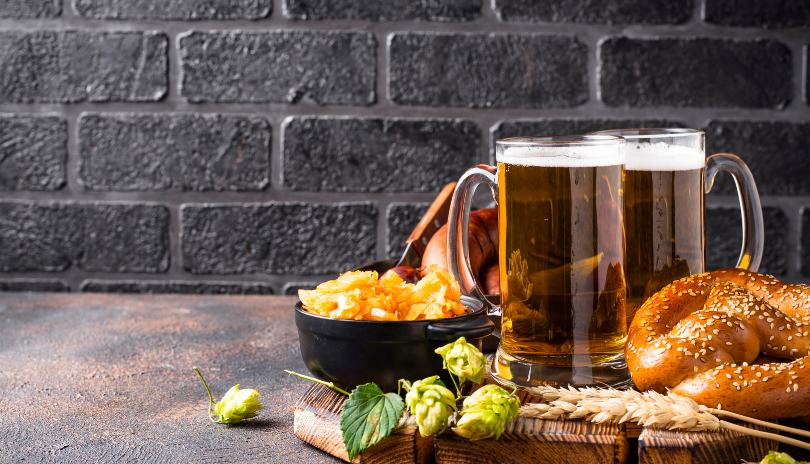 Last week I brought you Happy Hour, and you thought to yourselves ... time to party - let's enjoy happy hour all night long! But alas, this is not how this dinner party goes. Ding ding ding, time for everyone to find their seats (if your friends are like mine, it's like herding cats).
First up on the menu - Appetizers!
For some people, appetizers are an opening staple to any meal. For others, it's skipped in anticipation of the main course. And for some, appetizers ARE the main course, perhaps consuming a couple to oneself, or getting a number for the entire table to share. While I love a good soup or salad (I'm confident I could live on soup), the list of appetizers now featured on most menus is quite robust. From shareable platters, dips, flatbreads and tacos, to oysters, tuna poke, fried cauliflower and more, appetizers can be stand out dishes on their own - and they deserve a beverage that compliments.
Cream ale
Featuring: Anderson Craft Ales Cream Ale
Notes: Crisp, smooth and refreshing. This cream ale is a 3-time national award winner!
Pair With: Spicy foods like an appetizer favourite - chips and queso
Try: House made tortilla chips and brown ale queso from Anderson's in-house kitchen, EatOA in Old East Village. Or, head downtown to Los Lobos for their queso fundido served three ways - black bean, chorizo or cauliflower

kettle sour
Featuring: London Brewing Organic Kumquat Sour
Notes: Refreshing, notes of tropical fruit and made with fresh, organic kumquats
Pair With: Cured, salted, fatty meats, a variety of seafood and pungent cheeses
Try: The Antipasto board or oysters on the half shell at Abruzzi Ristorante, or the charcuterie board at Blackfriars Bistro & Catering
cider
Featuring: Heeman's Hard Apple Cider - Original
Notes: A full-flavoured off-dry cider with a touch of sweetness
Pair With: Cheeses, quiche, sweet and sour pork or potstickers
Try: Pan fried potstickers from The River Room and sweet and sour pork served with jasmine or coconut rice at Ben Thanh
Yes folks, the same Heeman's that brings floral elegance to your homes, honey and jam to your toast, is also serving up their very own cider - made from local apples to boot.
Cider, ale and appies, oh my! A delicious way to begin. I hope you've left room, because we've got two more incredible courses coming up.
Remember to abide by current local health restrictions - even if you can't host a "typical" dinner party with a large guest list, you can still have fun with those at home, coordinate and gather virtually, or plan ahead for when we can see friends and family in person.
Next week we're diving into mains.
Until then, cheers!
Nicole
Disclaimer: This content is for people of legal drinking age only following the Province of Ontario liquor laws. Please do not share with those who aren't. Enjoy responsibly.

READ similar articles:
Cheers to London, Ontario: Happy Hour Pairings