Eh - there is still time for you to get out and enjoy London's Canadian winter!
When Exploring the city, use #LDNGEM while on your snowy canadian adventure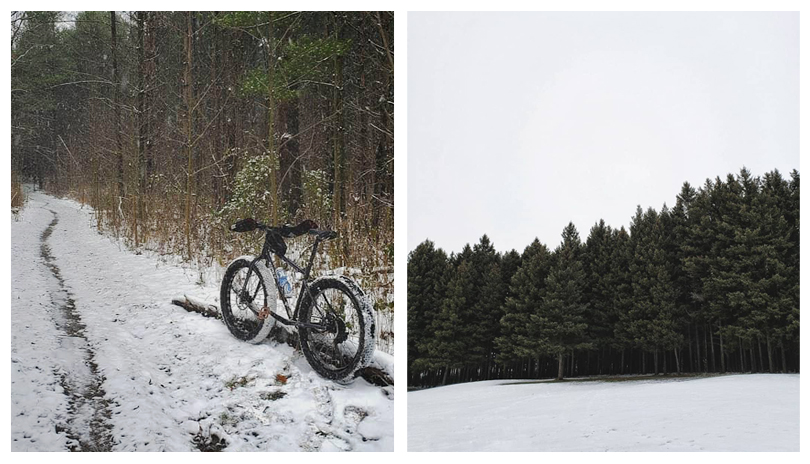 Fanshawe Conservation Area - @_blergh Instagram
Start out by exploring the winter terrain at Boler Mountain where there is something for every skill level. Featuring 15 distinct runs serviced by 3 quad chairlifts for the more advanced or snow professionals. But for those of us who like the idea of snow and want to take the easier side of the hills, you can always go on the beginner hill or even give snow tubing a try – the sophisticated version of good old fashion sledding!
There is also no need to worry about having equipment, they have a full rental shop and equipment service. Not sure if the weather conditions are just right!? Call the SnowLine at 519-657-8822 and press #1 to get the information you need. The hills will be open weather permitting, but check back in the spring for their Treetop Adventure Park & Ziplines that has been built in their natural Carolinian forest.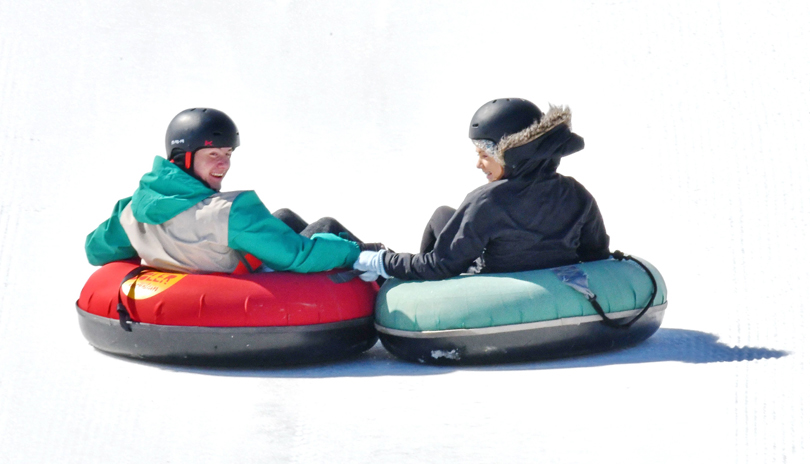 Boler Mountain
Explore Canada's maple trees, from sap to syrup. Find out how the sugar bush can be super delicious because happiness is…maple syrup + pancakes! Who knows, maybe you will become a maple syrup connoisseur.
The Kinsmen Fanshawe Sugar Bush Maple Festival has weekly entertainment, a pancake house serving mouth-watering pancakes with their own maple syrup, and horse-drawn wagon tours! See how maple syrup was discovered and how it is made today.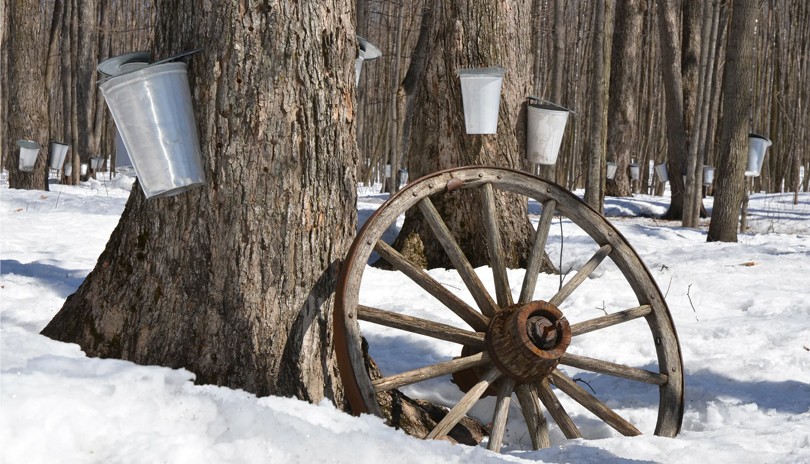 Shinrin-Yoku takes a whole new form while forest bathing in the winter season. Just being able to take a deep, calming, cold, inhale of breath is worth the cold fingers and toes. London has a number of unique natural areas around the city where you can take an outdoor winter stroll and hike. From London's Environmentally Significant Areas to Fanshawe Conservation Area's two loop trails for hikers only, there is a number of spots to explore solo or as a group.
Alternatively on Sundays when conditions are suitable, rent snowshoes & have a quick outdoor lesson before your adventure into Longwoods Road Conservation Area woodland trails or the Ska-Nah-Doht Village (check for updates on conditions online or call 519-264-2420).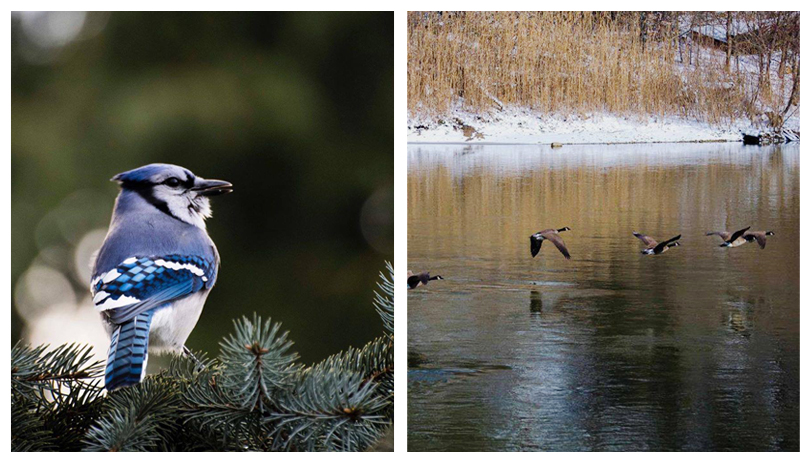 Springbank Park - @Kva_images Instagram
But if the great outdoors is not your jam, indulge in some Canadian inspired food! From grabbing a iconic double-double from a local coffee shop to a classic poutine, London has a wide variety of different Food & Drink locations worth giving a taste.
For example, poutine takes a very different form with their fresh cut fries, perogies, curds, shredded mozzarella and choice of duck or veggie gravy - only at The Early Bird! If dessert is more your speed, you might want to check out the ice wine from Michaels on the Thames or even a nanaimo square from Petit-Paris Creperie & Patisserie at the Covent Garden Market.
In Canada if you order a Caesar you might be getting more than just a salad! Imagine a Bloody Mary's cousin...but cooler. Earls Signature Caesar mixes vodka, clamato and signature spices into a delicious drink.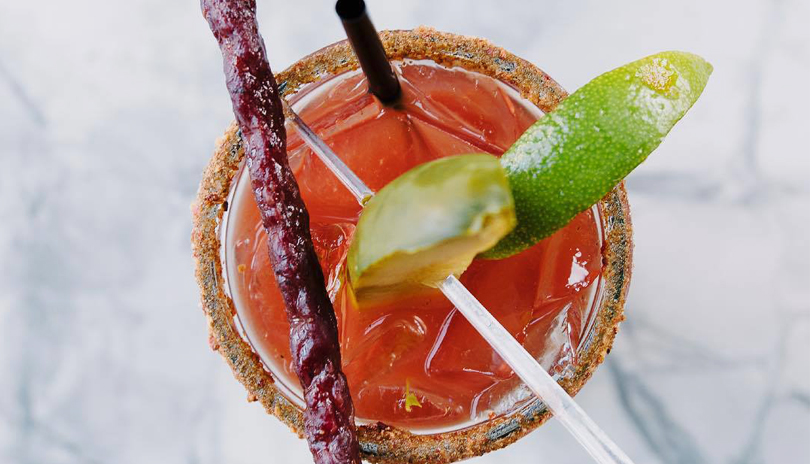 @earlsrestaurant Instagram
Get your local retail therapy at Illbury + Goose, a Canadian lifestyle brand offering clothing, accessories, jewelry and other goods - located in Old East Village. The Shop at Museum London specializes in giftware and local art and craft products. They have a large selection of ceramics, glassware, local publications as well as woodwork and art cards.
At the Tourism London Welcome Centres you can find unique mementos including a slouchy and fitted toque that features a subtle London tag in both a buffalo print and in sleek black. Currently there are also dream catchers and cute Canadian inspired jewellery that are worth taking a look at!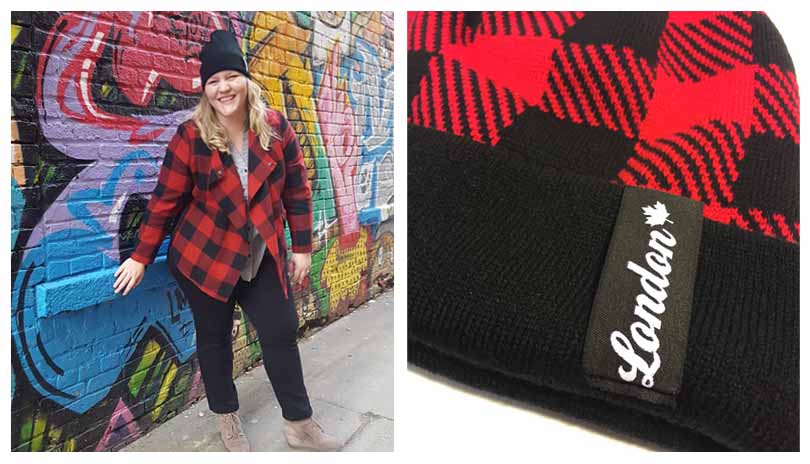 Toque available at Tourism London Welcome Centres