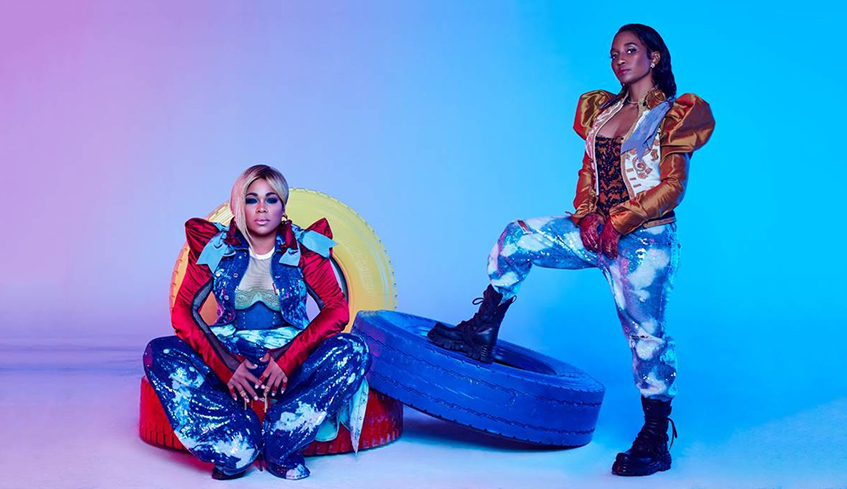 Updated on April 27, 2020.
Important notice: This event has been postponed to Friday, July 16th, 2021 with the addition of AQUA being added to the line up. Please see www.rockthepark.ca for information regarding your ticket purchase.
By Whitney South, Best of London. 02.21.20
Early this morning Start.ca Rocks the Park released their much-anticipated Flashback Friday line-up, which will once again hit Harris Park Friday, July 17.
It's a night that has continued to bring in thousands of fans each summer, with past headliners from En Vogue to Snoop Dogg, Salt-N-Pepa to Vanilla Ice.
And this year's roster is certainly no slouch.
Teaming up with 97.5 Virgin Radio, Flashback Friday 2020 will feature iconic headliner TLC, alongside returning fan-favourite Nelly, Arrested Development, Jenny Berggren of Ace of Base, 112, and 2 Live Crew.
According to Brad Jones, president of Jones Entertainment Group, it's a night steeped in tradition that's not to be missed.
"This is a night for all of us to relive our youth, reunite with old friends and reminisce on some of our favourite memories," he said. "We're excited to have a full house back in the park jamming out to over 30 No. 1 hits from the '90s. See you soon, London!"
One of the greatest legacies in music history can be summed up by just three letters — TLC. Those characters merely hint at the talent of Tionne "T-Boz" Watkins, Rozonda "Chilli" Thomas, and the late Lisa "Left Eye" Lopes, but they immediately evoke an unparalleled journey, nonetheless, encompassing a number of immortal anthems including Waterfalls, Creep, No Scrubs, and Unpretty (to name a few). Add to that the sale of 70 million records worldwide, four Grammy Awards, two RIAA diamond-certified albums among a total of four multiplatinum albums, 10 Top 10 singles, and four No. 1 singles, and there's little doubt the major role TLC played in the '90s and beyond.
Diamond selling, multi-platinum, Grammy award-winning rap superstar, entrepreneur, philanthropist and actor, Nelly, has continually raised the bar for the entertainment industry since stepping on the scene in 2000 with his distinctive vocals and larger-than-life personality. He became king of the summer anthem with songs like Hot in Here, Ride Wit Me, Country Grammar, Cruise, Shake Ya Tailfeather, Dilemma, and Just a Dream. In addition, Nelly's collaboration with Florida Georgia Line received Diamond status, making him one of only seven rappers to date to reach this honor.
True hip-hop trailblazers since 1991, Arrested Development have been cultural champions of consciousness and empowerment across the planet. Their representation of eclectic and vibrant African sounds and clothing has produced a unique clash of rhythms and style that continue to contrast the expected look and sound of hip-hop culture.
Jenny Berggren, lead singer of the internationally renowned Swedish pop group Ace of Base and now a celebrated solo artist, looked into the face of success rather suddenly at the age of 19. The group's first two releases, All That She Wants and Wheel of Fortune, coupled in the No. 1 and No. 2 spots on the Danish charts, while the band's album The Sign skyrocketed to the top of worldwide music charts in the early nineties, selling over 25 million copies and making it the all-time most selling debut album ever — a title unsurpassed to this day. Now, Jenny has produced her first solo album entitled My Story, side kicked by her autobiography To Win The World.
An American R&B quartet from Atlanta, Georgia, 112 were formerly artists on Bad Boy Records before signing to the Def Soul roster in 2002. They had great success in the late 1990s and early 2000s with hits such as Only You, Anywhere, and the Grammy Award-nominated single, Peaches & Cream.
Finally, 2 Live Crew is an American hip-hop group from Miami, which had its greatest commercial success in the late '80s to the early '90s, with their album As Nasty as They Wanna Be selling over two million copies.
Start.ca Rocks the Park's Flashback Friday, featuring TLC, Nelly, Arrested Development, Jenny Berggren of Ace of Base, 112, and 2 Live Crew, will take over Harris Park (531 Ridout St. N.) Friday, July 17.
General admission is $59 + tax/sc, while VIP is $129 + tax/sc.
Tickets go on sale Friday, Feb. 28 at 10 a.m., and can be purchased in-person at the Centennial Hall Box Office (550 Wellingston St.) by phone (519-672-1967) or online at www.rockthepark.ca.