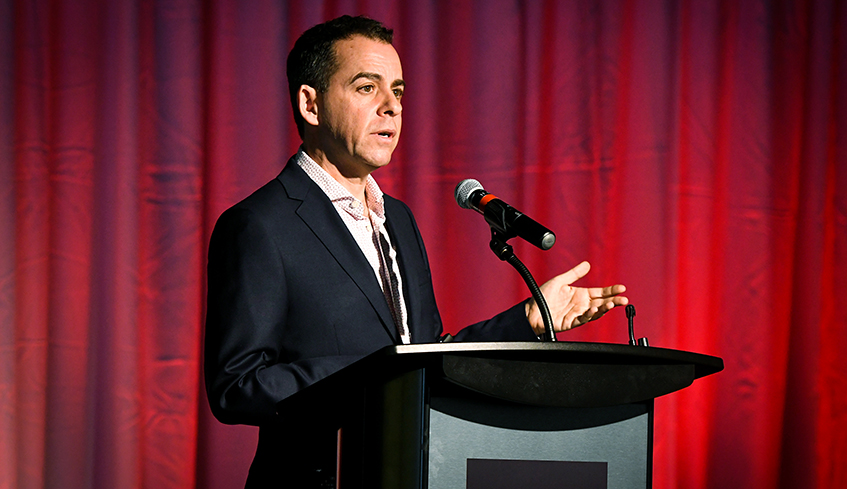 Updated on April 3, 2020.
NOTE: This article has been updated to reflect the recent announcements the Grand Theatre has made regarding the postponement of summer renovations and the cancelation of High School Project. For more information, please click to see the full release here.
By Whitney South, Best of London. 03.09.20
Introduced as London's great showman, Dennis Garnhum took to the Western Fair District stage Monday more than ready to live up to the claim.
Speaking to a crowd of media, sponsors and staff, the Grand Theatre Artistic Director announced the venue's 2020/2021 season with an air excitement — and with so much going on at the Forest City staple in the coming year, few could blame him.
And it's not just about the shows.
Running September 2020 to May 2021, it's a season that will include performances that span both London and the country as a whole, partnerships with some big names in theatre, and the return of a much-loved made-in-London production.
Clearly, it's a lot.
"It's going to be a highly-electric journey to unexpected and unexplored territory," Garnhum explained. "The Grand will be in 10 different venues across the country. You will see us in places you would never expect — from a circus tent to a coffee shop, from intimate studio theatre to the largest national stages — it's a season of bold and exciting theatre, that we're proud to present."
Kicking off the season on the Spriet Stage will be Neptune Theatre's thoroughly entertaining East Coast Kitchen Party. Basically, it's an evening of brilliant, traditional East Coast music, featuring performances by various local musicians both during the show and after, taking over the to-be-renovated Drewlo Lounge (formerly the Poster Lounge) on the Grand's fourth floor.
Yet another renovation and re-naming is set for the McManus, which will soon sport the moniker of the Auburn Stage.
The first actor to hit the new space will be Forest City favourite Gavin Crawford, with his brand-new offering, What's Up Dad? And Other Dangerous Questions, which will fun for five performances only, workshopped as part of the Grand's Compass New Play Development Program.
Next up, Dante of Die's User Not Found will make its Canadian premier — in a very different way.
The production, which has been performed solely in coffee shops, will take over Richmond Street's CommonWealth Coffee Co., giving an entirely new dimension to immersive theatre.
"You enter the coffee shop, you receive a headset, you receive a cell phone. You sit down, pick a table . . . and you'll notice at some point in your coffee drinking that a man is grappling with something very difficult," said Garnhum. "You will discover your phone starts to light up, then you'll discover you can hear him talking. It's very touching and moving. This is an incredibly magical show."
Continuing the Grand's commitment to family, the holidays and big, heartfelt stories, Annie will take over as the theatre's holiday offering, with Garnhum himself at the helm.
It's a story close to the artistic director's heart, and his re-imagining of the Broadway classic will surely reflect that.
In addition, for the fourth consecutive year in conjunction with the holiday production, the grand will be raising funds to support the London Food Bank, this time through The Tomorrow Campaign.
Kicking off the New Year, Canadian TV, stage and film star R.H. Thompson will make his return to the Grand with In the Wake of Wettlaufer, a thought-provoking production about the tragedy that occurred in southwestern Ontario nursing homes.
Written by Kelly McIntosh and Gil Garrat, the show was created with compassion from interviews with some of those most closely affected, including families who lost loved ones, nurses and PSWs working in assisted living, and many others. The play follows a group of siblings who are in the process of moving their elderly father into long-term care. The family grapples with all of the struggles families in this circumstance endure: unresolved rivalries, differences of opinion in the level of care, siblings spread across the country, arm wrestles over power-of-attorney, and their own conflicting memories of their lives with their father.
It's a hard-hitting, but life-affirming story of compassion, family, and hope for change.
In addition, the season will also feature the Shaw Festival Theatre production of Cyrano De Bergerac, starring Tom Rooney; Lin-Manuel Miranda's In the Heights, bringing lively and refreshing musical theatre to the Grand, as well as award-winning Canadian playwright Hannah Moscovitch's powerful piece, Sexual Misconduct of the Middle Class.
Closing out the season, Rick Miller returns with the highly-energetic offering BOOM X — a follow-up to BOOM. Picking up at Woodstock in '69, Miller time travels by way of multimedia up to 1995. While some classic BOOM characters reappear (Elvis gets fat, Lennon gets shot, and Reagan gets elected), the focus moves from his mother to his own story, while following Generation X as they navigate the tangled legacy of the baby boom.
Finally, Garnhum's daring and immersive production of Cabaret will once again take over the intimate Auburn Stage before setting off on a national tour.
"We started with a celebration and we wanted to end with a celebration," Garmhum said with a smile. "There you have it."
The Grand's 2020-2021 season reaffirms commitment to developing, producing, and premiering original homegrown stories, and bringing original stories from around the globe to London and beyond.
Season subscriptions, with savings of up to 25 percent off the regular single ticket price, are now on sale to subscribers online, by phone at 519-672-8800, or at the Box Office, 471 Richmond St. Single tickets will be on sale soon, so stay tuned.
For more information, or for the complete 2020/2021 line-up, visit www.grandtheatre.com.
Photos by: Whitney South