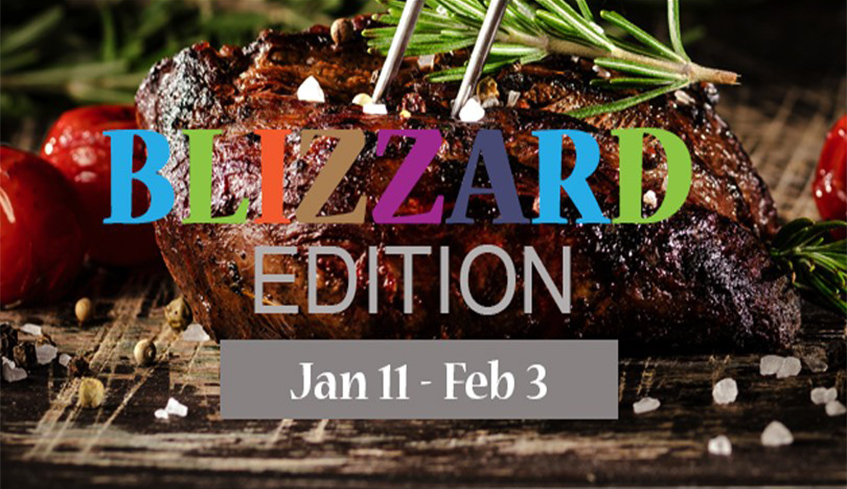 Take a peek at all there is to see and do in London, Jan. 14 to 20.
Monday, Jan. 14
Londonlicious Blizzard Edition – until Feb. 3
Various locations
DON'T JUST TRY ONE MENU! TRY MANY! It is the only festival in London that invites you to live it up in one of your favourite restaurants—and try new ones! We have worked hard to ensure you'll have a great experience and travel the world in culinary style. It's cheaper than flying… and there's no full-body scan! With over 30 restaurants participating, each with its own unique, delicious fixed-menu options to offer, you won't leave unsatisfied!
For more information, visit www.londonlicious.ca.
Tuesday, Jan. 15

Cooking with Cast Iron
Jill's Table
Our cast iron classes are back by popular demand! Although cast iron cookware was invented centuries ago, a resurgence of love for cast iron cooking has made it among the hottest kitchen pieces today. Join Chef Matt Rice as he makes a delicious menu using all cast iron cookware and learn the basics for properly caring for your pan. Get ready for cast iron to become the new staple in your kitchen.
As a bonus, guests will take home a 10-1/4″ cast iron pan (valued at $42.99).
For more information, or to purchase tickets visit www.jillsclasses.ca.
Wednesday, Jan. 16

Martha Wainwright with special guests Beyries
Aeolian Hall
Martha began building a buzz with her well-noted EPs, prior to her 2005 critically and commercially successful debut LP, 'Martha Wainwright'.
'Goodnight City' is poised to be her best record yet. This album returns to the rawness of her first release and includes songs by Martha, as well as songs written by notable artists to highlight her incredible voice.
For more information, or to purchase tickets visit www.aeolianhall.ca/events/martha-wainwright.
Thursday, Jan. 17

London Wine & Food Show – until Jan. 19
Western Fair District
The London Wine and Food Show, presented by White Oaks Mall, returns with more food, wine and entertainment than ever before. Entertain your palate!
The show brings Londoners an enticing mix of local restaurants, wineries, craft beers, and spirits and pairs them with tasting seminars, stage presentations and entertainment. Come sip, sample and savour at London's Wine & Food Show!
For more information, or to purchase tickets visit www.westernfairdistrict.com/wine-food-show.
Friday, Jan. 18

Harry Potter and the Chamber of Secrets in Concert
Budweiser Gardens
CineConcerts invites you to rediscover the magic of Harry Potter™ in the latest installment of the Harry Potter™ Film Concert Series. Projected in high-definition, your favorite moments from Harry Potter and the Chamber of Secrets™ are accompanied by a live symphonic orchestra performing John Williams' poignant scores. Join Harry, Ron and Hermione as they encounter harrowing pixies, giant snakes and Polyjuice Potions in this concert event. Don't miss this once-in-a-lifetime event!
For more information, or to purchase tickets visit www.broadwayinlondon.com.
Saturday, Jan. 19

Mini Pop Kids Live
Centennial Hall
Don't miss your chance to TAKE FLIGHT with Canada's #1 concert for kids, Mini Pop Kids LIVE. This brand new show features kid-friendly versions of the year's biggest hits... and beyond! From songs by artists like Ariana Grande, Maroon 5, and Bruno Mars, to throwback favorites for Mom and Dad, this isn't just a show, it's an experience for the whole family! Get your boarding pass before they're gone and get inspired to SING, DANCE, and PARTY along with Canada's best-selling kid's music group, The MINI POP KIDS!
For more information, or to purchase tickets visit www.centennialhall.london.ca.
Sunday, Jan. 20

Yoga at the Museum – until Feb. 10
Museum London
Instructor: Celina Marlatt Relax your body and mind in these gentle Hatha yoga classes. We will incorporate breath work and mindfulness into our yoga poses to explore elongation and contraction, growth and stability. Bring a yoga mat and water, and wear comfortable clothes.
For more information, or to purchase tickets visit www.museumlondon.ca/programs-events.