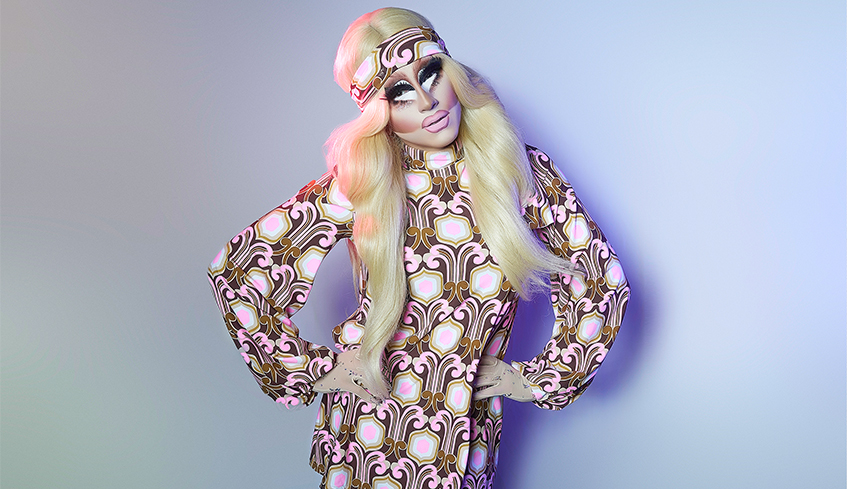 By Whitney South, Best of London. 07.11.18
While she may have never set heel in the Forest City before, drag superstar Trixie Mattel says she's prepped and ready her latest adventure north of the border.
The RuPaul's Drag Race: All Stars season three winner's Now With Moving Parts Tour hits London Music Hall Thursday, July 26.
"I know a lot about Canadian culture — I've watched Degrassi and I've listened to Avril Lavigne, so I think I'm set," she explained. "Everybody's nicer I believe. Truth is, I never started going to Canada until I started travelling as a performer, but it's lovely gal."
Known for both her over-the-top performances and somewhat dry sense of humour, Mattel couldn't help but dish out a little sass, describing the show as a relative cornucopia of events, from figure skating to water balloons, tarot card readings to a parade.
"The first thing that strikes people is the amount of blood. It's not a long show, it's about an hour-fifteen but for the audience it feels much longer," she said. "There's a lot going on and none of it makes sense until years later."
In reality, Mattel admitted fans can expect about 75 percent stand-up, with music making up the rest — a mixture of original songs, fun covers and mashups — along with a ton of costume and wig changes. Essentially, a bunch of craziness including both an electric and acoustic guitar, as well as her famed autoharp.
"It's going to be nuts," she said with a laugh. "I'm so excited to be coming London. Honestly, I'm really proud of the show."
First introduced into the Drag Race fandom on the hit show's seventh season, Mattel (born Brian Michael Firkus) suffered an early exit (and subsequent four-episode return) before coming back to snatch the crown on All Stars 3 — all while garnering a devoted legion of fans.
With two hit records under her belt, 2017's Two Birds and this year's follow-up One Stone, not to mention a hit web series UNHhhh, along with fellow RuPaul alum Katya Zamolodchikova, Mattel had been enjoying the limelight long before All Stars hit the airwaves.
But that didn't mean she wasn't itching for the crown.
"A lot of people who went on All Stars, they went on it because they wanted a resurgence — a boost in their career. And at the risk of sounding like a piece of [crap], I kind of already had everything that I have now," she recalled. "Fact is, it's sort of like a normal season is a preliminary, and if you win that's great . . . on All Stars, everyone's already rich and famous, so if you can out-do all the others, you really are that [girl]."
After that second month of hard work, laughs and tears, Mattel said while taking home the crown was definitely a career highlight, the best part was getting to share the moment with her friends.
"None of us knew who had won until it aired live. Getting to watch it happen on TV, with everyone I care about was amazing. I'd trade the money in a second to experience that all again."
While Mattel maintains the only difference between winning and losing is that conversations tend to start with "congratulations" instead of "I'm sorry," getting to the chance to earn such a coveted title was nothing short of cool.
"Drag is sort of like gay peoples' best kept secret, and the rest of the earth is just figuring out," she said. "It has everything that any performance art has and more. It's just magical."
Ever the entrepreneur, in addition to wrapping up her North American tour, Mattel has continued to build her post-Drag Race empire, releasing merchandise and appearing in various stage productions. While The Trixie and Katya Show has been a hit on Viceland, and there are plans in the works for another national tour next year, what Mattel has got up her sequined sleeves next is anyone's guess.
For now, it's all about giving fans what they want, all while keeping with the vision — Accessories sold separately. Batteries not included. Ages three and up.
"The best thing about this tour is that every day I get a do-over . . . I get to fix things and make them better," she said. "You set yourself up with this obstacle course with great jokes and great songs and great costumes and every night you just get to run it and trust yourself. It's really been a dream."
Trixie Mattel's Now With Moving Parts Tour hits London Music Hall Thursday, July 26.
For more information, or to purchase tickets, visit www.londonmusichall.com.