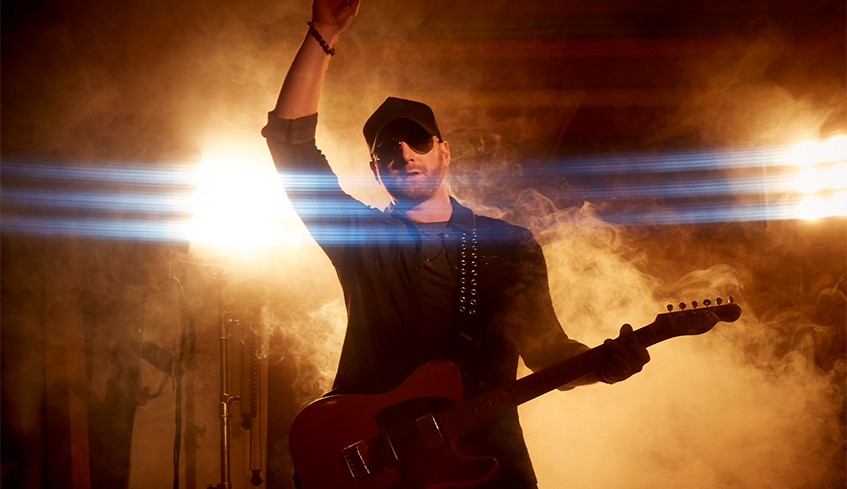 By Whitney South, Best of London. 06.21.18
From garnering local acclaim to becoming a nationally recognized name, Tim Hicks is a guy who knows exactly who he is.
When it came to picking a handle for the musician's latest track, it seems everyone around him had a pretty good idea, as well.
"The joke in the room was 'If Tim Hicks had a one-word title, what would it be?' and of course it was Loud," he said with a laugh. "It was perfect, and a great way to start."
To date, Loud has been streamed over 800,000 times, and was officially licensed by the NHL for broadcast throughout the 2018 playoffs.
Not a bad way to grab peoples' attention on both sides of the border.
"We were trying to write a song that would open the show for me, which turned into a great sports anthem," he explained, adding to see his Twitter feed blow up nightly with fans pumped by the new track was a pretty cool thing. "I never thought as a songwriter that that was a viable option — that a song could live on forever outside the music business."
Now, the Canadian country heavyweight is riding that momentum with the release of his fourth studio album, New Tattoo, set to drop Friday, June 22.
Work on the project began just two weeks after his previous offering, Shake These Walls, hit the airwaves in 2016.
After all, according to Hicks, the train is always rolling.
"You can never have too many songs, so it was just natural to get right back to it — no matter what you have going on, it's always about writing that next thing," he said. "It was over a year of writing to pick what was going to be the first single. To me, it felt like a long time coming. It's all about looking forward."
Songwriting has continued to play a big part in the musician's career. Besides having a hand in penning his own hits, Hicks has been hard at work co-writing tracks for other country favourites, including David James' Downtown Kids, and River Town Saints' anthem Bonfire.
And while he may have never foreseen himself in such a role, it's one Hicks can't help but relish.
"It's really important to me to have my fingerprints all over each record. It really forces me to be creative every day," he said. "I've always really identified with guys like Bruce Springsteen and Tom Petty, and those guys were songwriters . . . it took me a long time to develop that confidence, but now it's the most exciting thing about putting out records. I have a really good sense of who I am and what I want to say."
In addition to Loud, New Tattoo is set to hit listeners with an array of emotions and observations, from thunderous party-starters to high energy hits, hard-earned heartbreak and a duet with one of the hottest chart-topping females in Country music — Lindsay Ell.
Above all, the key ingredient for the new album was to get back into the studio and have a good time creating the kind of hard-charging tunes that helped build his brand from day one, regardless of any perceived industry trends.
"There seems to be a bit of a lean towards pop-country lately, and I'm just not that guy," said Hicks. "I figured if everyone was going to go pop, I was going to go rock and see what happened. Luckily, people seem to be digging it."
London fans will get their chance to hear some of that new music, along with their favourite hits, as Hicks takes the stage alongside a powerhouse line up including Dustin Lynch and Sarnia-native Eric Ethridge, for the second day of Trackside Music Festival on Sunday, July 1.
For more information, or for tickets, visit www.tracksidemusicfestival.com.
Background photo by Whitney South