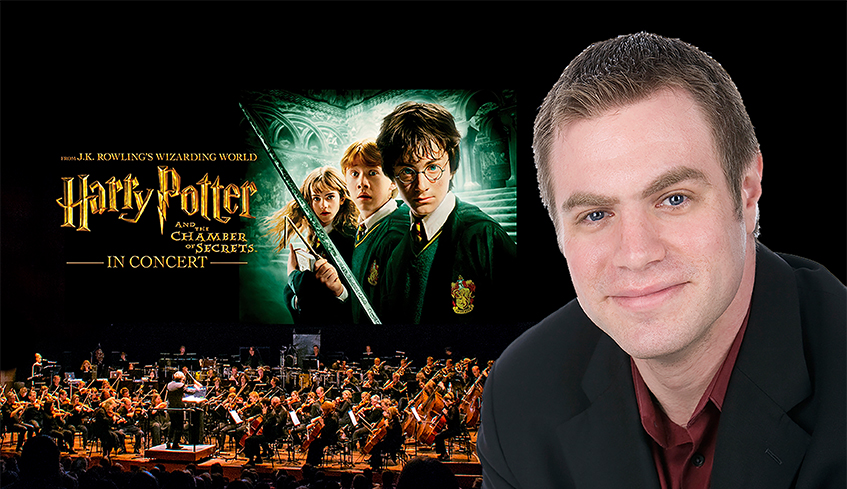 By Whitney South, Best of London. 01.16.19
One of the most well-known and beloved film series in history, the world of Harry Potter has continued to delight millions around the globe. And no matter the witch or wizard (or muggle for that matter) few can resist a little extra magic in their lives.
Now, Forest City fans will get their chance to take in what has been hailed as a once-in-a-lifetime cultural experience, as Harry Potter and the Chamber of Secrets in Concert takes over Budweiser Gardens Friday, Jan. 18, pairing the film with the power of a live soundtrack.
For Conductor Joshua Gersen, getting to share John Williams' epic score with the masses has been nothing short of magical — especially for a self-professed fan of the Wizarding World.
Though it may have taken him a little extra time to get there.
"I was a teenager when they came out, but I have a little brother and he was very into it," Gersen explained. "I finally got around to reading the series after the fourth book . . . and I was hooked immediately — from then on I was one of those fans waiting at the bookstore at midnight for the next three book releases."
While he may have fudged his Pottermore quiz results in hoping of achieving the role of Gryffindor, the maestro admits his true calling would most likely him a resident Ravenclaw House. After first picking up the baton at just 11-years-old, his resume reads as nothing short of exceptional.
Fresh off a tenure as the Assistant Conductor of the New York Philharmonic for the last three years, Gersen was also previously the Music Director of the New York Youth Symphony, as well as the John S. and James L. Knight Foundation Conducting Fellow of the New World Symphony, where he served as the assistant conductor to the symphony's Artistic Director Michael Tilson Thomas, and led the orchestra in various subscription, education, and family concerts, including the orchestra's renowned PULSE concert series. He's also taken home a number of accolades including the 2015 and 2016 Solti Foundation U.S. Career Assistance Award.
Not bad for a kid who used to entertain his parents with a flourish of random eating implements.
"I always wanted to be a conductor when I was really little, I'm not even sure why," Gersen recalled with a laugh. "There's this little video of me when I was three or four years old waving a chopstick around to recordings — so it was clear it was something I always wanted to do, and I've been doing it ever since."
As for his stint with Harry Potter in Concert? That's been a whole new ballgame.
It's much different and it's really challenging in a very different way.
"When you're conducting a regular piece of music with an orchestra, it's kind of up to the conductor to interpret the music and decide how he or she wants it to go. That's an artistic and creative challenge," Gersen explained. "When you're conducting for film . . . that becomes a lot more technically challenging. It's all about the right tempo and the right sound."
To date, the global tour has seen over 1.3 million fans take in 900-plus performances in 48 countries and is showing no signs of slowing down anytime soon.
According to Gersen, it's the combination of re-living the movie, enhanced with the excitement of a live performance that keeps bringing patrons back again and again — while many may be experiencing an orchestral concert for the first time, opening up the genre to a whole new audience.
"I think people have this impression of going to the orchestra as a really stuffy, proper experience — to just sit there and be quiet. These concerts are really the opposite of that," he said. "People are encouraged to dress up and have fun and really be themselves and I think that's what makes it so enjoyable."
Harry Potter and the Chamber of Secrets in Concert hits Budweiser Gardens Friday, Jan. 18.
For more information, or for tickets, visit www.budweisergardens.com.