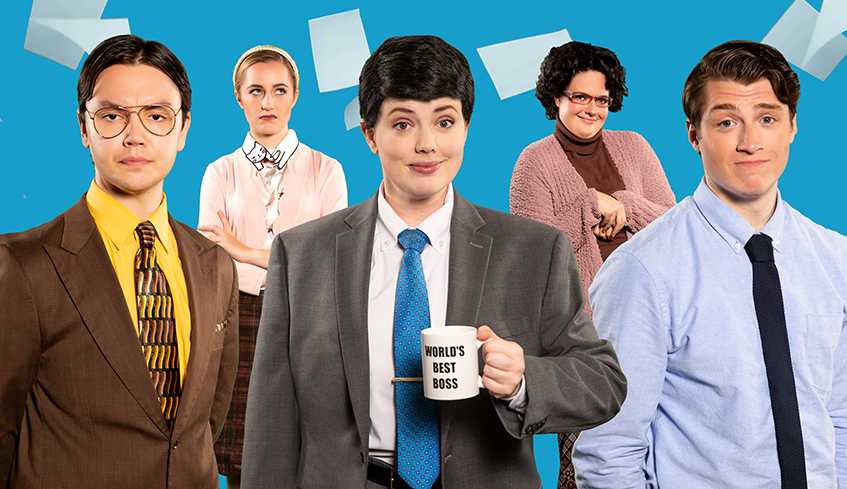 By Whitney South, Best of London. 03.05.20
Whether it was Pam and Jim's epic love story, Kevin's famous chili, or the shenanigans of Regional Manager Michael Scott, The Office was a TV show like no other.
Now, Forest City fans will get the chance to re-live some of their favourite moments as The Office! A Musical Parody takes over London Music Hall May 26 and 27.
Much like its namesake, the stage production follows a typical morning at Scranton's third largest paper company until, for no logical reason, a documentary crew begins filming the lives of the employees of Dunder Mifflin.
Created by co-writers Bob and Tobly McSmith (the same minds behind parodies of other beloved shows including Saved By The Bell, Beverly Hills 90210, and Friends), it's a ride Mashable calls "the world's most elaborate inside joke, created with a whole lot of love, just for fans."
Stepping into the shoes of fearless leader Michael Scott is musical theatre actress Emma Brock, who says she feels so lucky and privileged to tell the story of The Office every night, especially in such a fun, dream role.
"Honestly, I've watched The Office a whole bunch . . . and it's great to be able to channel these little things from (actor) Steve Carell that are so funny," she explained. "That's really brings the essence to Michael Scott. He always wants to be loved, and that's why the audience loves him."
Brock went on to add as a woman, she's able to bring a new perspective to the character, giving the audience a chance to really take a look at what makes Michael tick, outside of social constructs.
"He definitely had moments where he'd be a little un-pc. Having a woman say these things on stage gives them a moment to really think," she said. "At the heart of it, no matter how awkwardly he expresses himself, he thinks he's doing the best for his people even though most of the time, he's not."
Adding to the cast is loveable prankster Jim Halpert (Patrick Constant); receptionist Pam Beesley (Madeline Glenn Thomas), and the ever-tempestuous Dwight Schrute (Christian Fray), devoted assistant to the regional manager — along with a veritable smorgasbord of talent taking on the rest of the Dunder Mifflin team.
In total, 20 characters are played by eight actors on stage, all while belting out original songs such as Welcome to Scranton (The Electric City), That's What She Said, The Dundies, Marry Me Beesly, and more.
According to Brock, one of the biggest draws to The Office is the ability to relate, as least in part, to each and every persona.
"I mean, we all see ourselves in those characters every day, don't we? Personally, I see myself as a Stanley and a bit of an Angela, and we'd all love to goof off with Jim and Dwight," she said with a laugh. "They're just such real humans, and that's really what makes it all so relatable."
So far, it seems audiences have been more than inclined to agree, with the original production currently selling out performances at the Jerry Orbach Theatre in New York City, while the North American touring company continues to delight ticketholders across Canada and the U.S.
And Brock, for one, is having the time of her life.
"I like to call the show a love letter to The Office . . . where we're taking your favourite moments and bringing them to life," she said. "This show really doesn't miss a beat, whether it's a funny joke or the Jim and Pam love story, you really get it all in one little two-hour musical parody."
The Office! A Musical Parody takes over London Music Hall (185 Queens Ave.) May 26 and 27.
For more information, or for tickets, visit www.londonmusichall.com.