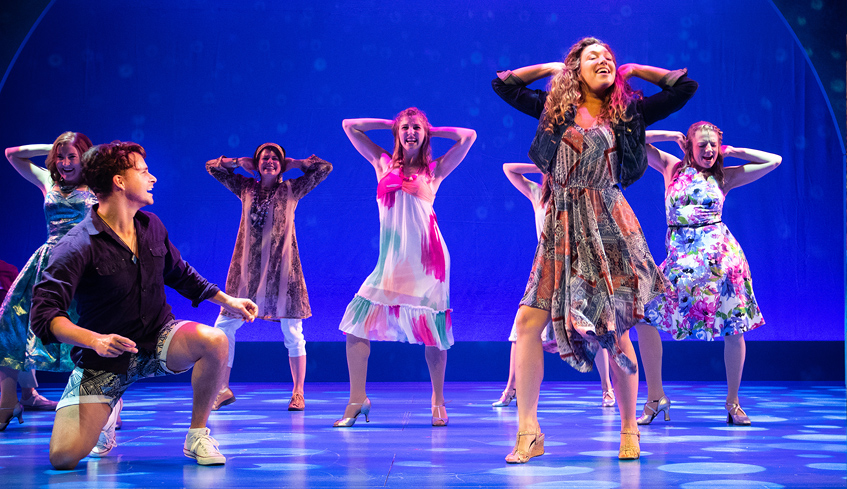 By Whitney South, Best of London. 04.25.19

Dust off those disco balls and throw on some bell bottom jeans, the Grand Theatre's latest offering is sure to turn anyone into a Dancing Queen.
The name of the game is Mamma Mia! – in co-production with the Charlottetown Festival, which wraps up the season on the Spriet Stage, running now until Saturday, May 18.
A widely popular musical since its debut at The Prince Edward Theatre in London (U.K.'s) famed West End in 1999, more than 60 million people have boogied the night away in over 50 countries and in 26 different languages.

Now it's the Forest City's turn.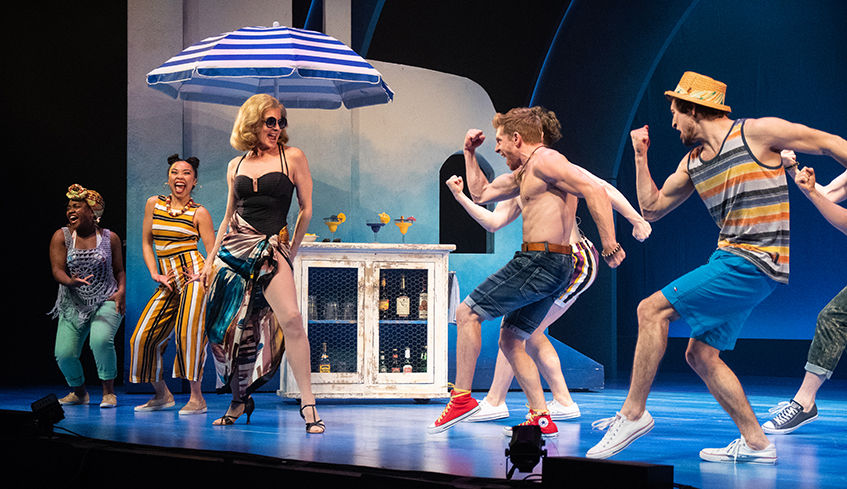 "The best way to finish a season of extraordinary plays and usher in springtime? Easy – the worldwide phenomenon of Mamma Mia!" said Dennis Garnhum, The Grand's artistic director. "Truly an international sensation, this musical is a refreshing and welcome escape to enchanted isles, memorable music and some awfully adorable characters."

For those who may not know, Mamma Mia! is based on the songs of ABBA, a Swedish pop/dance group active from 1972 to 1982 and one of the most popular international pop groups of all time, topping the charts again and again in Europe, North and South America and Australia.

Set on a colourful and picturesque Greek island, the plot revolves around Sophie, a young woman about to be married who sets out to find her father in hopes he'll walk her down the aisle. As fate would have it, however, she soon discovers there are three possible dads — a secret long-held by her mother Donna.
Stepping into the role of the bride-to-be is Windsor native Katie Kerr, in her Grand Theatre debut.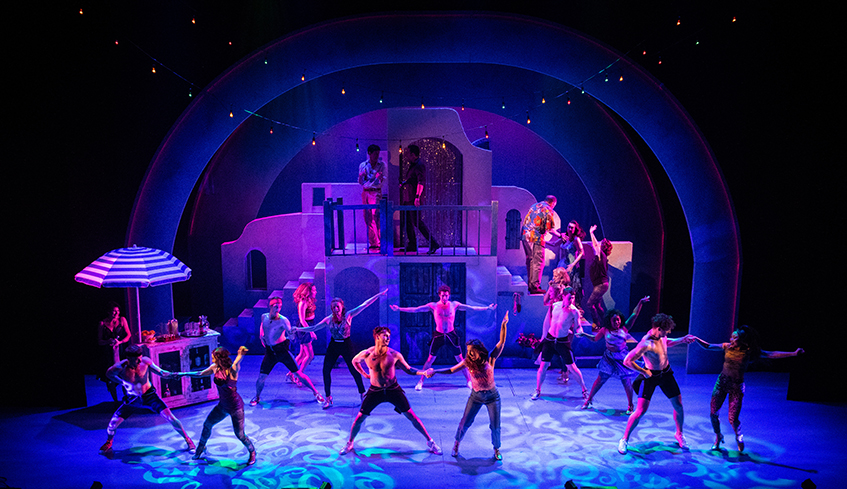 According to Kerr, Mamma Mia! spearheaded the jukebox musical movement, incorporating music people already knew into a plotline woven around the songs — making for a fun, and somewhat enlightening experience.

"They've really captured the pop element that's so fun about ABBA in the look and the sound, but the storyline really has heart and makes you listen to songs you may have heard before in a whole new way," she explained. "Really, it gives this music a whole new life."
While Mamma Mia! will wrap up The Grand's 2017/18 season in high-energy style, few have known what a long, strange and lovely trip it's been better than Jan Alexandra Smith.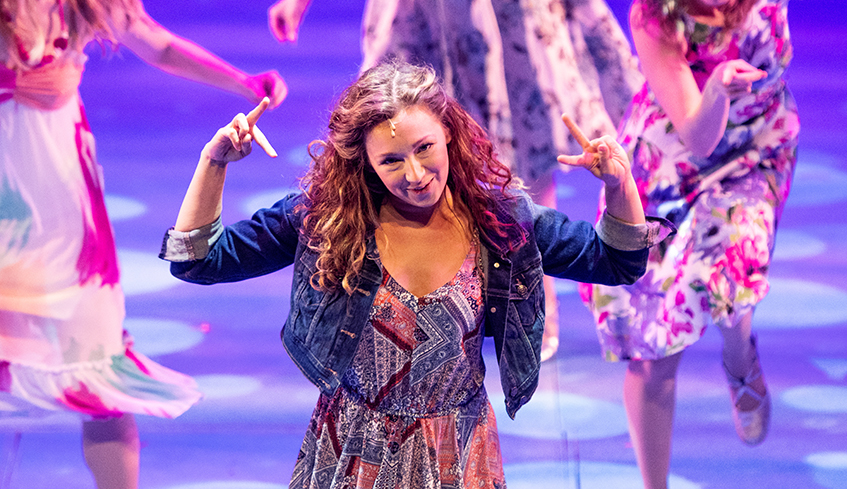 From the intense Mrs. Ross in Timothy Findley's The Wars, to Scrooge in A Christmas Carol, as well as tempestuous matriarch Johannah Donnelly in Vigilante, the actress is no stranger to The Grand's hallowed rehearsal halls.

This time around, she'll portray Tanya, a rich three-time-divorcee and one of Donna's best friends and former backup singer of Donna and the Dynamos.
No doubt, it's going to be fun.

"Tanya's lived a pretty fantastic life — cruises and a lot of Botox," Smith said with a laugh. "I've played a wealthy and very angry woman, a 70-year-old crotchety Scrooge and a dead lady this year . . . now it's sequins and platform boots. It's amazing. I feel very lucky to have had this amazing ride with such a great theatre in such a great community."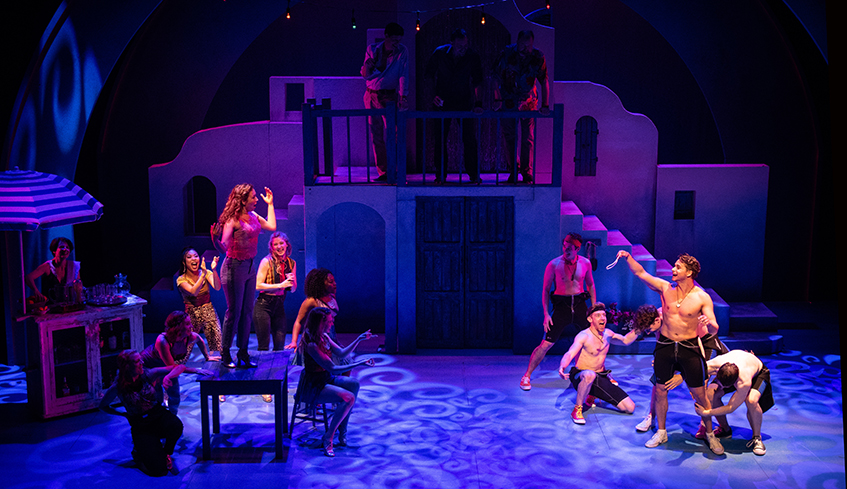 While Smith admitted she hadn't listened to a lot of disco since her youth, the actress was quick to reflect on the time she and her friends used to drop the needle on an ABBA record now and then, dancing and swaying to the music just like Donna and the Dynamos.

It was a memory that made her smile on the way to Charlottetown three years ago, where she first slipped on Tanya's sparkly pumps.

"I was treating myself to a little breakfast in Toronto and an ABBA song came on the radio in the diner. The waitress was singing, and the line cook was dancing around . . . it honestly captivated everybody," she recalled. "That's when I really realized how powerful this was. ABBA takes us to place where we want to be goofy and fun. We all know the lyrics, we all know the tune — it's happy-making music and we're going to have an amazing time."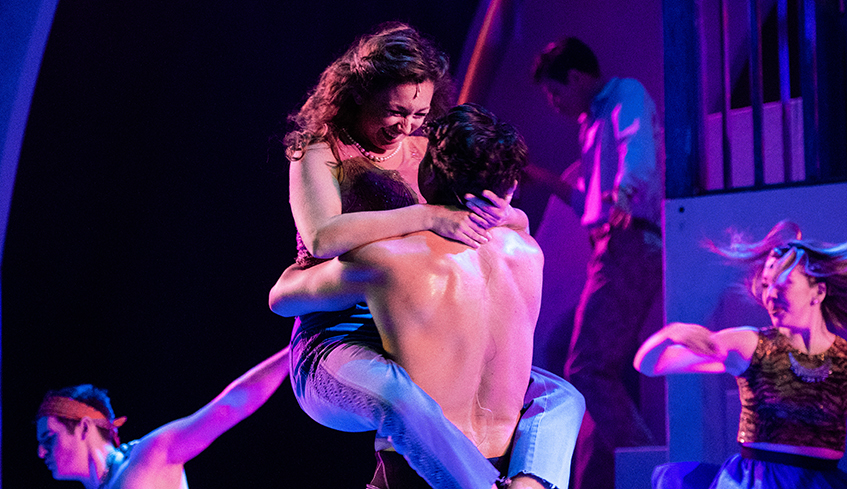 Mamma Mia! runs now until Saturday, May 18 at the Grand Theatre (471 Richmond St.).

Tickets range from $29.95 to $86 and are available at www.grandtheatre.com, by phone at 519-672-8800, or at the box office. Prices include HST and are subject to change.
All Photography by Whitney South