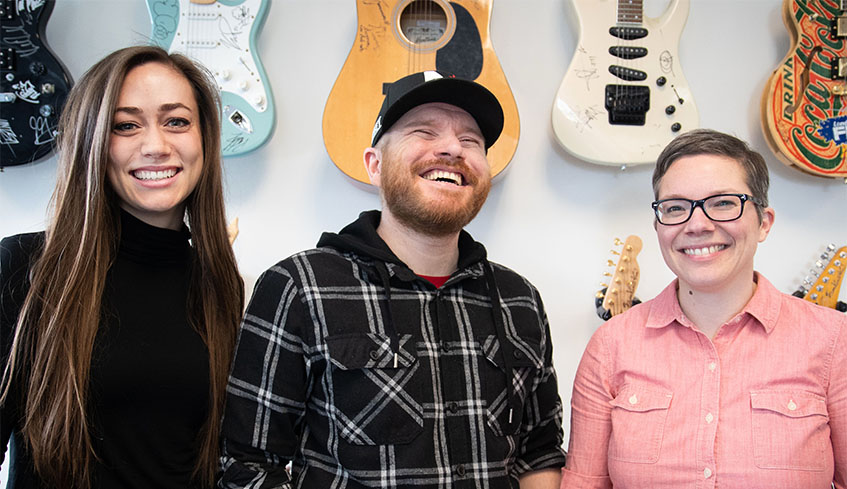 By Whitney South, Best of London. 03.13.19
With the JUNO Awards ready to hit Budweiser Gardens Sunday, March 17, we spoke to CORUS Radio London's triple threat of cross-genre industry insiders, Weaver, Leeanne, and Dunner — from Country 104, 103.1 Fresh Radio, and FM96, respectively — about who they think will take home the hardware on the big night.
JUNO Fan Choice – Presented by TD
W: I really want to say it's going to be Loud Luxury, because we're in their hometown and based on their year — but in that category I think an international star like The Weeknd really has a good chance, and Alessia Cara is definitely big time. I think I'm going to have to give a big shout out to the superstar of the group though, Shawn Mendes. He's the biggest thing since sliced bread right now.
L: I agree, Shawn Mendes is the one that really sticks out to me right now, but I believe he might've won that award last year... and have they ever had an artist win that award twice in row? It would be cool to see Alessia Cara win, especially after taking home that Grammy for Best New Artist, so I'm going with Alessia.
D: Personally, I'm going with The Weeknd. I really like him, and as a fan he'd be my choice.
Single of the Year
W: I'm going to go with Shawn Mendes or Loud Luxury. I think this is really the category for Loud Luxury to win in their hometown. Award shows are totally random, but they're also really smart and love cool moments. That would be a really cool moment and I'd love to see those guys walk away with that trophy, especially since they were the first performers announced. I predict big things for them that night.
L: I would like to see Loud Luxury win in that category as well, piggybacking off what Weaver said — not only because of the hometown connection but also from a Fresh Radio perspective I'm pretty sure that Body was the No. 1 most played Canadian song of 2018 — you couldn't go anywhere without hearing it, so it just makes sense.
D: As someone on a rock station, I still know Loud Luxury's track Body quite well... it's a great jam and it's got to be the single of the year for sure.
International Album of the Year
W: I can't believe Post Malone didn't win at the Grammys... I really thought he was going to take that, so in my head I really think this might be his win. But he was already snubbed once, so does it go to Cardi B who got that Best Rap Album Grammy? So, there's a good chance on that, as well. If you were forcing me to make a pick right now, it feels like a dartboard pick, but I'll throw it to Post Malone.
L: Off the top I'd like to see Cardi B win because she was such a huge, powerful force last year. But Camila Cabello had a huge song with Havana . . . so I'm going to go with Camila Cabello.
D: I'm torn between Camila Cabello and Post Malone, but I'm going to go with Post Malone because I love that album front to back — it's my CrossFit jam!
Album of the Year — Sponsored by Music Canada
W: I don't need a long answer on that, it's going to be Shawn Mendes.
L: Shawn Mendes for sure.
D: Shawn Mendes is going to take that one.
Artist of the Year — Presented with Apple Music
W: It's going to be Mendes. I think he had a big year and I really think he has the best shot.
L: I know Michael Bublé had said he had really contemplated whether or not to come back to the music world . . . and his comeback album was just great. I'd also like to see Alessia Cara win that huge award as well. But I'm going to go with Michael Bublé.
D: I've thought about this one very carefully, and I think it's going to be Michael Bublé for artist of the year because he came back after taking some time off with his family and came back with a solid album and I think the JUNOs are going to celebrate him.
Group of the Year — Presented with Apple Music
W: Arkells. Especially for a band that has been established in their own way for so long to take that extra leap . . . it's so incredible what they've done this year.
L: Arkells are so fun and they just put so much effort and energy into everything they do. It's just exciting to see them do well.
D: It's got to be Arkells. They're selling out arenas, and they've just become such a huge band.
Breakthrough Artist of the Year — Sponsored by FACTOR, the Government of Canada, and Canada's Private Radio Broadcasters
W: One of two females in the past year to have a No. 1 single at Canadian country radio, Meghan Patrick has had a huge year and forget about it, her year was big enough that it's going to make all the other genres respect it. Meghan Patrick for the win, hands down.
L: As a Fresh Radio host I have to say bülow — she has four nominations this year. I hadn't heard of her prior to 2018 and now she's just everywhere performing. I think it could be a big year for her taking home a couple of awards.
D: I'm going to go with the rock guy, Grandson. That Blood//Water song is pretty huge, it charted in the states and it's on the NHL soundtrack, so this could be really big for him.
Breakthrough Group of Year — Sponsored by FACTOR, the Government of Canada, and Canada's Private Radio Broadcasters
W: As much as I like to stand up for the country side, and The Washboard Union is an awesome group who have surprised me at a number of awards shows this year... going up against Loud Luxury and a song like Body and how far it went is tough. Loud Luxury is winning something at these awards and this may be the one.
L: This is an award that Loud Luxury is going to win. I think that's the one. They were huge, how could you not pick Loud Luxury for this one.
D: Loud Luxury has had a breakthrough year for them. It just makes sense.
Country Album of the Year
W: Tim Hicks was so excited to share his new record with us, and we loved it. Brett Kissel's music is beloved across the country, and he's got the touring numbers to prove it. The Reklaws had a massive year thanks to their debut record, and Megan Patrick's record gave a female Canadian Country artist a No. 1 single. In addition to all that, I was blown away that a nomination went to Jess Moskaluke for her Christmas album, A Small Town Christmas. There were so many great releases by Canadian artists over the year, so this one must be pretty special to get this nod — I'm going to have to go with Jess.
L: As someone who enjoys country music . . . Tim Hicks' song Loud was stuck in my head all summer long. Friends in the states love that song as well, so it was crossing international borders so I'm going to have to say Tim Hicks for this one.

D: I just like The Reklaws — they're great and they're from around here. It's a great album and I definitely think they could take it.
Pop Album of the Year
L: I will say it's awesome to see such a wide variety in this category like Hubert Lenoir, a French singer who is huge out in Quebec, you have bülow who is new on the scene, this is Tyler Shaw's first JUNO nomination and of course Shawn Mendes is huge — so I think the favourite to win is going to be Shawn Mendes, but I just like Tyler Shaw. He's a great guy with a really strong voice and I would love to see him kind of be the underdog in this category and win.
Rock Album of the Year
W: I have to go with Three Days Grace.
L: Not counting my professional opinion, but my personal opinion — I want to say Arkells Rally Cry. It's just fun.
D: I'm going to go with Three Days Grace, Outsider. For one, it's also up for Album of the Year, so that gives it some extra weight. I don't think it's going to take that one, but it's an album that saw international success and it definitely deserves to take home Rock.

The 2019 JUNO Awards take over Budweiser Gardens on Sunday, March 17 with performances by Loud Luxury, pop-singer bülow, and 2019 Canadian Music Hall of Fame inductee Corey Hart.
Tickets for the big night are still available online at budweisergardens.com, by phone at 1-866-455-2849 and in-person at the Courtesy Ford Box Office at Budweiser Gardens (Located at Gate 1). Thanks to a partnership with the City of London, $1 from each ticket will be donated to MusiCounts.
Along with the broadcast, London is hosting an entire week of JUNO programming, giving music enthusiasts a chance to interact with Canadian talent, including JUNO Fan Fare, Junior JUNOs, the JUNO songwriters circle, JUNOfest, and the JUNO Cup, where Canadian musicians lead by their loyal captain Jim Cuddy from Blue Rodeo and NHL legends will go head-to-head at the Western Fair District Sports Centre on Friday, March 15.
For the complete list of nominees, biographies, and more information on the 2019 JUNO Awards, please visit junoawards.ca.