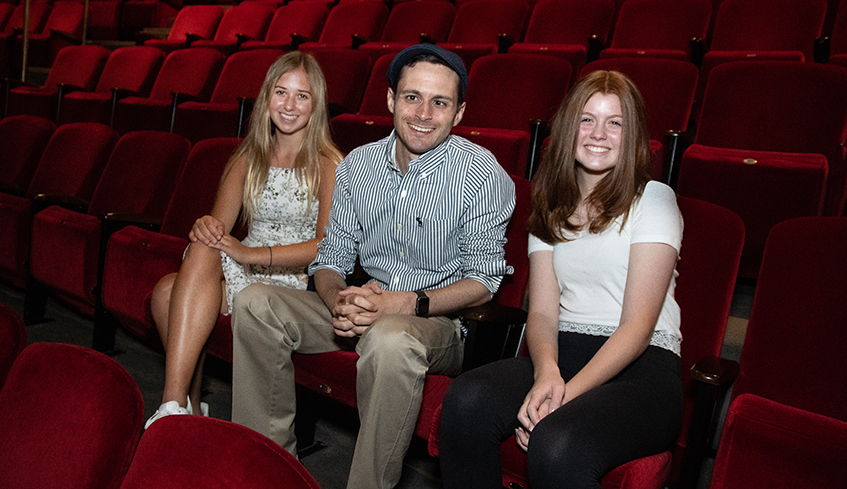 By Whitney South, Best of London. 08.16.19
It's been over a century since the ill-fated voyage of the RMS Titanic first captivated the world.
Now, Grand Theatre's The High School Project (THP) is setting sail with their take on the moving stories of the ship's real passengers, who embarked from Southampton in pursuit of hopes and dreams in a new world.
Billed as a legendary celebration of human achievement and a tragedy of epic proportions, Titanic took Broadway by storm in 1997, with music and lyrics by Maury Yeston and a book by Peter Stone that swept the Tony Awards, taking home every nomination including home Best Musical and Best Score.
While that may seem like a lot to live up to, director Andrew Tribe maintains his crew is more than ready.
"We're being supported by this beautiful building and the staff and the professionals working not just on stage, but of course, in the production elements . . . everyone is being well-mentored," he explained. "We're all working together to a common goal, and we're going to produce a professional-level show with these high school students. Everyone is really feeling as though they're part of the legacy and history of The Grand."
The only theatre program of its kind in North America, THP began in 1998 with West Side Story. Since then, the Grand Theatre has produced 33 High School Projects, offering an opportunity for students to receive education and training in the working environment of a professional theatre while being mentored by professional artists and coaches in all departments (acting, stage management, props, wardrobe, scenic art, sound, lighting, orchestra, and photography) culminating in a production on the Grand's Spriet Stage.
Titanic welcomes one of THP's largest casts, with 50 students participating, including H.B. Beal's Emma Exeley (15) and Catholic Central High School's Ella Howard (16), taking on the roles of third-class passenger Kate Murphy and first-class passenger Marian Thayer, respectively.
Both veterans of the program, the girls shared they're excited to be a part of such an epic production.
"The students are treated like professionals . . . that's a reason I love doing The High School project — I get a taste of what it feels like to be in a professional environment," said Exeley, adding she sees the project as great preparation for what she hopes will be a long-term career in theatre. "There's really a great sense of community that we create, and the artistic staff is amazing. They encourage me to be a better actor, singer, and dancer. The environment is just so wonderful."
That was a sentiment shared by Howard, who said while she hasn't decided whether or not she'll pursue a future on the stage, many of the experiences and lessons learned can be translated into the real world in general.
"So many things are applicable to so much in life. You learn tons of people skills, and that's something we all need. We have a tremendous crew, everyone is genuinely passionate about theatre, and it's just such an enjoyable experience. I really love working with everyone in this production."
More than just learning their lines, with Titanic the young actors have been encouraged to research their characters' back-stories, giving the students a window into what life was like back in the early 1900s.
And all of those stories are real, keeping up with the trend THP has embraced for a number of years with Evita, and Prom Queen: The Musical.
"Titanic takes a look at all the different people that created kind of a microcosm for the beginning of the 20th century, on the ship, and it's their journey," said Tribe, adding while the audience is no-doubt aware of the vessel's fate, it's those personal stories that will really draw people in. "The show is very episodic, and it's a series of vignettes between different characters that represent various struggles that occurred . . . from first-class passengers who want to leave a legacy, to second-class who are looking to climb the social ranks, to third-class passengers who want to find a new life for themselves in America. Put all these people together at in the brink of tragedy, and classism doesn't matter anymore. How do we all cope with that?"
The High School Project's production of Titanic: The Musical takes over The Grand Theatre's Spriet Stage (471 Richmond St.) from Sept. 17-28.
Tickets are available at www.grandtheatre.com, by phone at 519-672-8800, or at the box office.
Photo by Whitney South