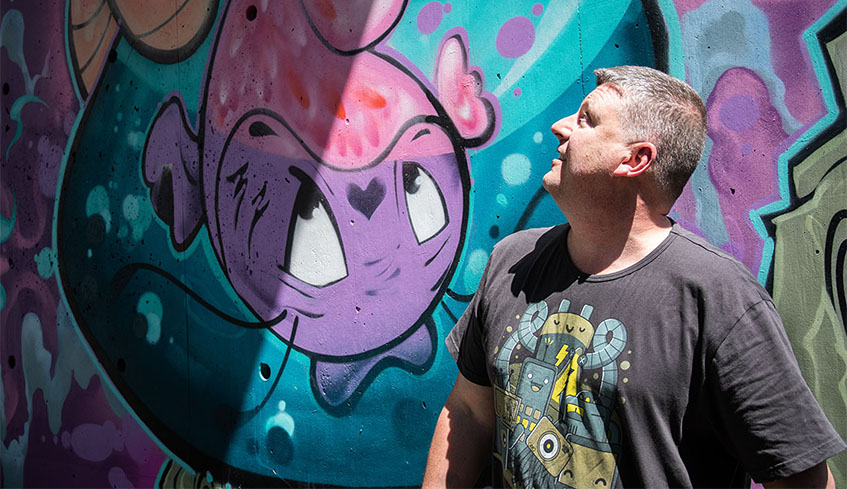 By Whitney South, Best of London. 06.08.18
When you're a graffiti artist, it's not unusual to hear the word no — a lot.
For local urban virtuoso Brad Biederman however, a simple 'no' wasn't going to keep him from doing what he loved. In fact, it just made him want to create more, and on a much bigger scale.
"I'm an artist, I'm used to it, but I still want to be heard just like everyone else," he said. "But the last time it happened, I stewed about it, went home and decided I wanted to swing for the stars."
The project he was looking for? Painting the supports of the London Convention Centre (LCC) Skyway Bridge, cutting an imposing arc over King Street, downtown.
"For 20 years I had wanted to paint these things, so I called the convention centre and left my spiel," Biederman recalled. "They got back to me in an hour, which was crazy."
And with that, the plan gained a massive supporter in the centre's general manager and CEO, Lori Da Silva.
"She met with me and we walked around the space . . . and with the board's approval it was a go."
After finishing the first pillar, and thanks to an idea brought forth by Da Silva, Biederman's venture soon turned into something bigger, and Masterpiece London was born.
Billed as a live street gallery, the event will take over the LCC's north lawn June 14 to 16, celebrating not only the graffiti arts, but community partnerships, made-local vendors, and London's robust music scene.
"There's going to be five artists painting, and all kinds of extra little things," Biederman said with a smile. "The cool part is all these different pieces have really come together. It's really going to be a whole experience."
In addition to four days of artists, activities and performances, the London Music Office and the London Musicians Task Team will host the first of many musical meetups with the launch of their SchMusic Networking Event on Thursday night.
Meanwhile, artists converging on the concrete canvases include Meaghan Claire Kehoe, Franco-Ontarian Mique, Montreal's Astro, and Bacon, best known for his colourful works lining the alleys and streets of Toronto.
For Biederman, the event will be a career high point, and one that has renewed his faith in how the city feels about art.
"It felt so amazing because I had been so frustrated, so to get such a positive reaction — it made me realize it's all still worthwhile," he said. "It's all about building relationships. It was about finding a spot, and thanks to the LCC, making something happen. Hopefully this will help up London's graffiti game and inspire people to think differently."
Masterpiece London: A Live Street Art Gallery takes over the northern lawn of the London Convention Centre (300 York St.) June 14-17.
For more information, visit www.masterpiecelondon.ca
Photos by Whitney South