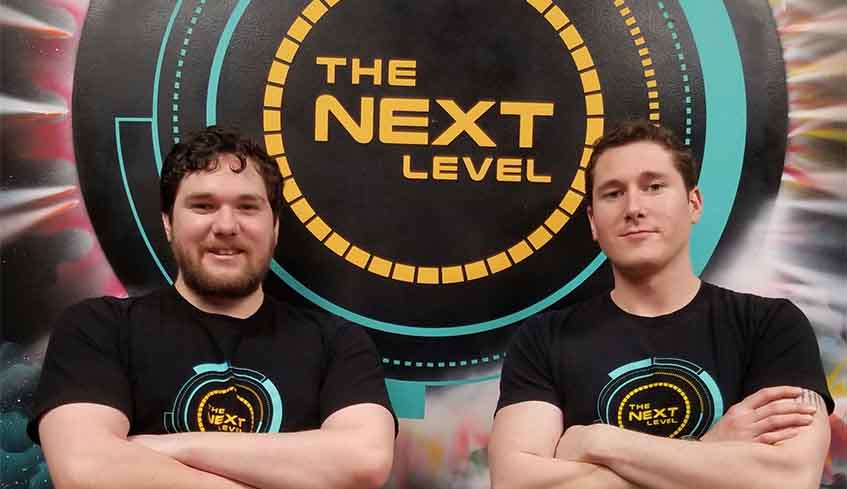 By Whitney South, Best of London. 01.22.19
Whether it's a turn as an elven assassin, or climbing one of highest mountains on the globe, when it comes to the virtual world anything is possible.
Just ask brothers Devan and Brandon Long, co-owners and operators of The Next Level, one of the country's largest VR facilities, found right here in the Forest City.
"There are these things that you may never be able to do with your physical body, like climb Mt. Everest, but you can now go into a pod and experience it," Devan explained. "It's really a fantastic experience, I have no other word for it."
The brothers' journey began a couple years ago, when their sister gifted them tickets to try out one of the first virtual reality locations in Canada. It didn't take long before the pair was not only hooked but looking for the chance to bring their own flare to the clearly burgeoning business.
"We did a little research and found out VR arcades were really starting to become something big in North America. And, since we had always wanted to open something together — it was our dream — it just started to make sense," said Devan, adding as avid gamers since they were kids, VR was the perfect venture. "It was especially exciting for us. This really is the next big thing in gaming."
In June of last year, the Long's dream became a reality, as The Next Level opened its doors inside The Factory, the country's biggest indoor adventure park, at 100 Kellogg Ln.
"London was the obvious choice with a university and a college and a lot of people, so we just went for it — from then we were lucky enough to get hooked up with The Factory, and the rest is history."
Now, with 24 HTC Vive headsets, 22 gaming pods, a Party Pod and 4,000 sq. ft. to play in, The Next Level promises a truly immersive virtual reality experience, with an ever-expanding and continuously updated game library, ensuring a unique experience each and every time.
The technology relies on room-scale tracking, allowing visitors to become fully immersed in 3D space. Motion tracking controllers complete the experience in a virtual environment, giving folks the chance to explore new surroundings, rise to new challenges and engage with a variety of different worlds.
And yes, they have Fruit Ninja.
But really, the possibilities are endless thanks to a roster in excess of 60 games and experiences from sports to action, horror to puzzles and beyond.
"You can be and do whatever you want, whether that's swim in the ocean with whales, or become a superhero jumping around like Superman. Who wouldn't want that?" Devan said with a smile. "We get a lot of first-timers, and they often turn into regulars. It's not just for gamers — families, older folks, kids . . . there's really something for everyone."
The Next Level is an independent operator found inside The Factory at 100 Kellogg Ln.
For more information, including operating times and prices, visit thenextlevelvr.ca.