London has a number of outstanding sporting venues able to accommodate a wide variety of events, from indoor to outdoor, winter to summer, local to international, and everything in between. Below are some of our most popular sport hosting venues.
Budweiser Gardens
Home to the London Knights (OHL) and London Lightning (NBL), Budweiser Gardens is a state-of-the-art sports and entertainment facility located in the heart of downtown London. With a capacity of 10,000, Budweiser Gardens hosts hundreds of annual concerts and events, and served as the main venue when London hosted the 2013 ISU World Figure Skating Championships, 2014 and 2005 MasterCard Memorial Cup, and most recently, the 2016 Canadian Country Music Awards.
Budwesier Gardens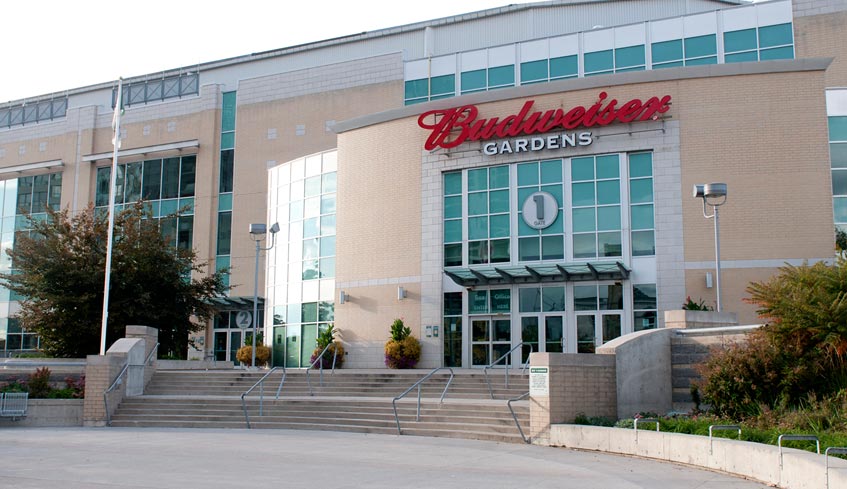 Western Fair Sports Centre
Often called the "#1 tournament facility in Southwestern Ontario", the Western Fair Sports Centre is a multi-use facility with four ice surfaces, one of which being an Olympic-sized pad. As a legacy from hosting the 2011 World Sledge Hockey Championships, the entire venue is wheelchair accessible including portable ice surface for skating to and from dressing rooms, as well as clear boards on two rinks to allow players with accessibility needs to see through the boards while sitting on the bench. Home to the London Nationals of the Greater Ontario Junior Hockey League (GOJHL), the facility is also able to accommodate other sports such as ringette, figure skating, broomball, equestrian, wrestling, volleyball, and boxing.
Connected to the Sports Centre via indoor bridge is the Western Fair District Slots and Casino, as well as the Raceway at Western Fair District which host live harness horse racing and outdoor concerts and festivals.
Western Fair Sports Centre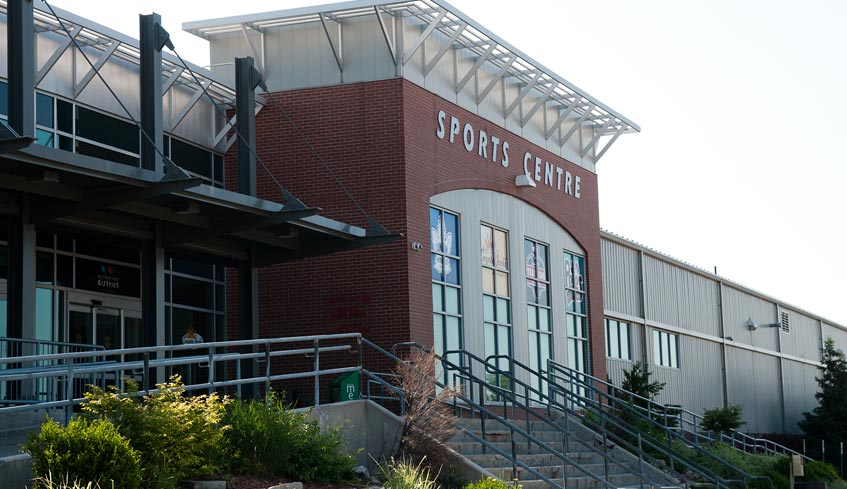 Western University
Western University's state-of-the-art athletic and residence facilities provide an unmatched tournament and event experience. From grassroots to international events, Western University has the facility and the capacity to host a wide variety of sports.
TD Stadium's 8,000 person seating capacity is home the Western Mustangs football team and has also hosted the Canada Summer Games, Pan Am Field Hockey Championships, World Transplant Games, World Lacrosse Championships and the Special Olympics Canada Summer Games. Surrounding the field is an eight-lane, 400-m mondo track.
Mustangs Field and Alumni Field are the two newest athletic facilities to be built on Western campus. Constructed as part of the 100th Anniversary of Western Mustangs Athletics, these state-of-the-art fields are located next to TD Stadium and at the time of construction were the only two fields in North America to feature Edel Grass, providing optimal playing surface for athletes. Both fields have lights, scoreboards, and seating for 600. Thompson Arena, Thames Hall, Alumni Hall, and the Western Student Recreation Centre Pool are other campus venues capable of hosting events.
Residences and Food Services at Western are some of the best in the country and provide a unique, cost-effective alternative to hotels when it comes to accommodations and meals. With over 5,300 beds spread over nine residence buildings across campus, most with their own dining hall, Western has the capacity and the experience to accommodate large events.
Western University TD Stadium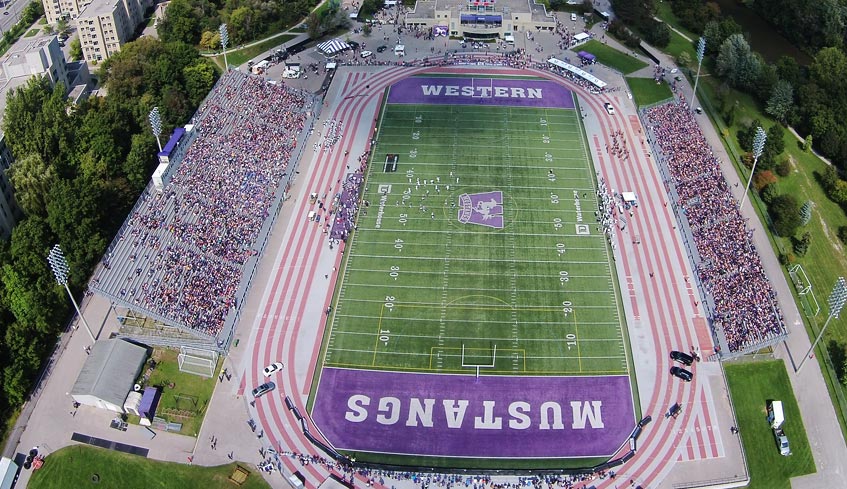 Fanshawe College
Fanshawe College is one of the largest colleges in Ontario and boasts a strong reputation in athletics and residence facilities. Located on campus is the Glenn Johnson Athletic Centre, a multi-use facility featuring a double gym with capacity for 1100, along with a third adjacent gym. The double gym features a FIBA and FIVA regulation sized basketball and volleyball court. The facility features a Fowler-Kennedy Sports Medicine Clinic, weight area, rock climbing wall, aerobic studios, and lounge. An international-sized grass soccer field is also located on campus, along with a multi-purpose field and baseball diamond.
Fanshawe is also able to accommodate teams and groups in their 1200 residence rooms across campus. Residence living provides a cost-effective alternative to hotels and can create a better experience for athletes by having to live and eat together.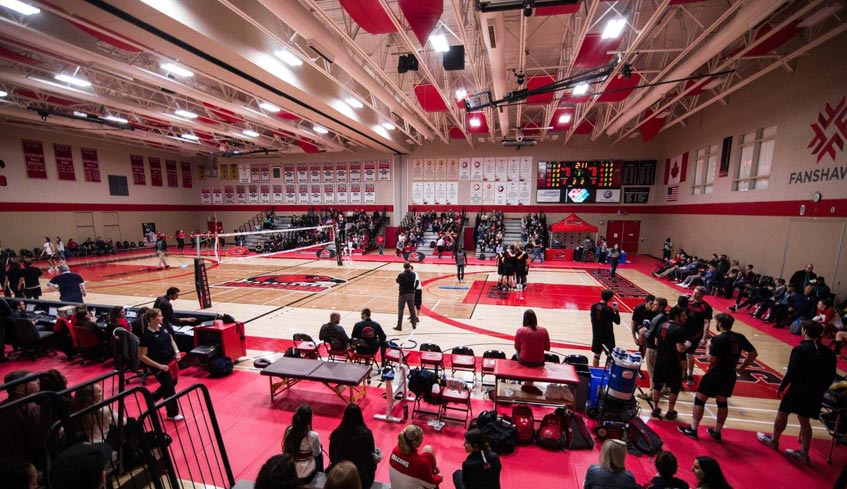 Labatt Memorial Park
With a history dating back to 1877, Labatt Park has the distinct honour of being the World's Oldest Baseball Diamond as per Guinness World Records. Nestled in the heart of downtown London with views of the city skyline, this 5200 capacity stadium has also been named "Canada's Favourite Ballpark" by Baseball Canada.
Over the years, the park has been used for motion pictures, political rallies, civic receptions, public skating, soccer, baseball, boxing, football, horse-jumping, and even a 21-Gun Salute to Her Majesty Queen Elizabeth II during to her visit to Victoria Park in 1997. Today, this City owned and operated facility is home to the London Majors of the Intercounty Baseball League (IBL).
Labatt Memorial Park - Photo by Wayne Brown / Brown's Photos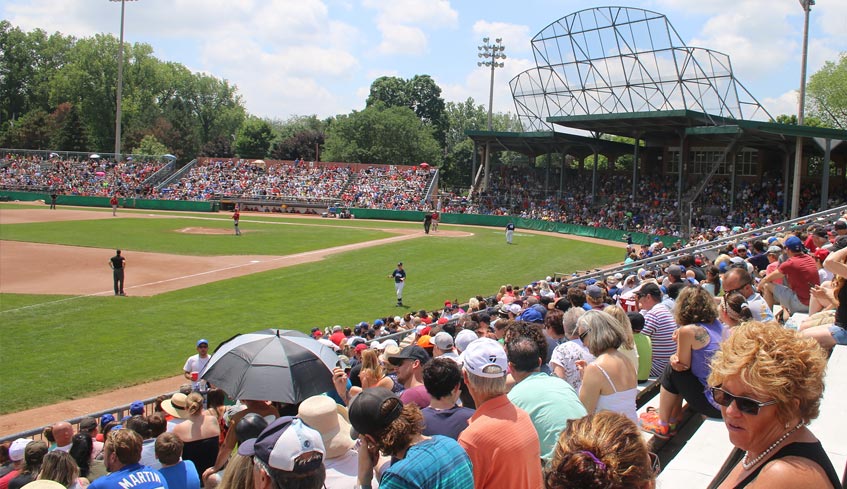 Canada Games Aquatic Centre
The Canada Games Aquatic Center is a world-class swimming and diving facility which features an Olympic-sized 50m pool with 8 lanes, 1-10m diving boards, movable bulkhead, and aquatic climbing wall. The facility is a legacy from when London hosted the 2001 Canada Summer Games and has since been a host venue for the 2004 and 2018 Ontario Summer Games, along with various other meets. In 2014, the facility underwent a $6.3 million renovation making it more modern and environmentally friendly and is currently home to the Forest City Diving Club and London Aquatic Club.
Canada Games Aquatic Centre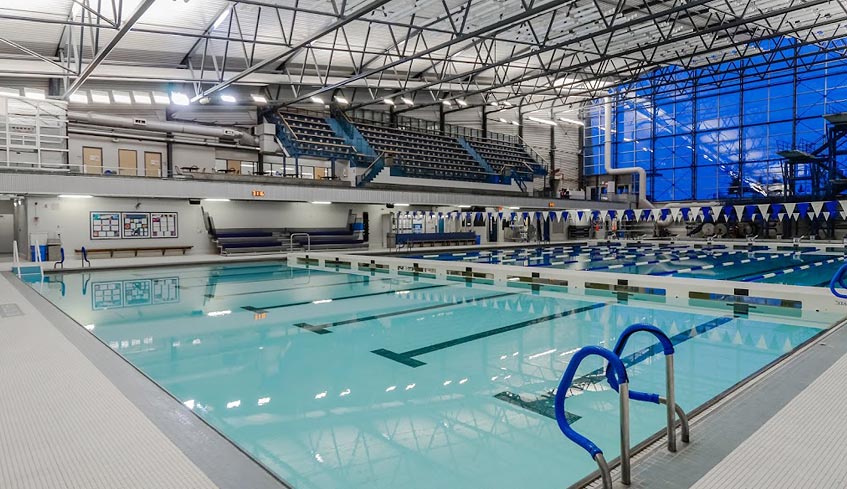 Boler Mountain
Did you know that London is home to Canada's most southerly ski hill? Conveniently located within the city, Boler Mountain offers 17 runs, along with a half pipe and tubing! In the summer months, Boler transforms into an outdoor adventure facility with 12km of hiking and mountain bike trails, beach volleyball, and even a treetop outdoor adventure park!
This flexibility also allows Boler to host major sporting events, serving as a venue when London hosted the 1998 Ontario Mountain Bike Championships, 2001 Canada Summer Games, 2004 Ontario Summer and Winter Games, 2010 Special Olympics Canada Summer Games, 2017 Ontario ParaSport Winter Games, and 2018 Ontario Summer Games.
A new $6.1 million dollar chalet offers stunning views of the mountain, and have the ability to host private, corporate, and community functions.
Boler Mountain Ski Hill & Treetop Adventure Park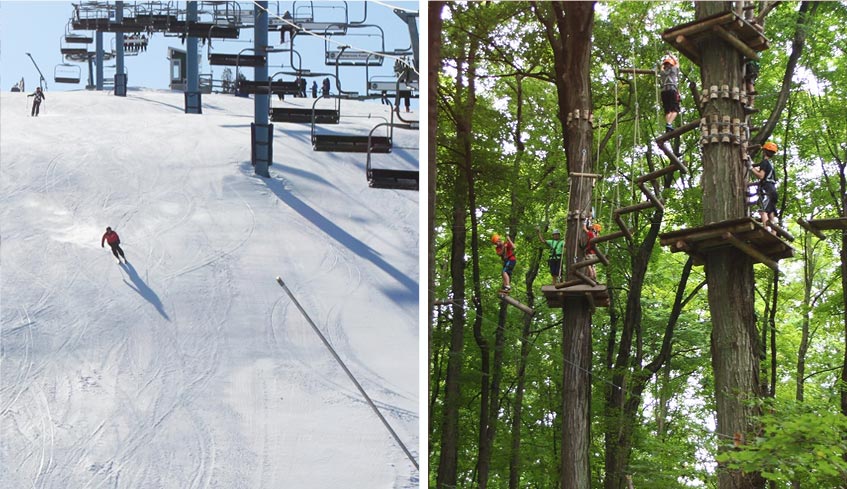 Forest City Velodrome
Established in 2015, the Forest City Velodrome, former home of the London Knights, is one of three indoor track cycling facilities in North America. Conveniently located at the south end of the city, the 138-metre track is equipped with 50-degree steep turns offering a thrilling and exciting experience for cyclists of all skill levels, as well as spectators.
Forest City Velodrome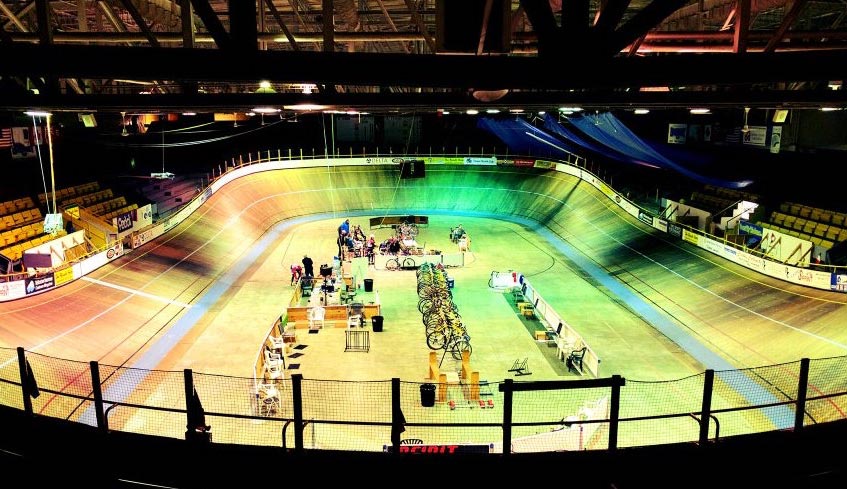 German Canadian Club
Established in 1933, the German Canadian Club is home to FC London, the German Canadian Football Club, Apollo FC, Greater London Soccer Club, and HJR Tennis School. The facility's natural grass soccer field meets all FIFA standards and features lights, change rooms, press boxes, concessions, and seating for 2000, along with six tennis courts.
Cove Road Stadium at the German Canadian Club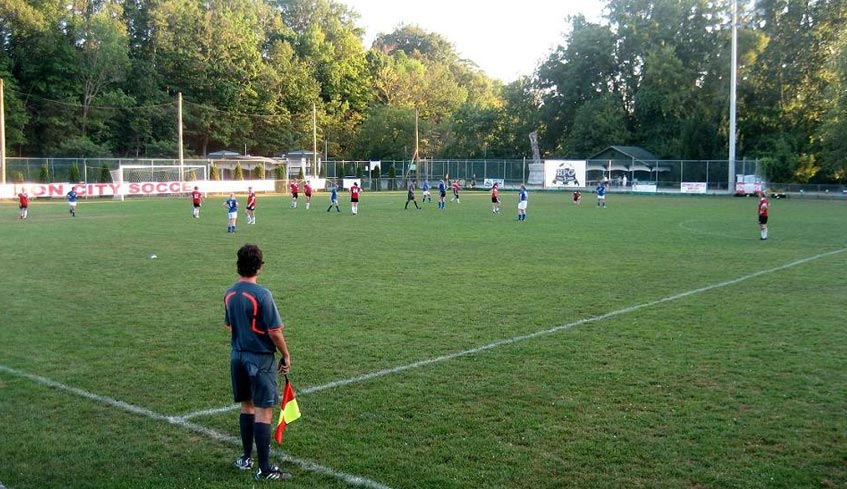 London Convention Centre
The recently renovated London Convention Centre located in downtown London is a fantastic space to host competitions, meetings, and banquets. Whether it be a dance, cheerleading, or weightlifting competition, a meeting for 10 people, or a gala with over 2000 guests, this 70,000 square foot venue has the flexibility to accommodate any of your specific event hosting needs.
London Convention Centre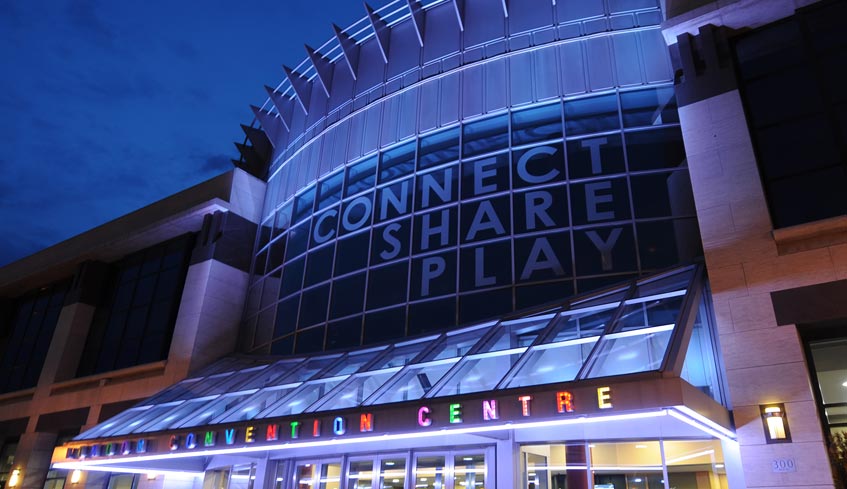 City Wide Facilities
Scattered throughout the city are 15 arenas, over 85 sport fields, and over 65 baseball diamonds to accommodate tournaments and multi-venue events. A full list and locations of these facilities can be found found here.