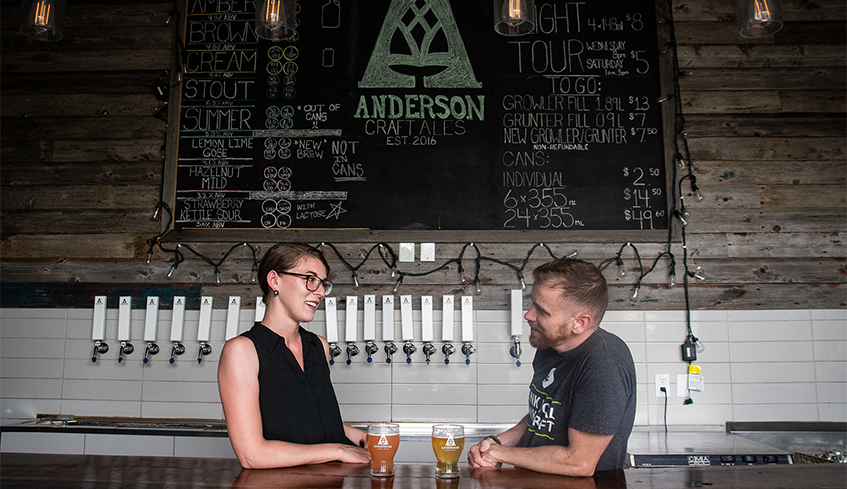 By Whitney South, Best of London. 08.21.18
Good friends, great grub and a whole lot of suds — for the crew at Anderson Craft Ales, there's no better way to celebrate.
Pouring out the welcome mat on Saturday, Aug. 25, the brewery will ring in its second year of operation at 1030 Elias St. in Old East Village, and event manager Lisa Wissink can't wait for the public to see what they'll have on tap.
"We're inviting all of our friends . . . including the other local breweries, because we just love to support one another," she said. "We're also going to be brewing over 30 specific beers just for the party. Very small batch you'll only be able to try on this big, big day."
Admission is $10, and potential partiers are asked to purchase entry through the brewery's Eventbrite page, as door tickets will be limited. The fee will also include some special swag — early birds could receive a car decal, branded sunglasses and food vouchers, while everyone gets a limited edition shaker glass.
Just some of the new recipes on-hand will include a strawberry kettle sour with lactose and vanilla, and an orange milkshake IPA — yet a few more reasons to be first in line.
"We're going to have a bunch of off-the-wall brews . . . some of the fanciest brews will most likely be gone shortly after the party starts," Wissink said with a smile. "The brewers are definitely getting creative. These will be flavours people have never tried before."
From brandy casks to tequila casks, saisons to sours, some flavours have already been aging in barrels, ready for Saturday's celebration.
What began as one man's dream has fast become a Forest City staple, after the Anderson family set up shop in London two years ago. But, if one was to go back to the beginning, the story really started one cold Christmas morning back in 2005.
"It was right around the time when he was 19 that Gavin's dad Jim first got him a homebrewing kit, and from that day on he was completely hooked," Wissink explained. "He loved the creativity it could add to a scientific pursuit . . . after completing a Ph.D. in microbiology and volunteering at a microbrewery, it didn't take long before that passion for brewing became his career."
Since then, Anderson Craft Ales has boasted hundreds of batches of beer, pouring out of its brewery in Old East — a 100 percent family owned and independent business.
While craft brewing has been enjoying its hay day in Ontario, especially over the last five years, Wissink maintains the excitement has showed no signs of slowing down, especially in the local community — friendly competitors included.
"For the most part, this tends to be an industry where people are not only putting their personal finances into these ventures, but their heart, soul, and all of their time," she said. "When you have an industry that's drawing that mindset and work ethic, that often goes hand in hand with people who are looking to support one another. It just makes sense; the tide raises all ships, so to speak."
As for Saturday's birthday bash, Anderson will play host to a jam-packed line-up of musical talent, including Coming Up Roses, Carly Thomas, Alter Ego, Averages and more, not to mention a handful of vendors on-hand, like delicious delights Peas & Thank You and My Big Fat Food Truck, to accessories and apparel from Pretty Pennie Jewellery and Life of Leisure Surf & Social Club.
After all, according to Wissink, the day is about more than just a party.
"We're basically including as many of our friends as we could to make it a really community-focused day," she said. "Part of it is celebrating our history and how successful we've been as a brewery, but it's also to thank and celebrate Old East Village . . . and everyone that has helped us grow into what we've become today."
Anderson Turns 2 takes place Saturday, Aug. 25 at 1030 Elias St. in Old East Village from 11 a.m. until 10 p.m.
For more information, visit www.andersoncraftales.ca, or to purchase tickets, click here.
Photos by: Whitney South