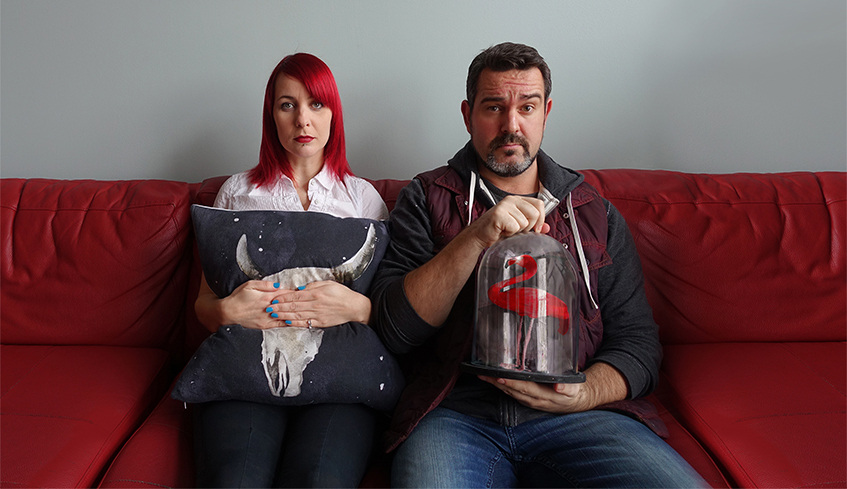 By Whitney South, Best of London. 02.08.2018
They say beauty is in the eye of the beholder — and for a certain set of artists, filmmakers and photographers, allure comes with an eerie twist.
Creeping out of the darkness, spearheaded by curators Sarah Legault and Vincent Marcone, both creators in their own rights, The Shadowood Collective has emerged once again at The ARTS Project with Betwixt & Between the Monsters We Dream.
Running until Saturday, Feb. 17, the group's latest offering welcomes a wealth of new talent from London and beyond, many with a penchant for the macabre.
Though there's often more to it than meets the eye.
"It's slightly whimsical, slightly gothic and dark; but I think a lot of it lives in fairy tale," Marcone explained. "When we talk about the type of people that come to the show, they all kind of share that love of those kinds of stories and that kind of aesthetic."
And it's one Marcone has explored himself as the founder of My Pet Skeleton as a graphic designer, artist and musician, creating works which captured the attention of David Bowie and Guillermo Del Toro.
Just some of this year's 23 contributors include Richard A. Kirk, who has created work for Clive Barker, Caitlin R. Keirnan, and the rock band Korn; Martin Mercer, storyboard artist for a number of blockbuster films including Suicide Squad, Iron Man 3, and this year's much-anticipated Aquaman; as well as illustrators Troy Brooks and Allen Williams, and FX artist and sculptor Anthony Veilleux.
Even while splitting his time between a career as an artist at True Love Tattoo in London, and working on big-budget productions like Pacific Rim, 300, and the new Star Trek: Discovery TV show, Veilleux always looks forward to the collective's show each year.
"The interaction is what I enjoy the most, and the feedback we get from our audience versus a regular art opening," he said with a smile. "There's enough art openings where you go and literally spend your half-hour and then you leave. People don't want to leave these openings, that's the exciting part — it's a party."
Returning this year, a large portion of the show is made up of miniature works of art Marcone calls a "little portal into every artist's imagination," each displayed as 3.75-inch squares, totalling 90 pieces, close to half the exhibit itself.
"Seeing a wall of so many stacked together is really interesting, and really compelling," he said. "As with the entire show . . . I don't think you get the opportunity to see this kind of collection anywhere. It just keeps evolving into something really polished and more unique than anything you'll find anywhere else."
Based in the Forest City, members of The Shadowood Collective have been collaborating for over a decade, welcoming everyone from musicians to visual artists to body suspension performers into their ranks.
During the exhibition's opening gala on Feb. 6, a trio of models could be found, snaking through the crowd, displaying some very special garments created by fashion designer Nidia Martinez, a performance Legault praised as "living art."
"Her cousin passed away in 2017 and he was an author. She tracked down some of his publications and she hand-wrote the publications on her fabric as a memory of him," she said. "To me, I don't see any difference between walking art on models versus art on the walls versus videos being played . . . we really have this whole concept where we don't showcase the same thing twice, and really almost anything goes."
An award-winning filmmaker, director, producer, animator and writer, Legault added she's always excited to bring artists together, something she's been doing since first meeting a handful of like-minded creatives back in 2005.
"This year we have some that are fairly new and some that are established . . . there's also some that started with us as students and now they're career professionals . . . so we can celebrate that, as well," she said. "It's great to see a kind of romance and appreciation growing between artists."
The Shadowood Collective - Betwixt & Between the Monsters We Dream
Feb. 6 - 17
The ARTS Project (203 Dundas St.) is open Tuesday to Saturday, 12 p.m. until 5 p.m.
For more information, visit www.artsproject.ca/gallery/shadowood-collective-2018